Private Sales
Plumrocket Private Sales Extension v2.0 – is a sample sales script that helps a client to convert his standard Magento platform into a Private Sales and Sample Sales website. This Magento extension will convert your store into a great membership website featuring special events, password access to site features, fully configurable splash pages with rotating background pictures and launching soon mode, dynamic shops, sales preview, multi-home page layout editor and integrated banner management system. What's more, Magento 1 Themes will help you to make your Magento membership website more attractive with a trendy design for mobile and desktop devices.
If you want to learn what is a membership site, try Plumrocket Private Sales Extension to see that it basically consists of two interrelated pages: Splash page (the access page containing a background image, registration form and password recovery) and Home page (designed to display and manage boutiques). Another advantage of our private sales extension is that it includes a Magento product countdown, which is a countdown counter for website allowing users totally control the purchase process. Our Magento membership extension will help you turn your subscription website into a real Gilt clone in terms of popularity and positive user experience.
Extension Features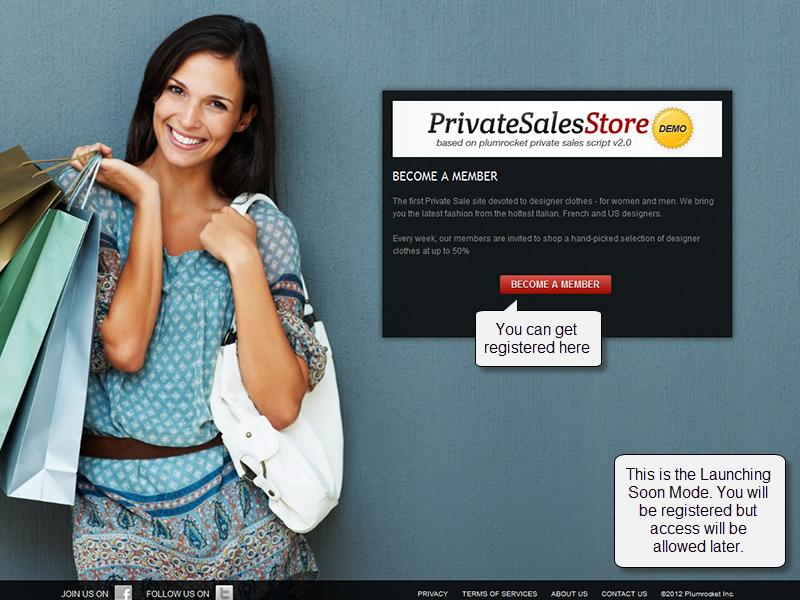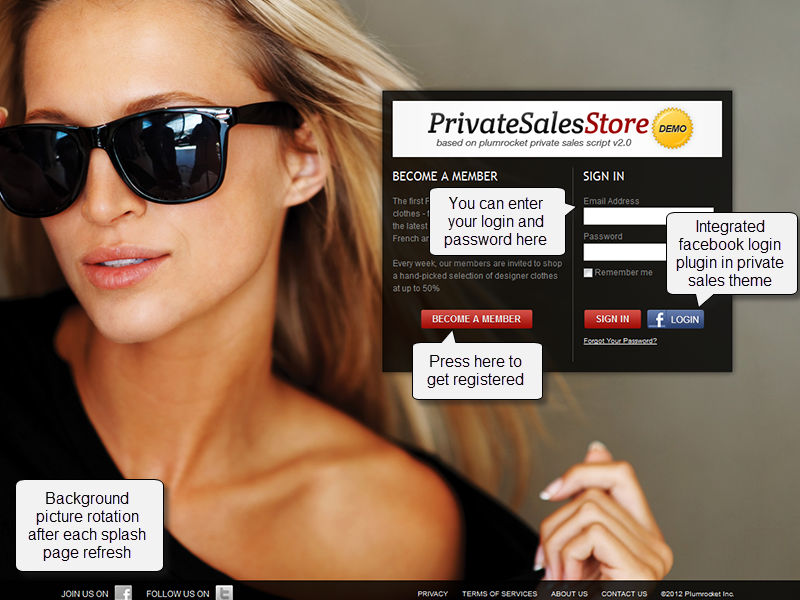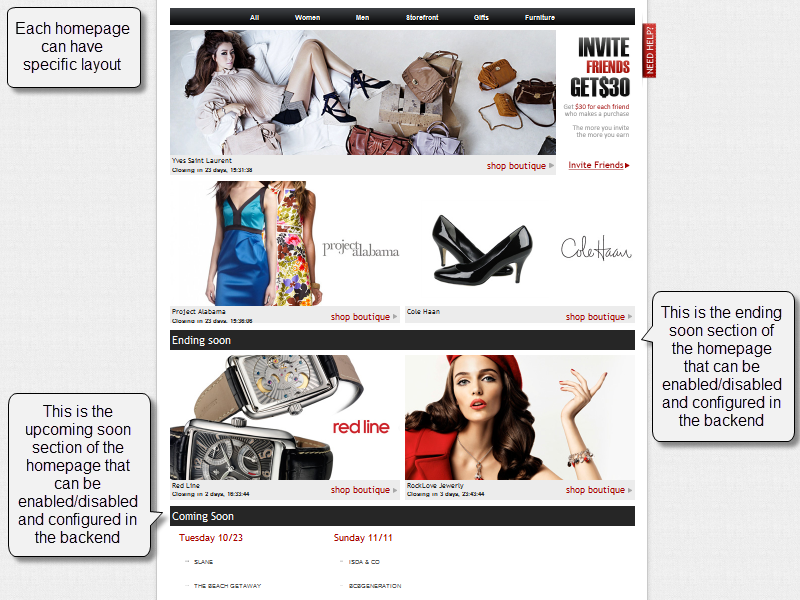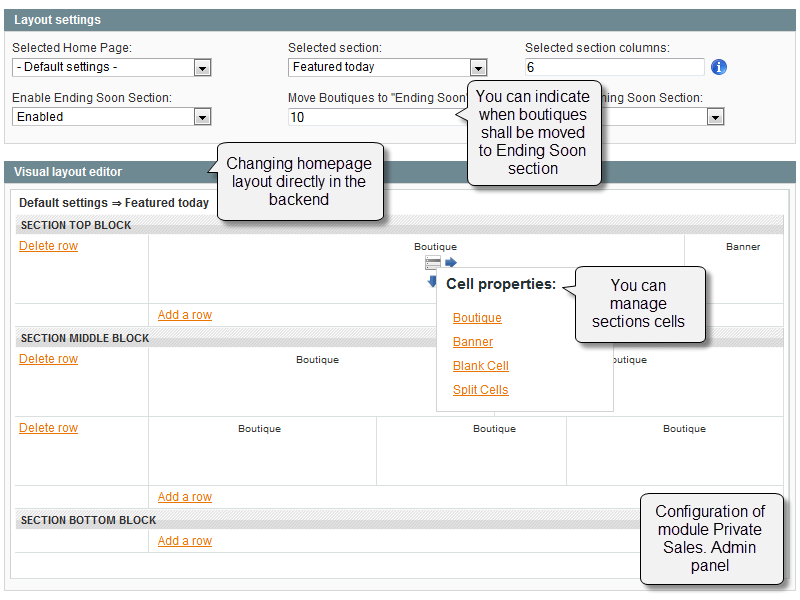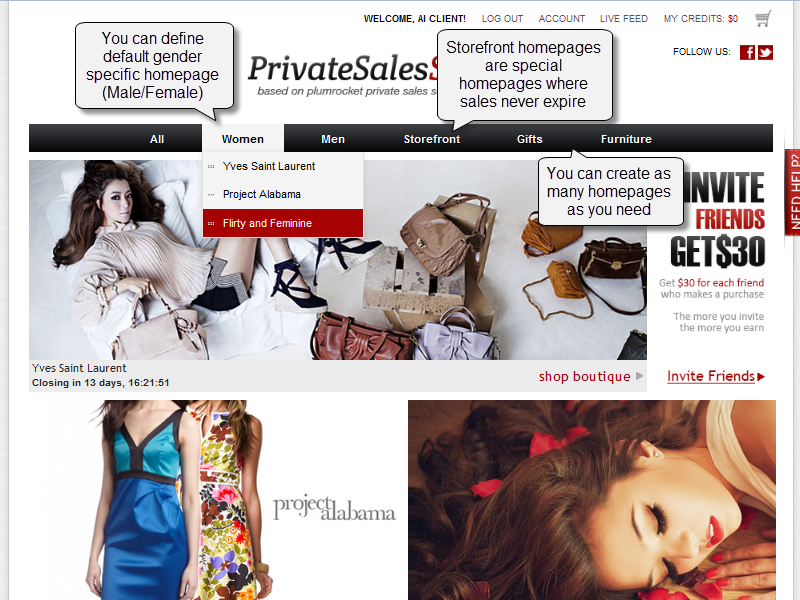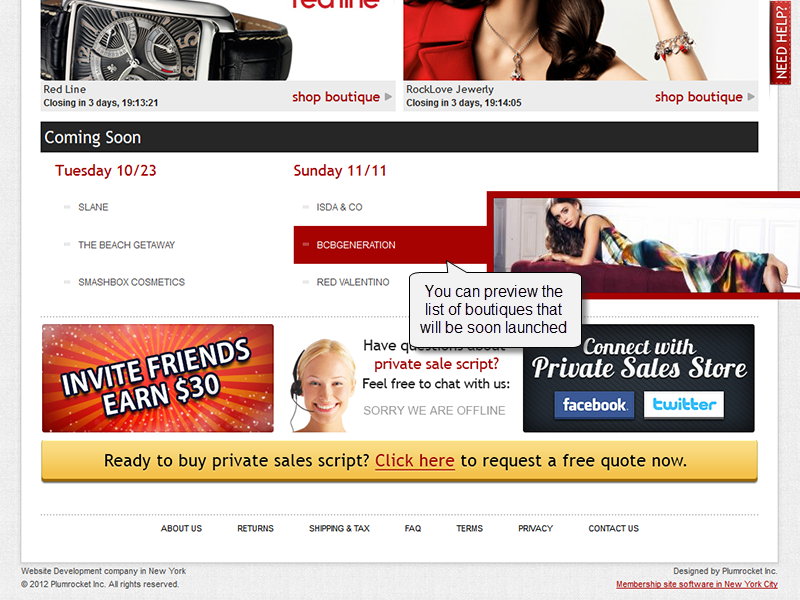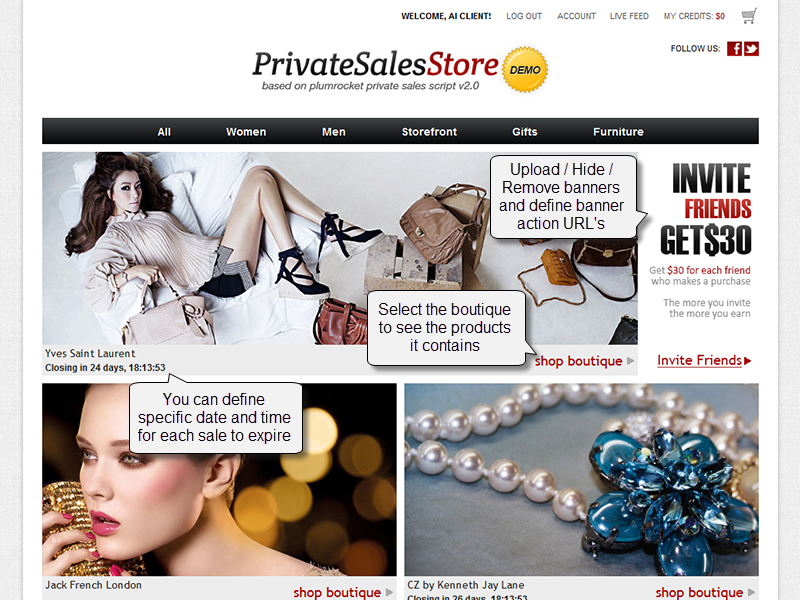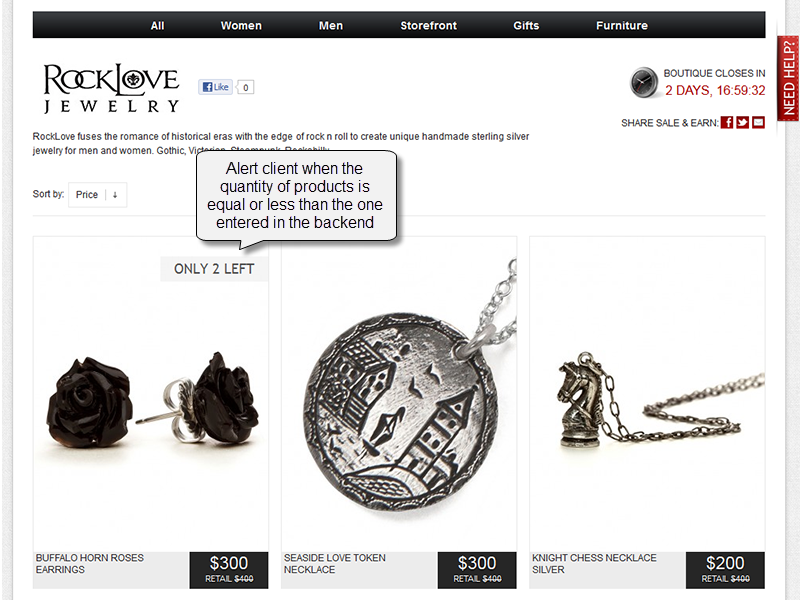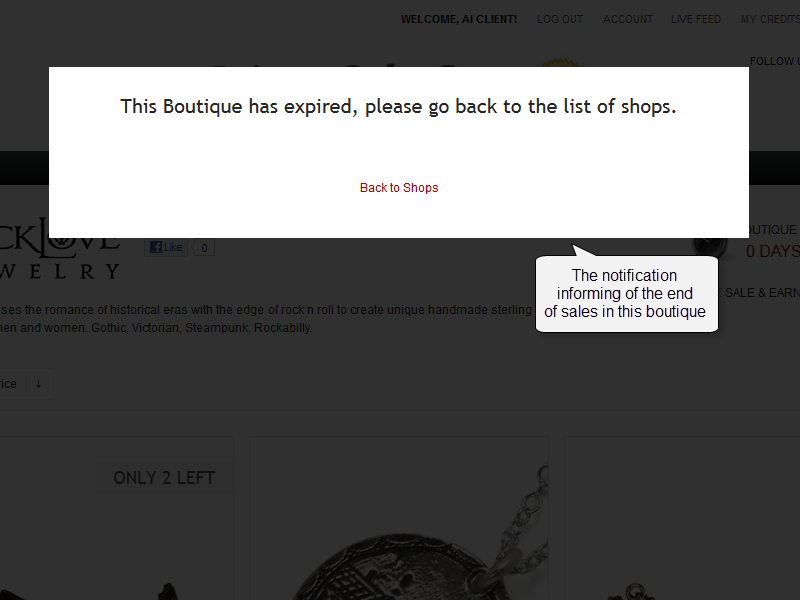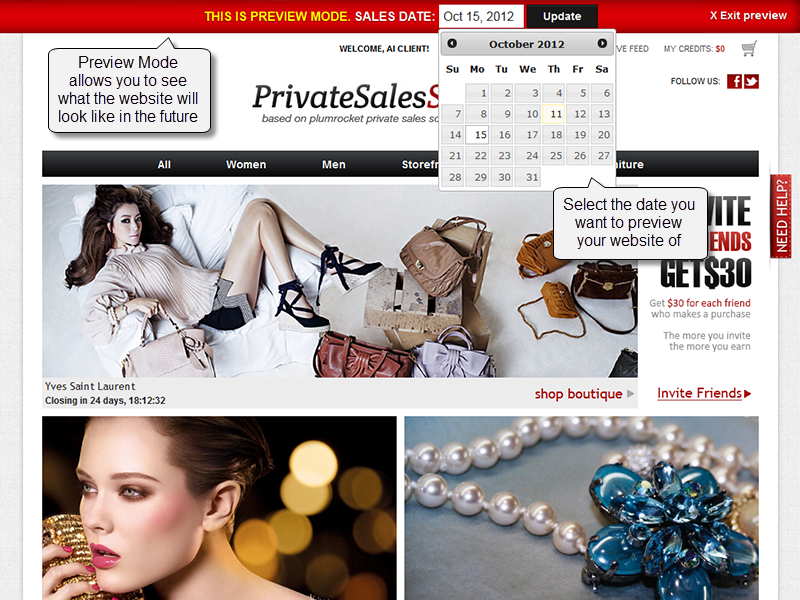 Splash page
This page contains the background image (usually related to the website activities), log-in form, registration form and password recovery form. Unlike standard Magento platform, our Splash Page is able to provide all the options simultaneously, i.e. log-in, registration and password recovery with no need to switch from on page to another. The authorization, registration and password recovery are carried via AJAX by default, i.e. the page is not reloaded while possible errors are immediately displayed on the screen. If necessary, you can enable this option and make users visit separate standard Magento pages for registration or password recovery.
Other options allow to:
Disable user registration, providing access for previously registered users only.
Enable Launching Soon Mode. This mode informs that the website is not yet launched, but the user can get registered in order to receive notification letters containing corresponding rewards when the website will be launched.
Upload several images to be displayed on the page, set the order and time during which they will be displayed and repeated.
Enable additional "License Agreement" field, which is compulsory. Note, standard Magento platform does not contain such a field.
Home page
Private Sales Extension offers new types of catalogs instead of the traditional catalog typically used by Magento. They are:
Homepage — is a page representing the full range of boutiques. It appears on the main page of the website and is a start page for all authorized users. For instance, if you offer products for both men and women, it will be quite convenient to show them separately in specialized sections "For Men", "For Women" instead of showing them mixed together.
Boutique — is a catalog of products usually grouped under one brand. You can set the sales time frame during which the boutique will be active and displayed in the list of boutiques.
Group of boutiques — is a group of boutiques united on the basis which is convenient for a customer. For instance, a group of boutiques that are displayed simultaneously etc.
Homepage Configuration
We can configure either separate default Homepages designed for men and women, or default main page in case there are no separate settings for men and women. If none of these options is enabled, the main page will be represented by the Default Homepage, which is a page containing products from all the homepages. Meanwhile, only after a customer moves to a particular Homepage, he will be able to see the list of boutiques belonging to that homepage.
The module has a flexible and convenient interface to configure each Homepage and Default settings separately. Each main page is available in two versions: there is a Draft Mode and a Preview Mode which is displayed to customers.
Thus, you can configure settings and structure for each Homepage. Such a configuration includes: the number of columns in the list of boutiques, merging of cells, location of banners, assigning images to banners, setting the time frame for the image to be displayed and periodically replaced by another one, etc. You can also configure the replicable part of the list. For instance, there is a standard heading, while the boutiques below are located in such an order: two boutiques in one line, one boutique and one banner – repeat. There is no need to repeat this set until all the structure is filled with boutiques. You should only make a pattern of the replicable part and the module will automatically build the rest of the boutiques into the structure according to the replicable pattern.
The configuration itself must be finished in the Draft Mode to prevent undesirable changes in the website main page. After the structure is created and all the settings are made you can publish the Draft making the page visible for customers. If there are any mistakes in the Draft and you want to reset it again, you can cancel the settings and the Draft will switch to its original view.
You can not only build a Draft but also preview the Page Layout, which will not affect the page itself. To do this, press the "Preview Draft" button before you press the "Publish" button – this will let you see the Page Layout before the Draft is published. It is a great option, since it allows you to preview changes before they are published. This mode is called "Preview Mode", and it allows you to preview both Drafts and the prospective website itself. The Preview Mode is available for each boutique, homepage or product configuration interface. To enter the preview mode, press the button and you will see such a panel in the top of the page:

You can also set the desired date, and after you reload the page, you will be able to see what the website will look like on that particular date, i.e. all the boutiques, banners and products will be displayed as of that day in the future. You can even surf the website and purchase the products from these boutiques as if it were a real-time mode! Moreover, you can also preview the drafts which are not yet published.
Note that each page contains the Ending Soon block – a list of boutiques that will be displayed less than N days only. You can either enable or disable this block for each Homepage, as well as, set the number of days remaining for the display, and configure the structure of this block just like you did it for the Homepage itself. Thus, each Homepage is divided into two parts – the page itself, and the Ending Soon block which can be configured in the same way.
There is also an Upcoming Sales section on each Homepage. It is a block containing a list of boutiques yet unavailable to customers, but to be launched in the nearest future. You can either enable or disable this block for each Homepage.
Additional Options
For a more flexible and convenient module configuration use the following additional options.
Country and type of delivery by default. Magento platform does not show the type of delivery as well as taxes in the cart, until the customer proceeds to checkout and selects the type of delivery himself. But our module allows you to set the type of delivery by default (including the possibility of changes in the future), get the prices and taxes immediately, and get the total price in the end.
"Now Featuring" Box, represent the boutiques currently active on the website. This box appears on all website pages providing quick access to its boutiques.
Dynamic reverse timer for a closing boutique It appears on boutique page, product page and corresponding field of the homepage.
For a more detailed information on additional options, visit our Configuration section.
Was this article helpful?