Basically, the GeoIP Lookup was designed by Plumrocket to help retrieve the geolocation data on IP addresses. Developers can use it to create their own functionality that requires getting the user's geolocation.
However, you can take full advantage of the extension already integrated into all Plumrocket data privacy modules, giving you complete control over the display of consent banners, checkboxes, and more. The Plumrocket modules are feature-rich and very easy to use as they are all compatible and most of them are integrated with each other.
Benefits of Magneto 2 GeoIP Lookup & Data Privacy Plugins Integration
The Magneto 2 data privacy extensions, including GDPR, CCPA, LGPD, and Cookie Consent plugins, have been developed by Plumrocket to protect your customers' personal data, ensure their privacy, and inform the facts and purposes of all personal information collected by the website. They cover and ensure compliance with major data privacy laws and regulations in the world, including the EU, California, and Brazil.
To simplify the implementation of data privacy laws on your Magento store and reach customers only from required countries/states, the GeoIP Lookup plugin has been integrated into the mentioned plugins.
In particular, you can take full advantage of the data privacy modules and built-in GeoIP Lookup functionality to locate users and take appropriate action only for specific users. For example, display a cookie consent banner only for California citizens or allow access to the data privacy dashboard only for EU residents. Being able to locate a user lets you comply with local laws without disturbing users who do not apply these rules.
Please follow the
GeoIP Lookup configuration
instructions to set it up correctly. Once configured, you can easily enable, for example, the "Do Not Sell My Personal Information" page only for visitors from California state (see the screenshot below).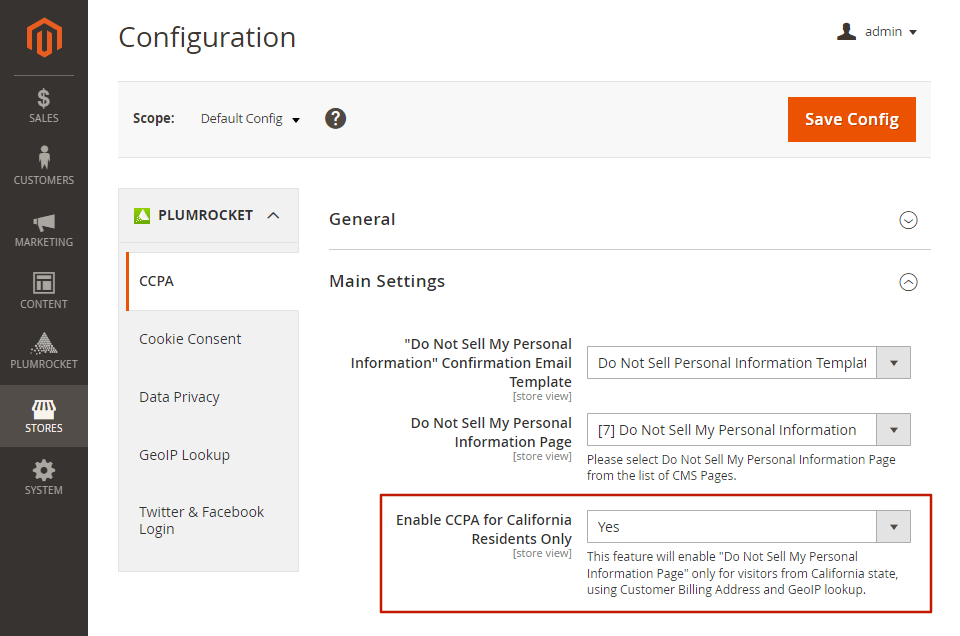 Please remember that you can integrate the Plumrocket GeoIP Lookup plugin with any third-party or custom functionality you need.
We hope the article was informative for you. Please
let us know
if you have any other questions.
Last Updated: Jan 04, 2022 08:16:01 AM
See other FAQ for Magento 2 GeoIP Lookup Extension