In this article, you will learn how to configure Magento 2 Base v1.x Extension on your store. This Base module is required for all paid and free Plumrocket extensions, which provides utility classes and is responsible for the license system. Follow the steps below to configure it correctly.
How to Configure Magento 2 Base Extension
In the main Magento menu, go to Stores > Configuration. Then, navigate to the Plumrocket section in the left sidebar > select Base Settings.
Installed Extensions
Step-by-step guide:
"Installed Extension": in this field, you can view the list of installed Plumrocket extensions on your Magento 2 store. Additionally, you are notified there whether you have installed the latest version or you need an update.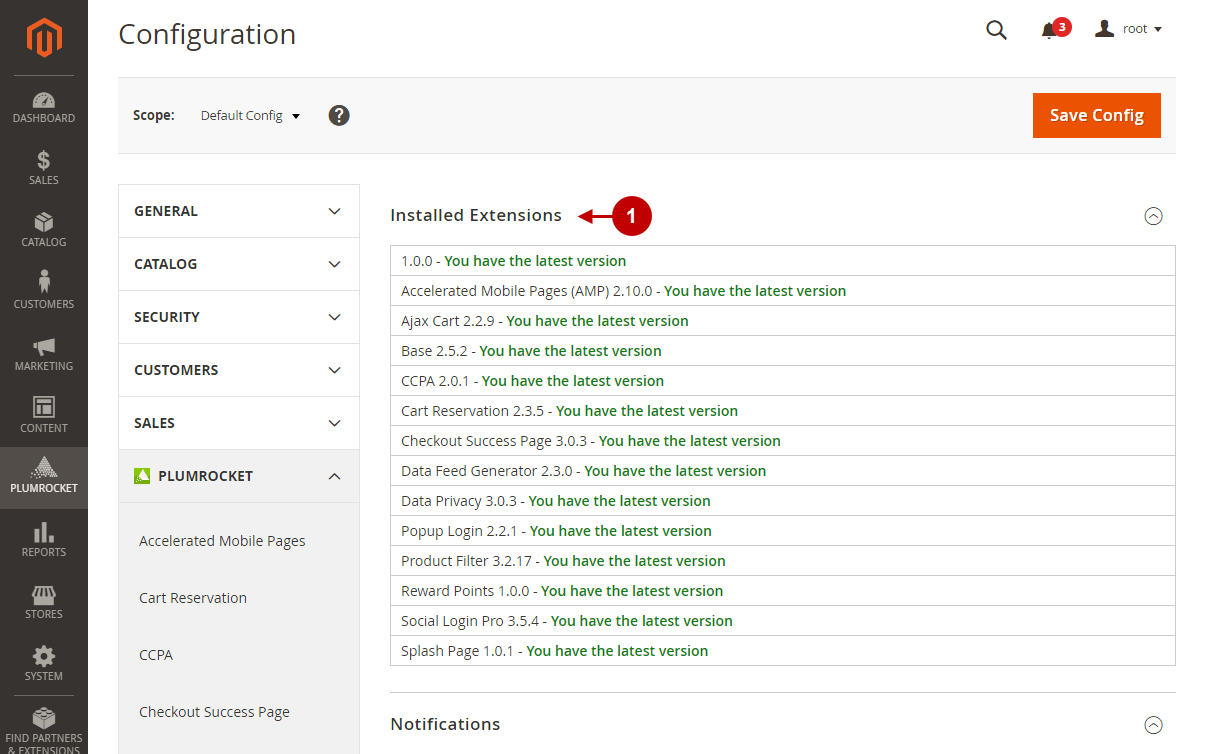 Notifications
Step-by-step guide:
"Enable Notifications": set it to Yes to enable Magento admin notifications so that admin is notified of product updates, security patches, and promotions. If you want to disable admin notifications, set this option to No.
"Subscribed to": if the Enable Notifications option is set to Yes, you can subscribe to Magento admin notification types in this field. Select one or more notification types you want to subscribe to: Product Updates, Announcements, or Promotions.

Menu
Step-by-step guide:
"Show Plumrocket Menu": this option allows you to show or hide the Plumrocket tab from the main Magento menu. Once hidden, you will not be able to conveniently access Plumrocket extensions in one place.

System Settings
Step-by-step guide:
"Send Usage Statistics": in this option, you can enable or disable sending anonymous statistic data to Plumrocket. When set to Yes, you allow sending anonymous data about your Magento version, the features used, the installed version of Plumrocket extensions and their configuration. In this way, you will help Plumrocket improve its products. Please note: the data will not include personal data or any sensitive information, such as clients, orders, etc.

Developer
This section is useful for developers to debug your Magento store in case of issues after installing Plumrocket extensions.
Step-by-step guide:
Here you can view Magento Mode, Magento Path on the server, and the server's local time.
Click Download Technical Report to view the technical report.

Was this article helpful?