Here you will learn how to configure your membership site email settings.
Note, these settings cannot be found in standard Magento functionality. In order to be able to configure these settings, you will have to download the free module Advanced Smtp – ArtsOn.IT first.
To do this, go to http://www.magentocommerce.com/magento-connect/advanced-smtp-artson-it.html. After the module is downloaded and installed use the instructions below to access the page settings.
Step-by-Step action:
Click on the "System" tab in main menu.
Select "Configuration".

The screenshot below represents the Advanced Smtp Settings page.
Detailed description:
Select "Advanced Smtp Settings" from the section "Advanced" of the "Configuration" tab.
Option "Enable Advanced Smtp": allows you to enable or disable Advanced Smtp.
Option "Auth Mode": allows you to select the authorization mode from the drop-down list.
Option "Username": Enter the user name here.
Option "Password": Enter password here.
Option "Smtp host": Set the Smtp host.
Option "Smtp Port": Set the Smtp port.
Option "Use SSL": Indicate whether SSL connection will be used. (If you select "Yes", you can also select the connection protocol to be used with email SMTP server: Secure Socket Layer or Transport Layer Security.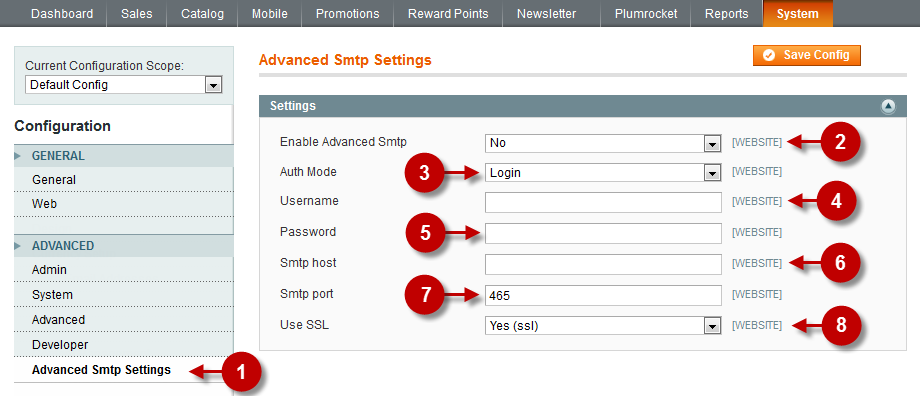 Was this article helpful?