Data Feed Generator
The Plumrocket Data Feed Generator allows you to easily create custom magento product feed as well as Data feeds for categories. This magento xml feed extension will help any store owner increase sales, traditional search engine rankings, improve engagement and improve online visibility by driving more traffic from Data readers, price comparison websites, directories and deal aggregators. With our Data feed extension you will be able to define a custom Data format, create an unlimited number of Data feeds, save them on your server or generate new feeds each time someone requests it. The magento feed generator is also an advertising, data feed management and marketing tool. It can help you reach new audiences through syndication, communicate with customers or potential customers, share your products on popular Data apps for Android & iOS or simply upload your deals on any daily deal website. It also allows you to easily export products from your Magento backend.
Data Feed Generator Extension supports following systems:
Affiliate Window Data Feed
AvantLink Data Feed
Commission Junction Data Feed
eBay Enterprise Data Feed
eBay Enterprise Display & Retargeting Data Feed
HasOffers Data Feed
ImpactRadius Data Feed
Linkconnector Data Feed
LinkShare Data Feed
PerfomanceHorizon Data Feed
Post Affiliate Pro Data Feed
ShareASale Data Feed;
Webgains Data Feed
Yipit Daily Deal Aggregator Data Feed
TradeDoubler Data Feed
Zanox Data Feed
RSS Data Feed
XML Data Feed
CSV Data Feed
Extension Features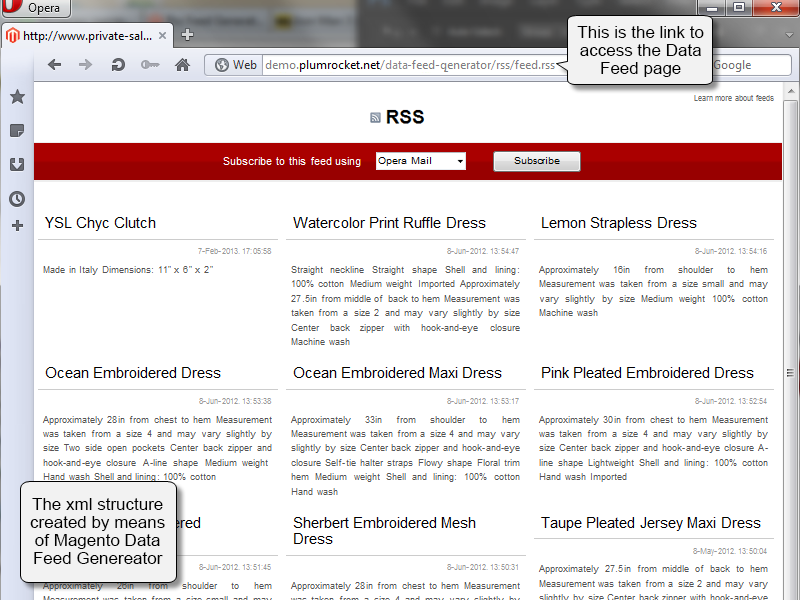 Was this article helpful?