Why You Should Use Icons in Website Design
Icons are quite widely used in web design since they can clearly communicate a message to those who see it. Besides, it is a great way to encourage visitors to a website to browse and read the site. Perhaps you are familiar with the concept: first, users scan a website, and then they start reading it. That's why using icons in website design can also be a great tool for grasping your readers' attention. But this is only one way how you can benefit from the use of icons. Let's find out the rest of the reasons why you should start using them in your website design.
Icons can emphasize new features.
Icons work well for attracting a reader's eyes. That's why you should use it to draw users' attention towards new features available at your site. If your website has something new to offer, try using related icons so that the audience could appreciate the new product or service. Moreover, icons will always liven up feature lists. If you want to showcase products in some categories, groups or galleries, use icons to represent each one too.
Icons can increase readability.
Icons have already been proven effective for improved website readability since they can well structure the content of your website. Note, these elements can also be used to separate sections adding a defined clarity to separate areas. Your visitors will definitely feel relaxed reading your texts if it is divided by means of smart and appealing icons.
Icons can be used in headers.
If you feel like emphasizing your website header don't hesitate to incorporate icons some icons into too. Doing this you will make the header look even more inviting.
Icons can be used for titles and navigation buttons.
Think of some recognizable design for your icon so that they could well represent titles and navigation buttons. This will be an effective way to make your website unique and professional.
This is an example of how Plumrocket.com used icons in website design.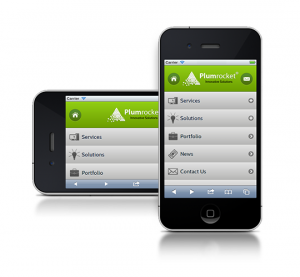 There is one more point we want you to pay attention to. Always add some creativity when you decide to use icons in website design. Use proper colors so that the icons can always stand out despite the colorful background you may have, and these small elements of design will serve their purpose effectively.
Well, have you ever used icons in web design? What is your vision of this technique? Leave a comment below to share your point of view!