Magento 2 Store Credit Extension: All the WHYs and HOWs
Needless to say that loyal customers are the core of any business. Therefore, to stay abreast of the evolving e-commerce trends in 2019, it is vital to win the customers' loyalty and motivate them to purchase at your store. It is a task of high priority and that's where store credits can help you as the e-store owners.
Let's dive into the main aspects of store credit functionality and introduce the extension that can help you implement store credit on your Magento 2 website without coding skills.
What Is a Store Credit?
To state the issue simply, store credit is the virtual amount that is restored to a customer account. The first difference that sets it apart from a sale or a discount is that a store credit applies to one particular customer and usually excludes an expiration date as compared to a temporary sale or promotion. Implementing a store credit functionality to a Magento 2 online business can simplify the returns & exchanges processes, as well as ensure more money stays within your business.
When Use Store Credit?
Generally speaking, a store credit functionality can be beneficial for both sides: customers  and entrepreneurs. Customers usually exploit the store credit paying for goods. Website owners, in turn, can use store credit in the following cases:
There's a no-refund policy, yet items can be returned in exchange for a store credit.
A merchant wants to reward a customer with a credit for a future purchase.
As you can see, a store credit is a good way to help you build successful relationships with customers and keep your overall sales going. However, Magento 2 store credit implementation can be a quite challenging and time-consuming task. In order to avoid any unexpected pitfalls during the store credit integration into your business strategy, you can take advantage of Magento 2 Store Credit extension.
Magento 2 Store Credit Extension: Features and Benefits
Magento 2 Store Credit extension has been developed to help merchants improve their customers' satisfaction by providing a flexible return policy. This plugin allows to seamlessly implement a credit functionality to a Magento 2 website, increase revenue and lower the number of refunds. So, consider the following benefits of the Magento 2 Store Credit module:
Sales Increase With a Flexible Return Policy by expanding the default return policy beyond a typical 30 days.
Automated Refunds to Store Credit that are calculated for partial/full refunds and prefilled on the Magento Credit Memo page.
Effortless Store Credit Management for both parties (customers and merchants) who can view the full transaction history and make any required configurations.
Easy Redeeming of Store Credit at checkout by choosing the appropriate Magento store credit payment method.
Support of 2 Types of Magento 2 Store Credit – merchandise and promotional (or marketing).
Store Credit Vouchers Offer that are automatically redeemed and deposited to the customer store credit balance after purchase.
Seamless Integration with Plumrocket RMA Extension helps to implement an easy return management process, increase customer retention and loyalty.
Compatibility with Custom & Third party Magento 2 themes – no matter whether it is your own custom theme or a popular theme like Ultimo, Porto, Pearl, etc.
Overall, store credit delivers a comprehensive range of advantages for both merchants and customers:
Merchants can easily view full transaction history, specify how store credits should be applied and configure email notifications. Also, you can create marketing promotions that allow customers to earn credits, as well as sell store credit vouchers with free offers and more.
Customers can monitor the full store credit balance that is displayed in their accounts and apply the store credit at checkout by choosing the Magento store credit payment method. In addition, the clients get an opportunity to buy "Store Credit Vouchers" gift cards, and earn extra credits as a bonus, etc.
Store Credit Plugin: A Complete Guide
If you haven't equipped your online shop with a store credit yet, here's a step by step guide on how to implement it with Magento 2 Store Credit extension effortlessly:
1. Install the plugin
There are two methods to install the extension on your Magento 2 store:
2. Configure Store Credit
Before you start using and configuring the Store Credit, enable them first by selecting "Yes" in the matching field. When done, configure the way the store credit will be applied to a customer on the Checkout Page. You can choose from the available options "Apply Custom Credit Amount", "Manually Apply Available Credits", "Auto-Reply Credits to an Order". Also, it is possible to enable or disable "Store Credit Application on Tax" and on "Store Credit Application on Shipping" by clicking the matching buttons.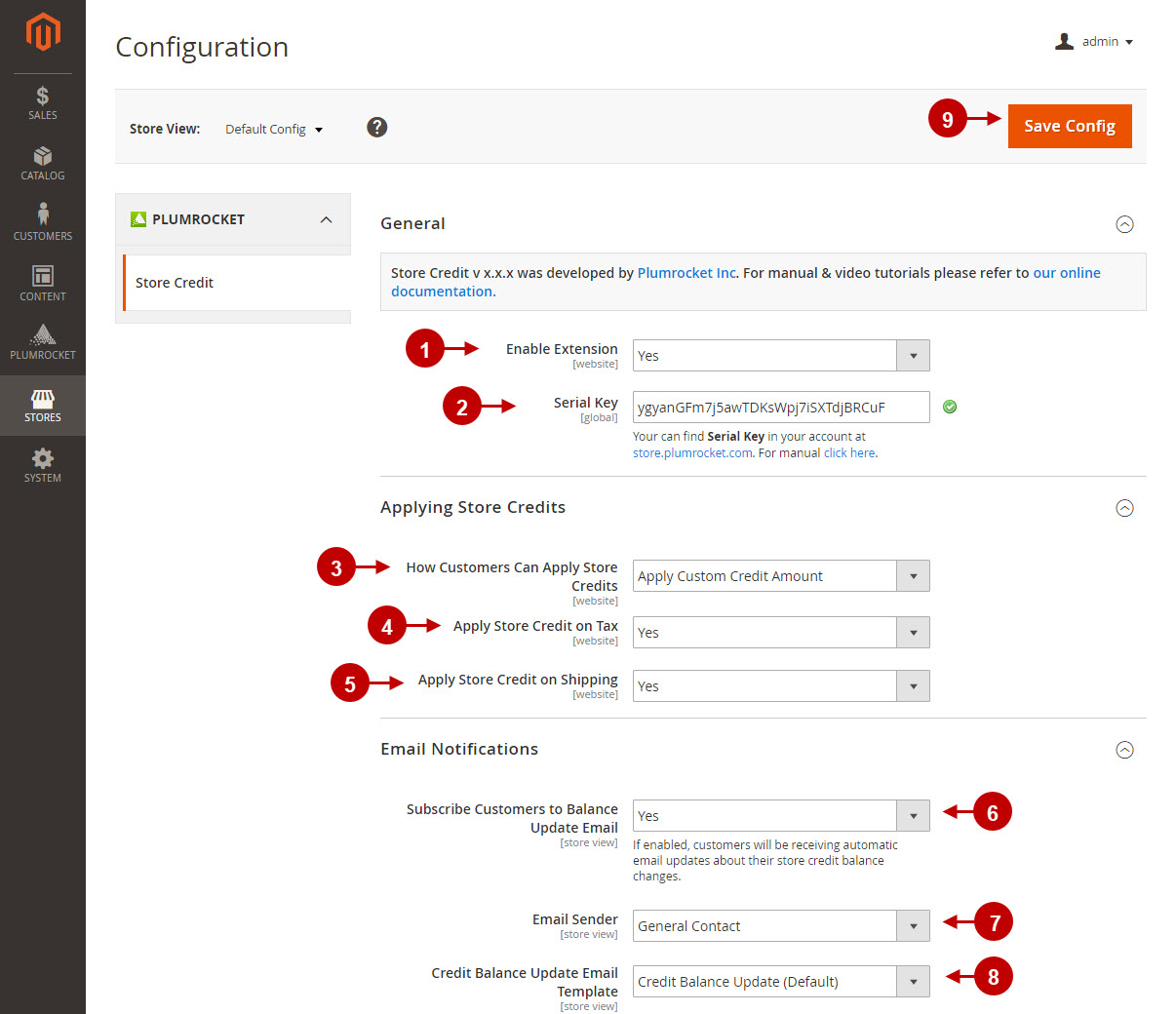 3. Manage Customer Credits
Once ready with configuration options, it's time to customize the store credits. Navigate to the Plumrocket tab in the main menu > go to the "Manage Customer Credits" section. This grid allows admin to view and manage customers who have store credits – e.g. "Receive Balance Update Emails", "Update Balance", etc.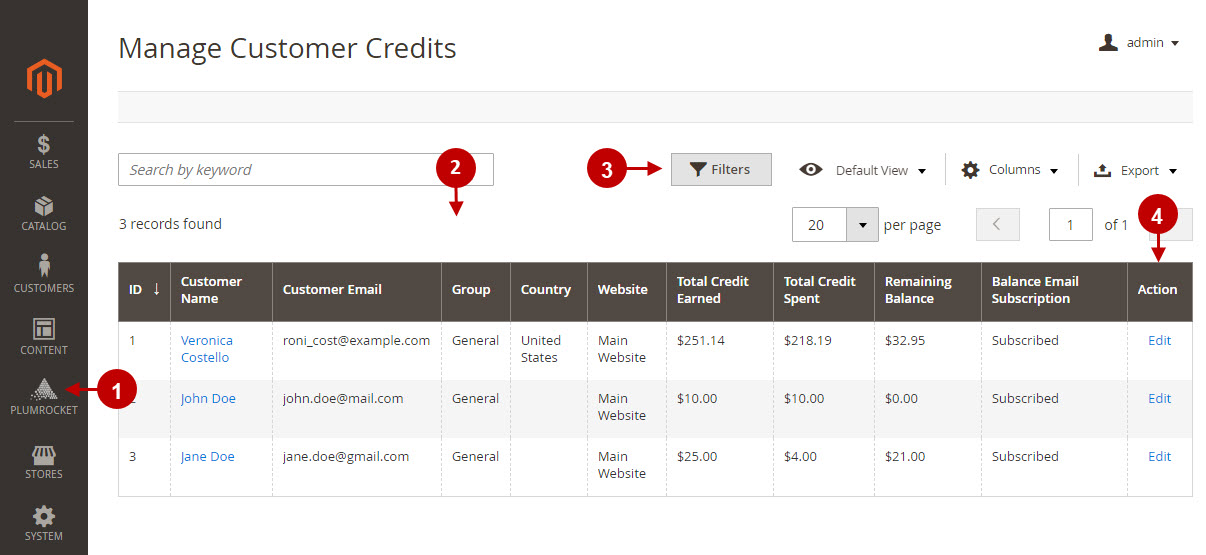 4. Customize Transaction History
For tracking the required transactions of all customers in one grid, go to the Plumrocket tab in the main menu > navigate to the "Transaction History" section and search the necessary information with the help of Magento 2 default filters.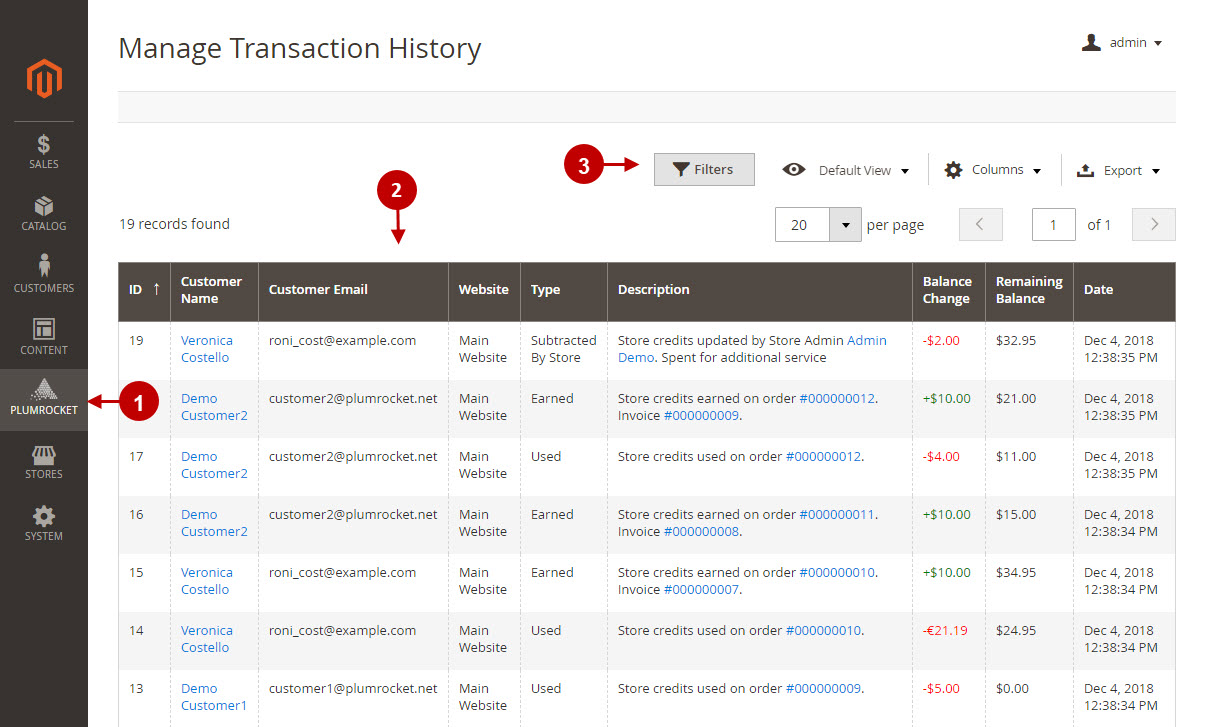 5. Manage Earn Rules
If configuring the Credit Earn Rules in one grid is required – go to the "Credit Earn Rules" section in the Plumrocket tab. Here you may also "Add New Earn Rule" by enabling the matching button, specify the details like "Rule Name", "Active", "Websites", "Customer Groups", "Active From/To", "Priority". When ready, configure the conditions to be met during rule application by enabling/disabling the options like "Action", "Credit Amount X", "Discard subsequent rules", "Condition".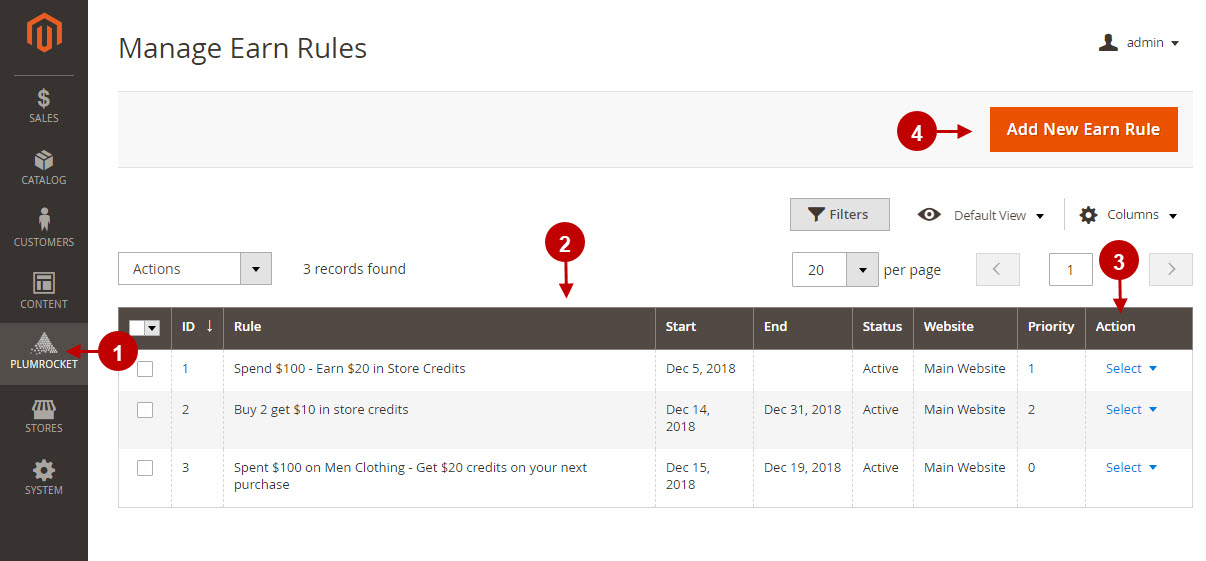 6. Store Credit on Order
Check the Store Credit applied to an order on the Order View Page. Here you may also create a new order and enter the required amount of store credits by clicking the matching buttons.
By and large, if you want to test the plugin in action and estimate its advantages – a Demo version is available. Furthermore, in case you want to find out more information on the module's installation and configuration – Documentation may come in handy.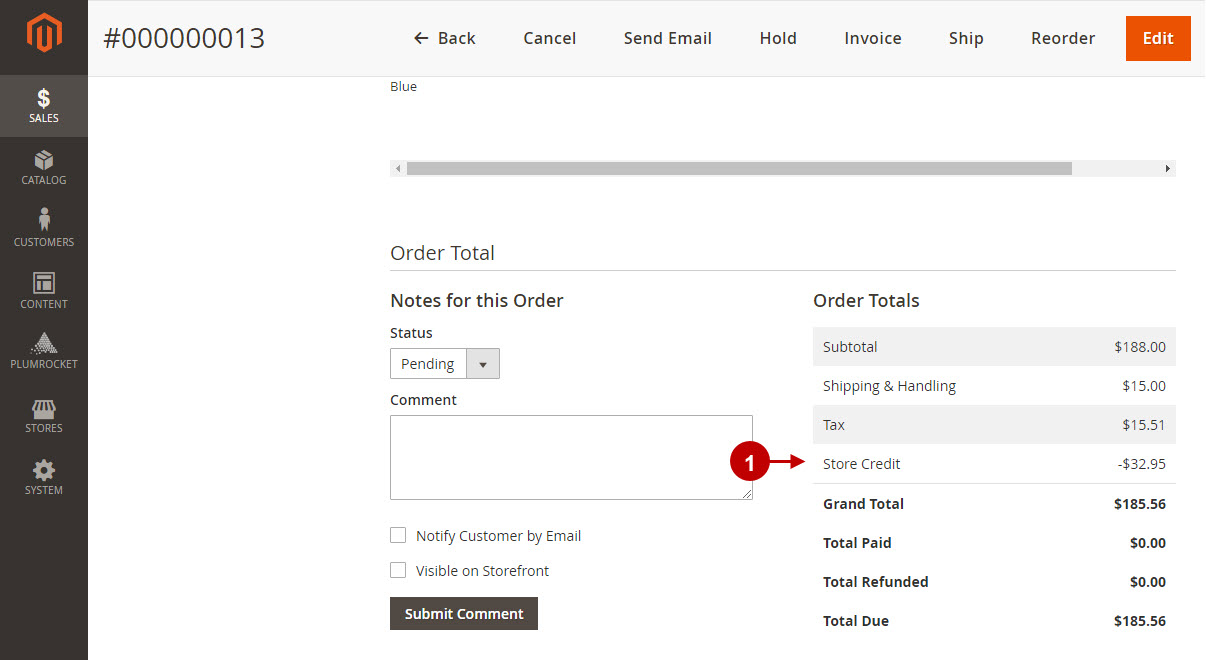 Round-Up
Store credit has proved itself to be a truly useful tool in building long-term relationships with customers and Store Credit Magento 2 extension is an excellent way to get the job done efficiently. So, offer your Magento 2 customers a store credit and build the successful refund policy right now!