The all-new AMP extension v3.0 is coming soon!
Our team is currently putting the finishing touches on the completely revamped version of the AMP extension for Magento 2, which should be out in the next few weeks.
The improved version of the AMP extension is a powerful way to drive more mobile traffic by offering visitors a blazing-fast page load on all mobile devices.
In a new, third version of AMP, you get even more speed and flexibility than any other Magento vendor can offer! We've taken into account all the relevant SEO requirements and considered the importance of beautiful web page design to you.
With new features, you will significantly increase your conversion rates by providing a seamless shopping journey for your mobile visitors.
Create AMP Pages in One Click
You won't have any issues with switching to AMP, as the new extension is compatible with all Magento product types and can be enabled on various pages of your store. Most importantly, the latest version features built-in support of Magento 2 product swatches and custom attributes without the need to use AMP Iframe. We are confident that all our clients will welcome this major update.
Drive More Mobile Traffic With Excellent Core Web Vitals
Plumrocket AMP extension has been reviewed by the Google AMP.dev team and approved for the Magento platform. In our tests, the all-new AMP v3.0 offers an incredible Core Web Vitals score of up to 95 points!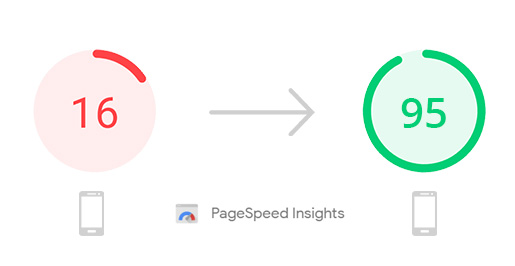 As you may already know, website speed and Core Web Vitals will be a major ranking signal in Google Search results starting in mid-June this year. Although the new "page experience update" will be gradual, Google plans to finish its release by the end of August. Therefore, it is essential for any business to ensure that the mobile version of their website ranks high in all three performance categories: Loading (LCP), Interactivity (FID), and Visual Stability (CLS).
Build a Beautiful AMP Theme Matching Your Website Design
Many of our clients were concerned about the limitations of the AMP technology and a very simple design. Let's just say – we heard you! The new version of the AMP extension from Plumrocket is a breakthrough in AMP for eCommerce. Redesigned from the ground up, the new plugin offers beautiful AMP themes and multiple ready-made AMP templates. Now, you are highly flexible about creating the AMP website design. You can build mobile pages using AMP templates, fully customize design and styles, as well as add dynamic elements and widgets directly from the backend.
Magento AMP Development Service
We are pleased to announce the launch of the new service provided to all our clients. To satisfy increasing demand in Magento AMP development and design as well as new website performance requirements set by Google, we will start offering AMP theme customization and development service. Make sure to contact us for more details or reserve your spot in line.
Discover more new features soon!
The complete list of the cool new features will be announced at the time of the release. We cannot wait to share them with you really soon, so stay tuned and be ready to get the new AMP and stay ahead of your competition!
Eager to learn more about AMP?
We can help you!
Contact Us