E-Commerce Conferences 2019: 14 Events to Attend in New Year
The e-commerce world is constantly changing and evolving, so keeping up with the latest updates and innovations is imperative to the successful business strategy. One of the greatest ways to stay in tune with the fresh ideas is to attend e-commerce events 2019. Whether you decide to visit a conference, convention, exposition, or summit, the motivational speeches by executives from the world's largest retailers can provide you with the valuable insights for further company improvements. In addition to discovering new information about the industry, you get a chance to meet with peers and network with the like-minded people.
E-Commerce Conferences 2019 for Your Planners
We have analysed and selected a list of "must attend" e-commerce conferences in 2019 based on the quality, content, networking possibilities, and potential learning. Don't forget to add at least several of the events into your calendar for improving skills, strengthening virtual relationships, sharing your ideas and communicating with e-commerce professionals. All e-commerce events in 2019 are listed in date order here: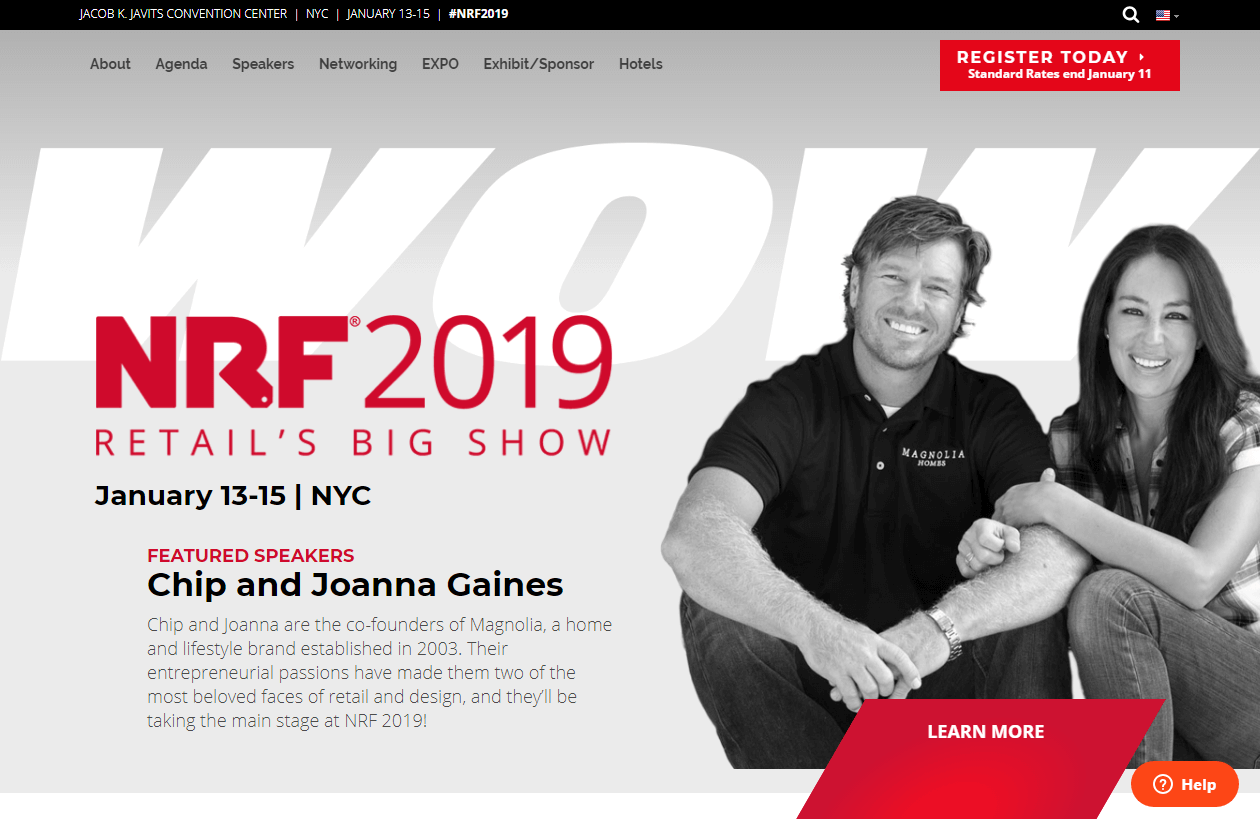 When: 13-15 January 2019
Where: New York, NY, USA
Description: One of the world's largest retail conferences, the event is expecting nearly 40,000 experts interested in the latest trends in brick-and-mortar retail and e-commerce. With an extensive number of speakers, ranging from start-ups to big-name businesses, the occasion features a global audience and exhibitor base that lets the attendees develop partnerships, gain new experiences and create an impact on their organisation.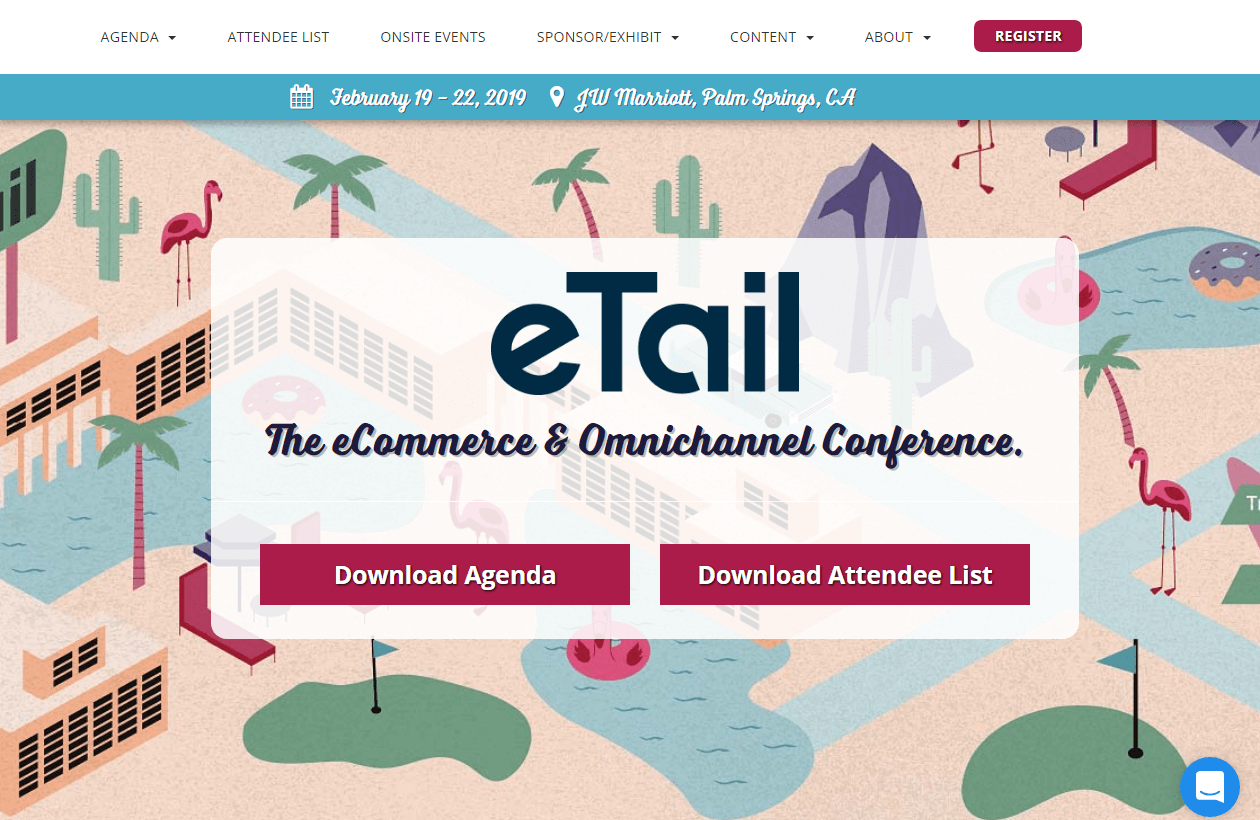 When: 19-22 February 2019
Where: Palm Springs, CA, USA
Description: This e-commerce and omni-channel conference brings together America's most successful retailers to outline and plan strategies for business success in 2019 and beyond. The primary objective of the occasion is to learn from the speakers; what's disrupting the industry today and what will change tomorrow. As an e-commerce professional, you can get a more focused experience within your field, and meet the individuals who have similar business objectives to your own.
Note: The event will also take place on: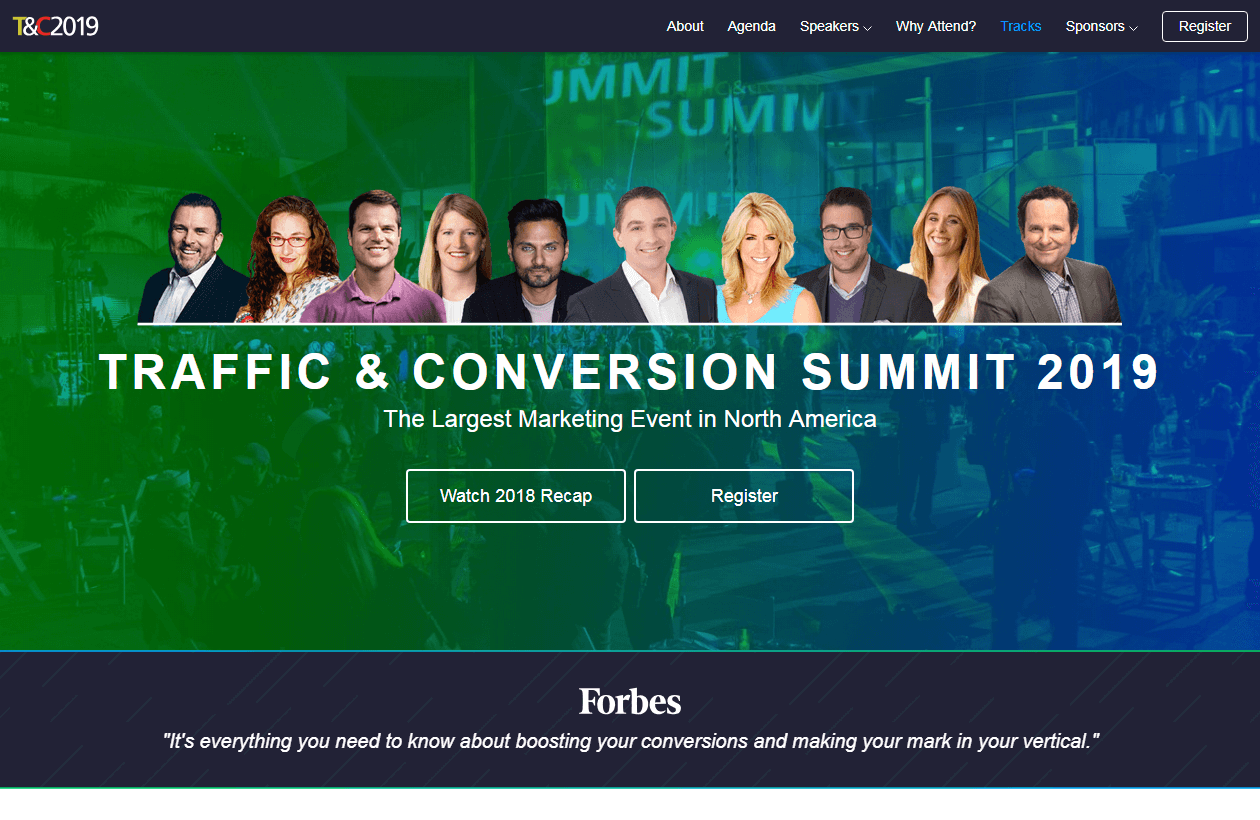 When: 25-27 February 2019
Where: San Diego, CA, USA
Description: If your dream is driving sales from your website, digital advertising or social media efforts, then this occasion is your place to start. With more than 6,000 attendees from 53 countries and 80+ speakers, the event stands out for providing valuable information about digital marketing, traffic channels, conversion breakthroughs and selling models, etc.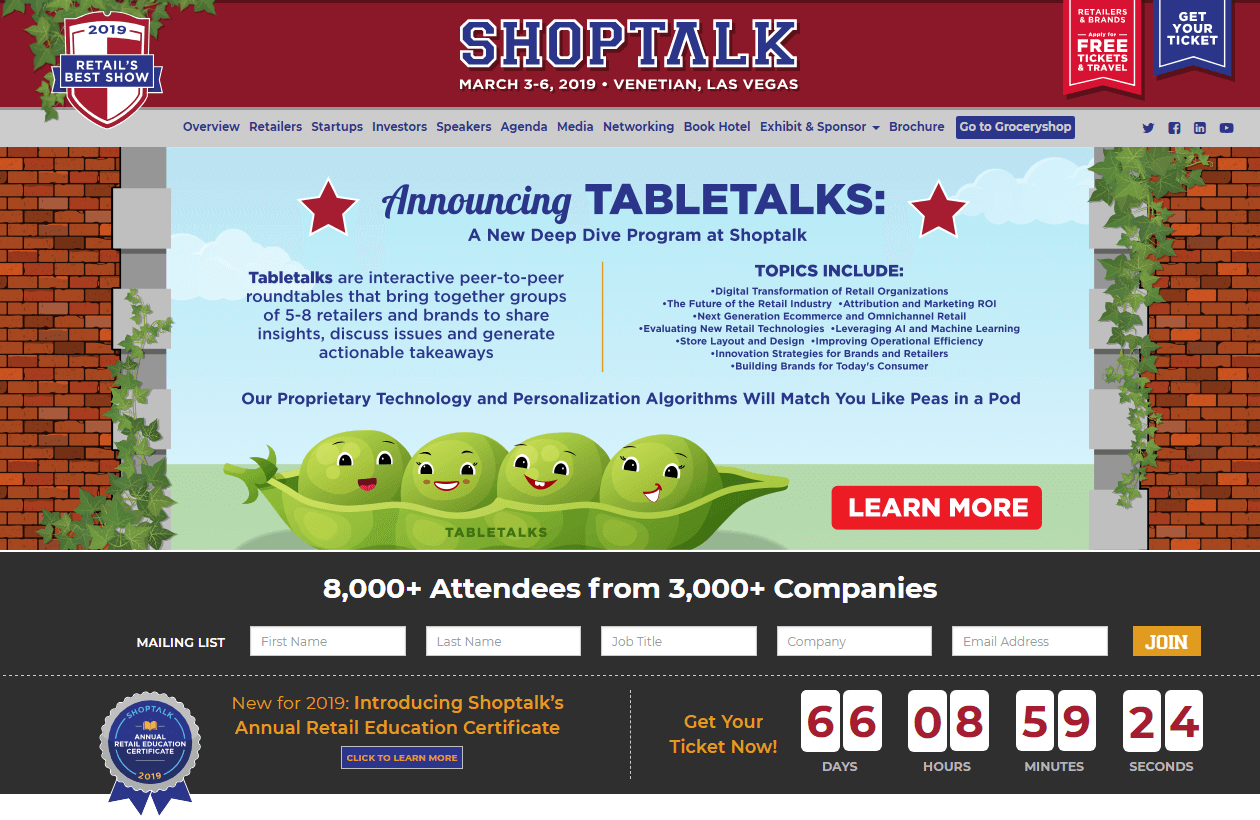 When: 3-5 March 2019
Where: Las Vegas, NV, USA
Description: The event attracts more than 5,000 visitors, over 2,000 companies, 500 CEOs and will present around 250 speakers. The mega expo is dedicated to the rapid evolution of customer preferences, needs and expectations, as well as providing you with useful insights of clients' e-shopping experience. Even though the conference is only in its second year, it is considered one of the hottest platforms for exploring e-commerce innovations and making meaningful connections.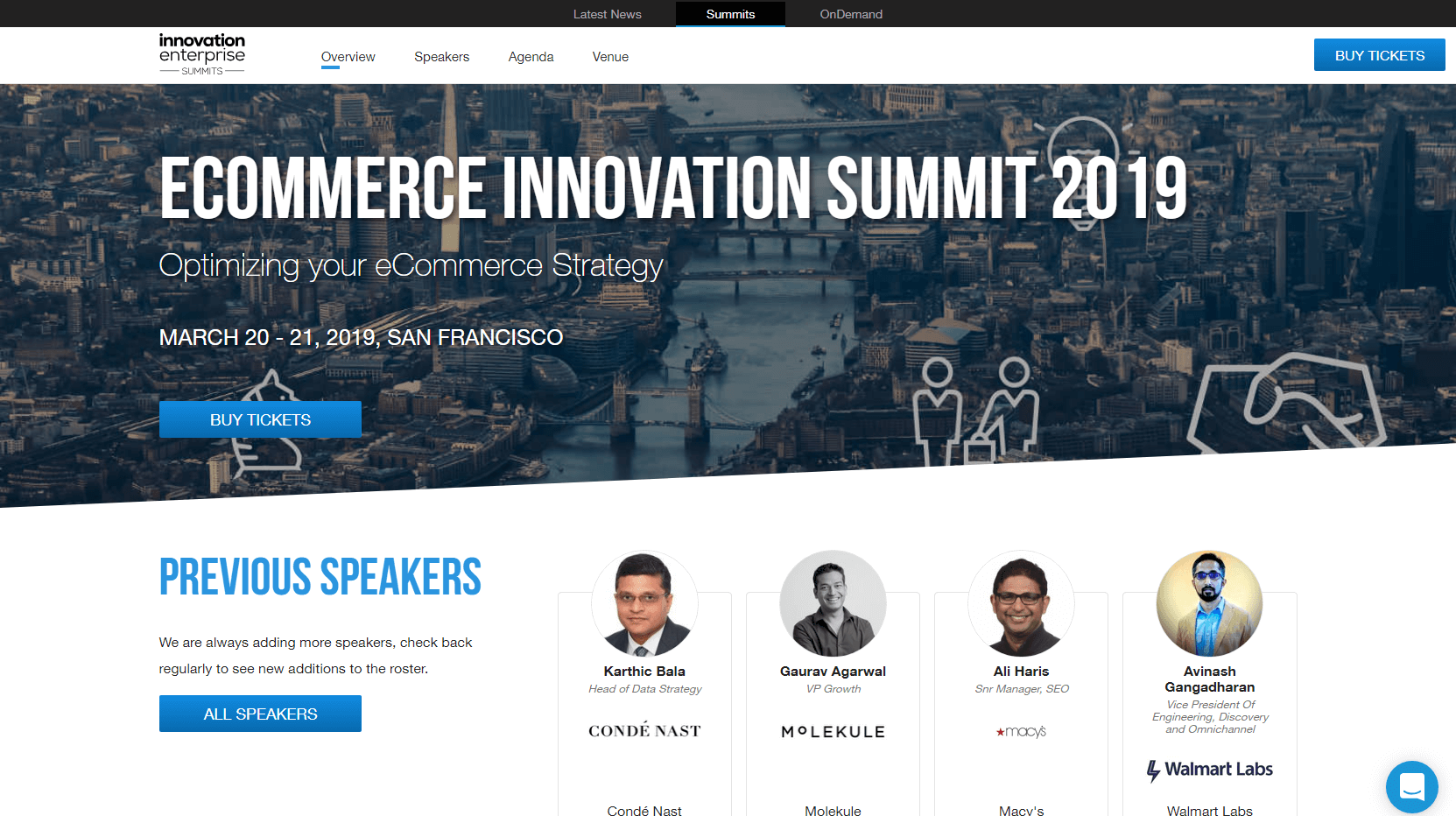 When: 20-21 March 2019
Where: San Francisco, CA, United States
Description: The occasion brings together the senior level leaders from e-commerce, retail, marketing, and digital world. The summit will focus on developing new strategies, tools and solutions to grow your e-commerce business and drive sales. The conference includes speakers from eBay, Walmart, Facebook, and others who will teach new digital trends, mobile experience, cross-channel marketing, AI, and so on.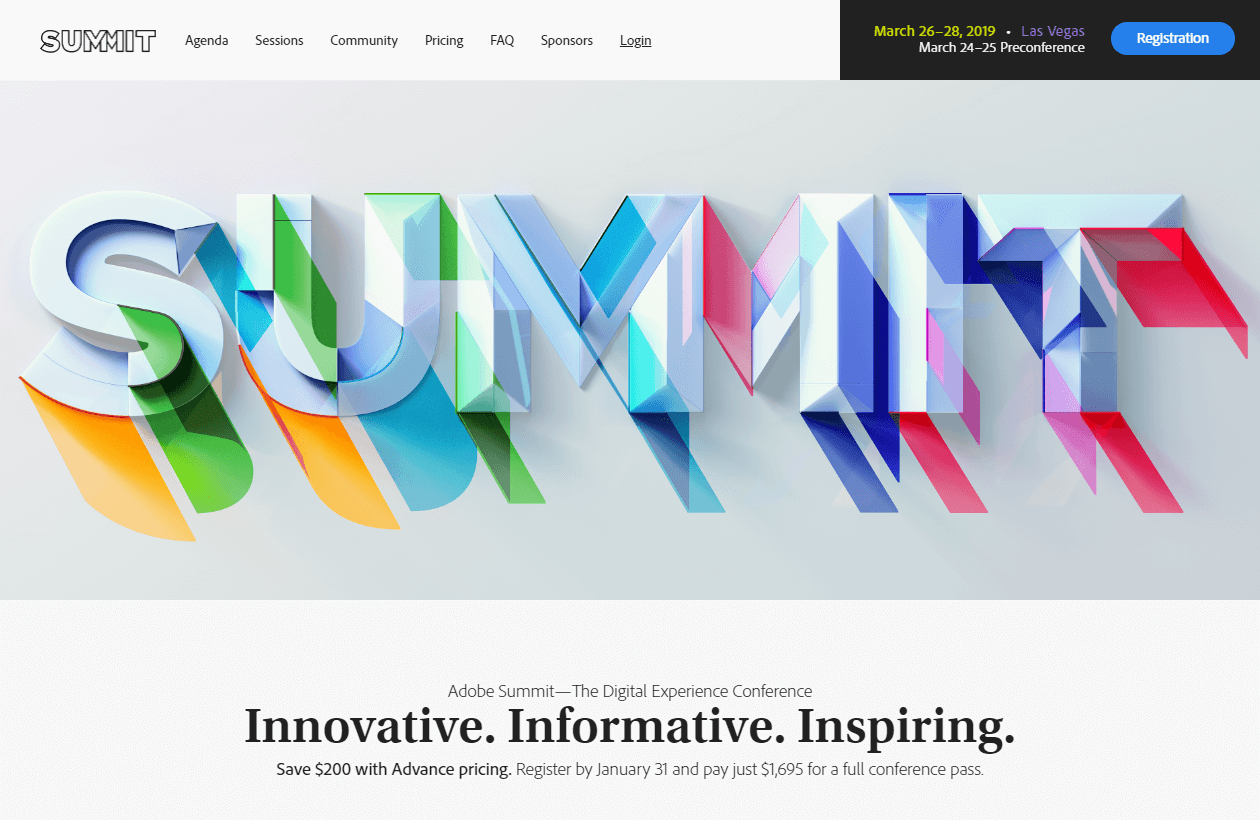 When: 24-28 March 2019
Where: Las Vegas, NV, USA
Description: The event hosted 13,500 Adobe customers, partners and prospects in 2018, and it's expected to be more in 2019. The occasion will include the best practices and success stories that will keep you up to date with the rapidly evolving digital marketing world. You can meet advertisers, analysts, campaign managers, e-commerce marketing executives, and publishers from all over the world, to learn the valuable tools and techniques for your company growth.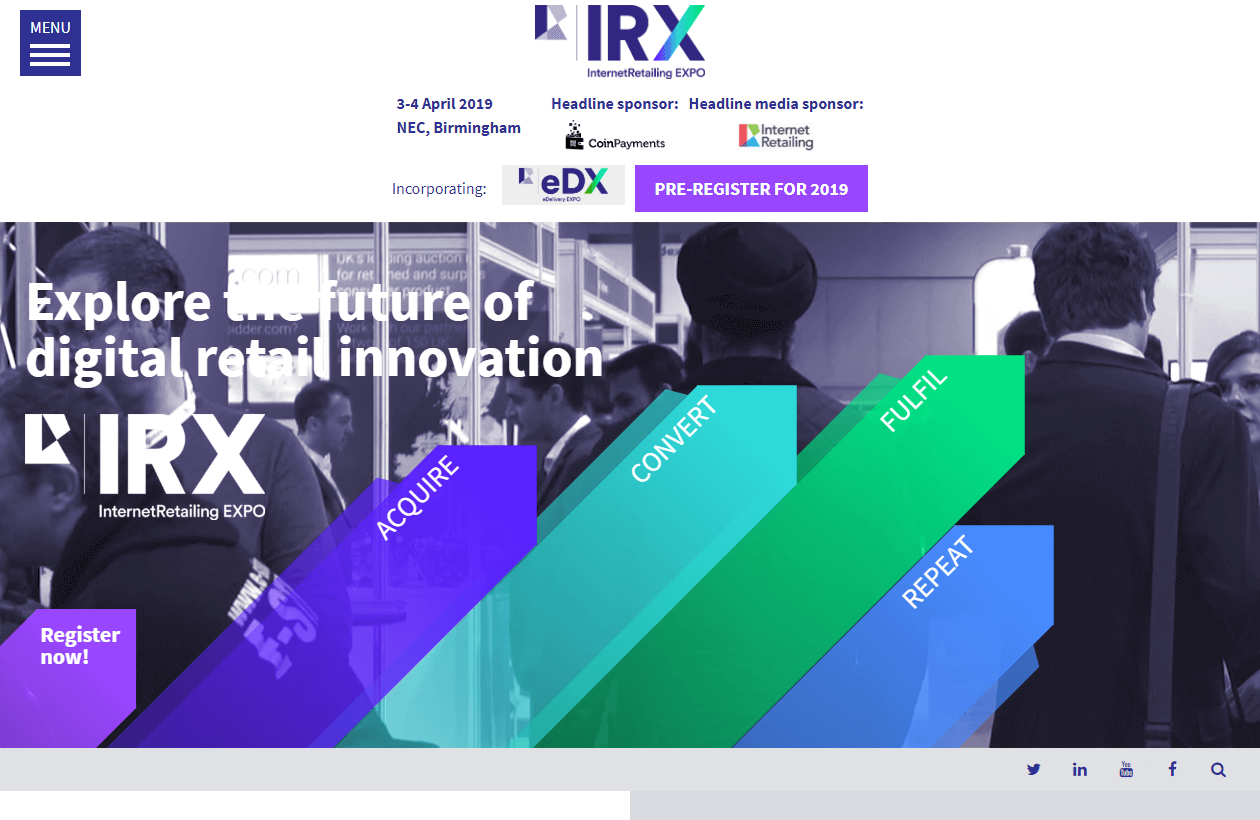 When: 3-4 April 2019
Where: Birmingham, United Kingdom
Description: Over 5,000 European retailers and 300+ exhibitors visit the conference each year for UK's biggest dedicated multi-channel event. It is great for CEOs, directors, senior managers and executives who are responsible for delivering multichannel strategies and want to improve their business processes.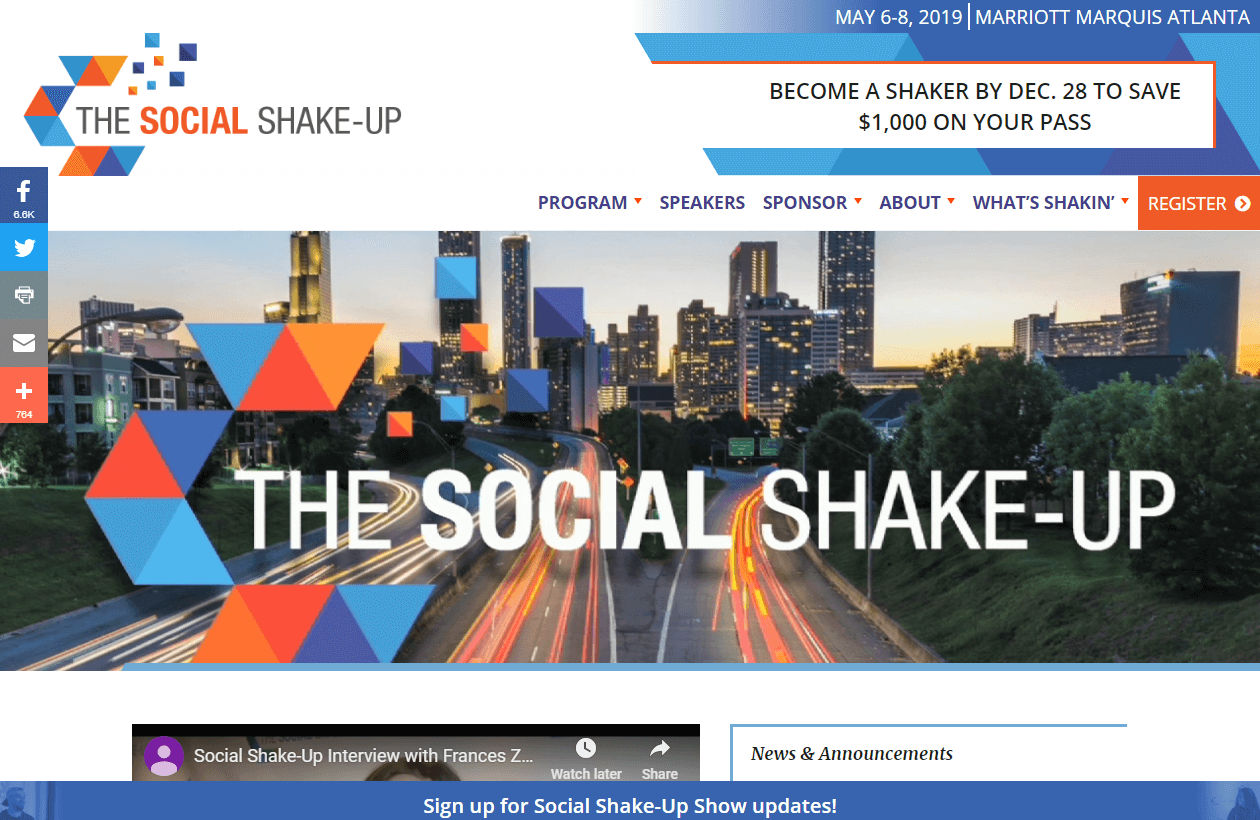 When: 6-8 May 2019
Where: Atlanta, GA, USA
Description: If you want to leverage social media in a more efficient way and turn more followers into loyal customers, then this event can be right for you. The experts from TOMS, Facebook, LEGO, Twitter, etc. will cover the areas of SEO, analytics, Instagram marketing, Twitter branding, social storytelling, and so on.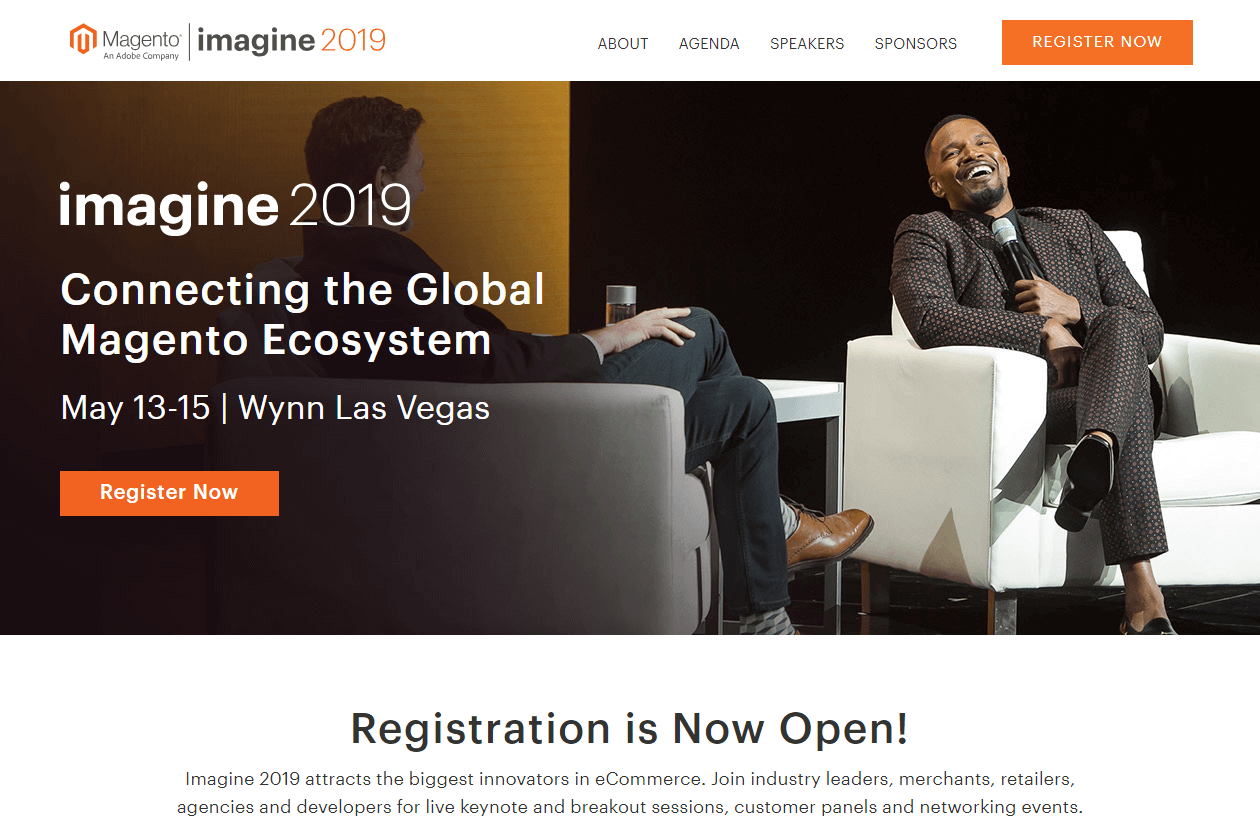 When: 13-15 May 2019
Where: Las Vegas, NV, USA
Description: Being one of the most popular e-commerce platforms in the world, Magento offers a great opportunity for e-commerce specialists to join the biggest Magento experts at the annual conference. You can meet and share your ideas with over 3,000 e-commerce professionals including merchants, agencies, and technology providers from all over the world, as well as listen to the featuring speakers from Magento, Forrester, PayPal, Amazon, Pittsburgh Steelers, and others. The event will cover valuable information about mobile development, email marketing, payments, data insights and much more.
Also, you can get a chance to meet the biggest innovators in e-commerce at MagentoLive, Europe in October. The annual conference takes place in Barcelona, Spain. By visiting this event, you can explore what's new in the world of digital commerce and the Magento ecosystem. The two day occasion of networking and education will inspire you to take you to the next level of your successful business strategy.
Find more Magento events here.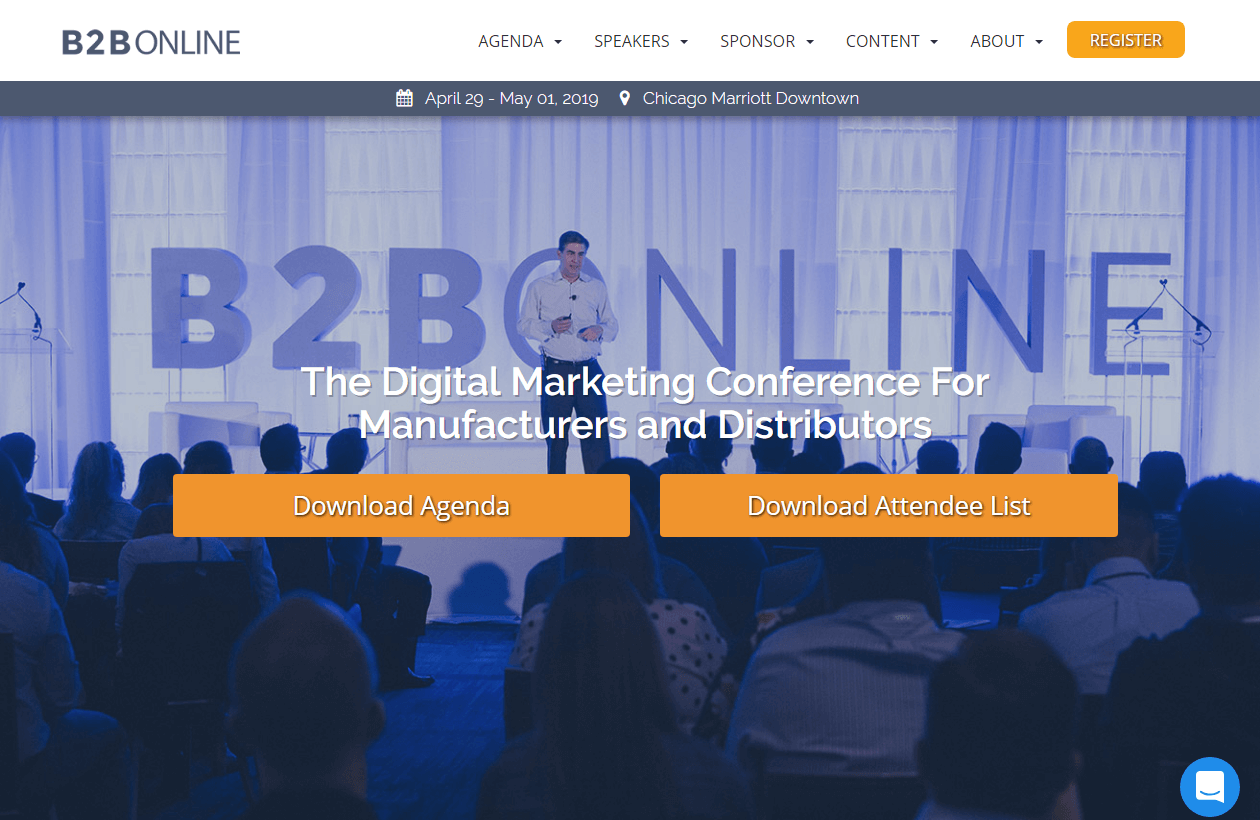 When: 14-16 May 2019
Where: Chicago, IL, USA
Description: The conference is designed for e-commerce and marketing professionals from America's leading manufacturers and distributors. The event will take place for the 6th time and provide an opportunity to discover the tools you need to create an innovative, future-looking omni-channel experience.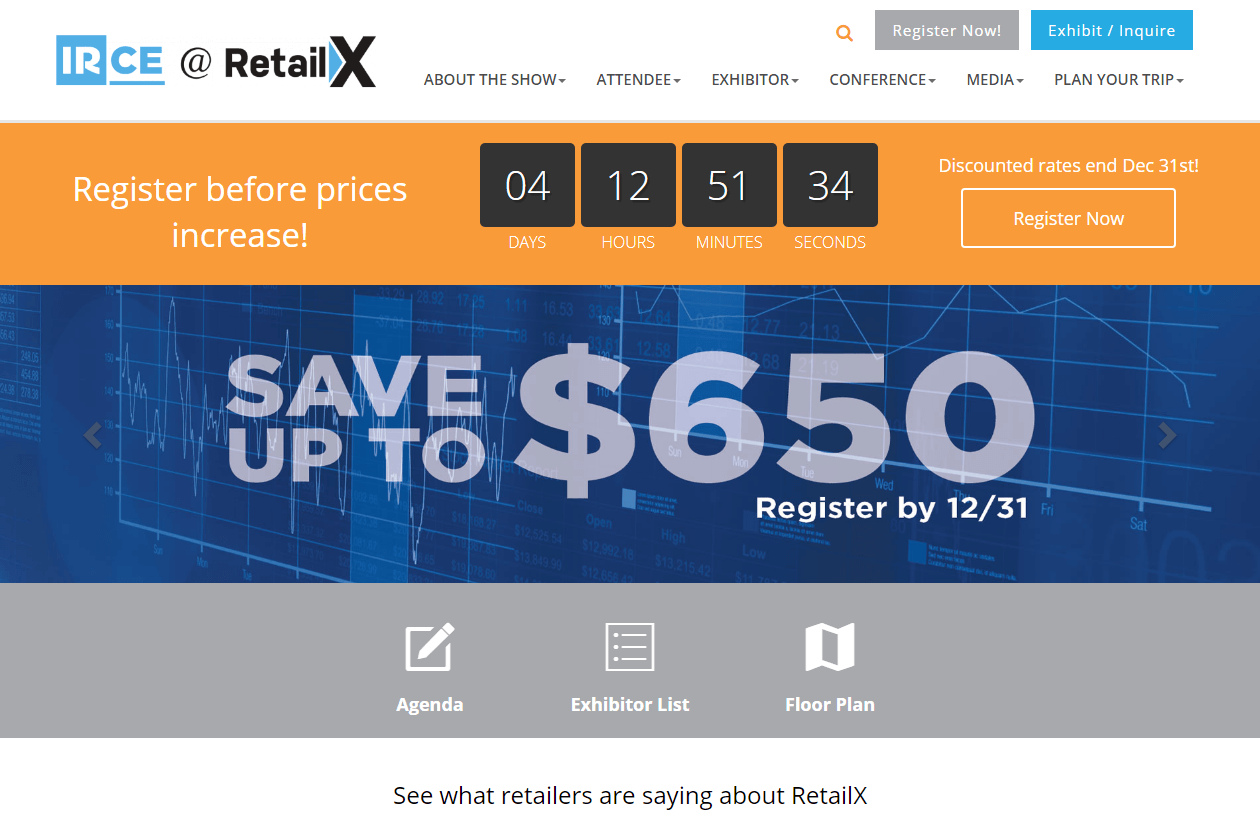 When: 25-29 June 2019
Where: Chicago, IL, USA
Description: The event is your one-stop-shop for all your retail preferences and needs. With over 130 sessions covering various topics and trends, you can gain knowledge and experience in order to stay ahead of the competition. Also, you can meet the speakers who are not only knowledgeable, but prepared with helpful, actionable presentations and workshops on the latest e-commerce technologies, processes and best practices for you to learn from.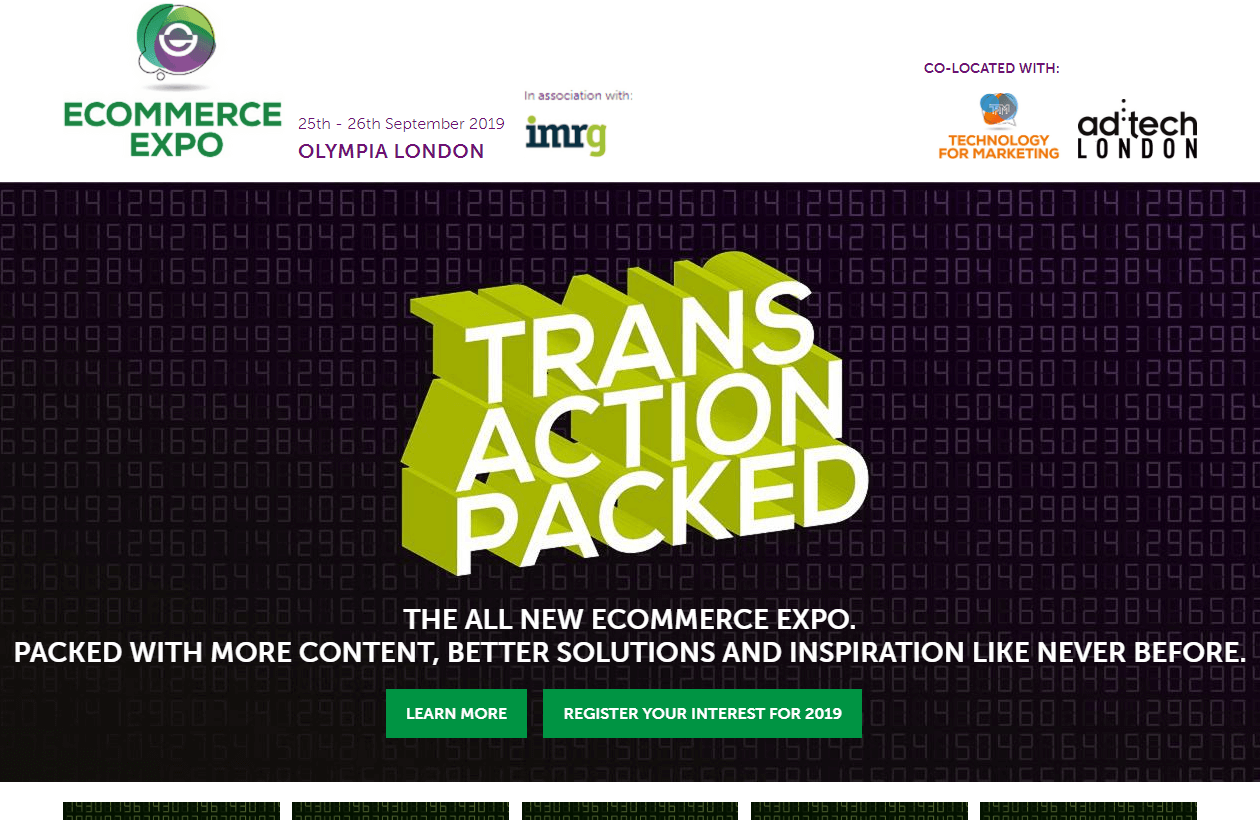 When: 25-26 September 2019
Where: London, United Kingdom
Description: Being one of the largest e-commerce conferences in 2019, the event draws the attention of 7,500 visitors and 5,000 companies from more than 50 countries across the globe. More than 80% of those attending are senior management. You can learn the latest trends that can drive your e-commerce into the future. The occasion will cover the areas of logistics, customer service, security, payment methods, delivery, multi-channel solutions, as well as e-commerce platforms.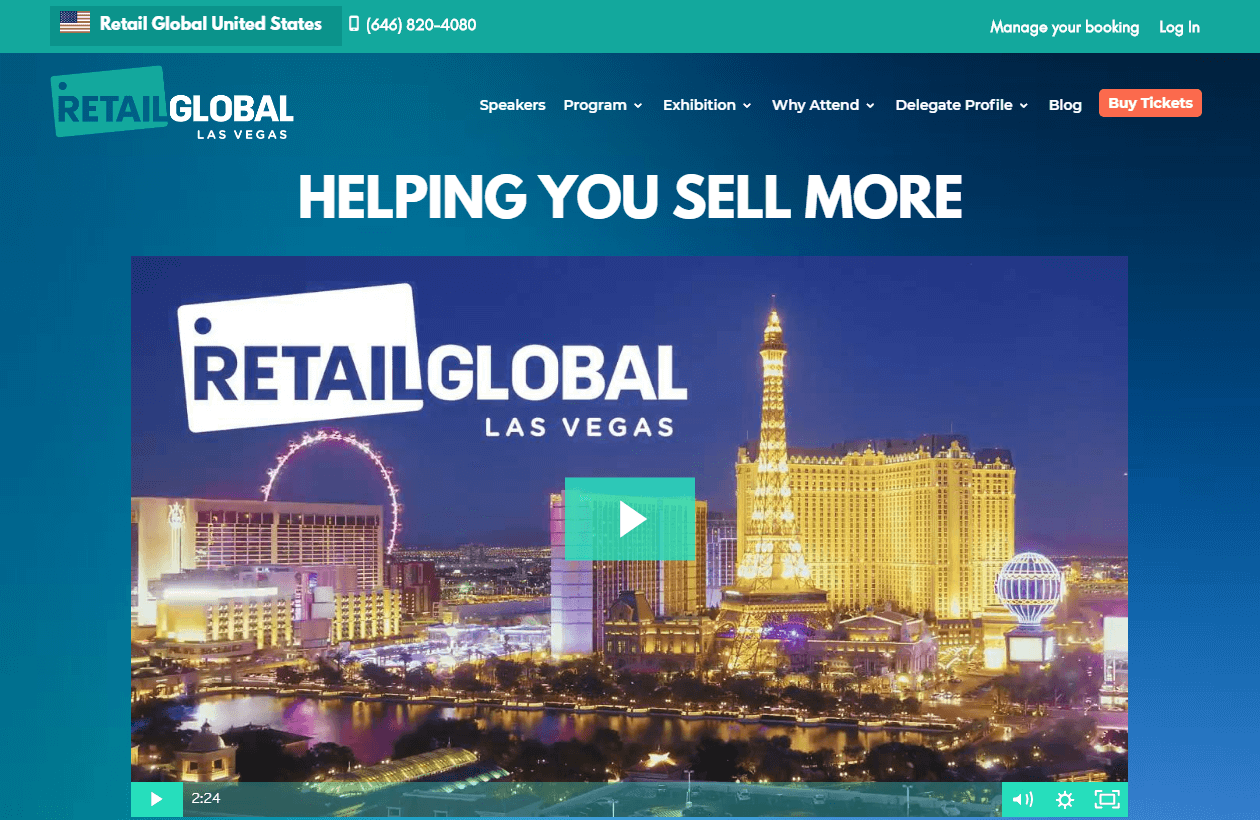 When: September 2019
Where: Las Vegas, NV, USA
Description: The conference is packed with useful hacks from well-known speakers. In the past, the event included experts like Bob Schwartz, founder of Nordstrom.com and Stacie Sefton, the co-founder of eBay's top seller. During the course of 3 days, you will come away with new e-Commerce solutions and strategies to make your online company thrive, as well as network with hundreds of global online merchants.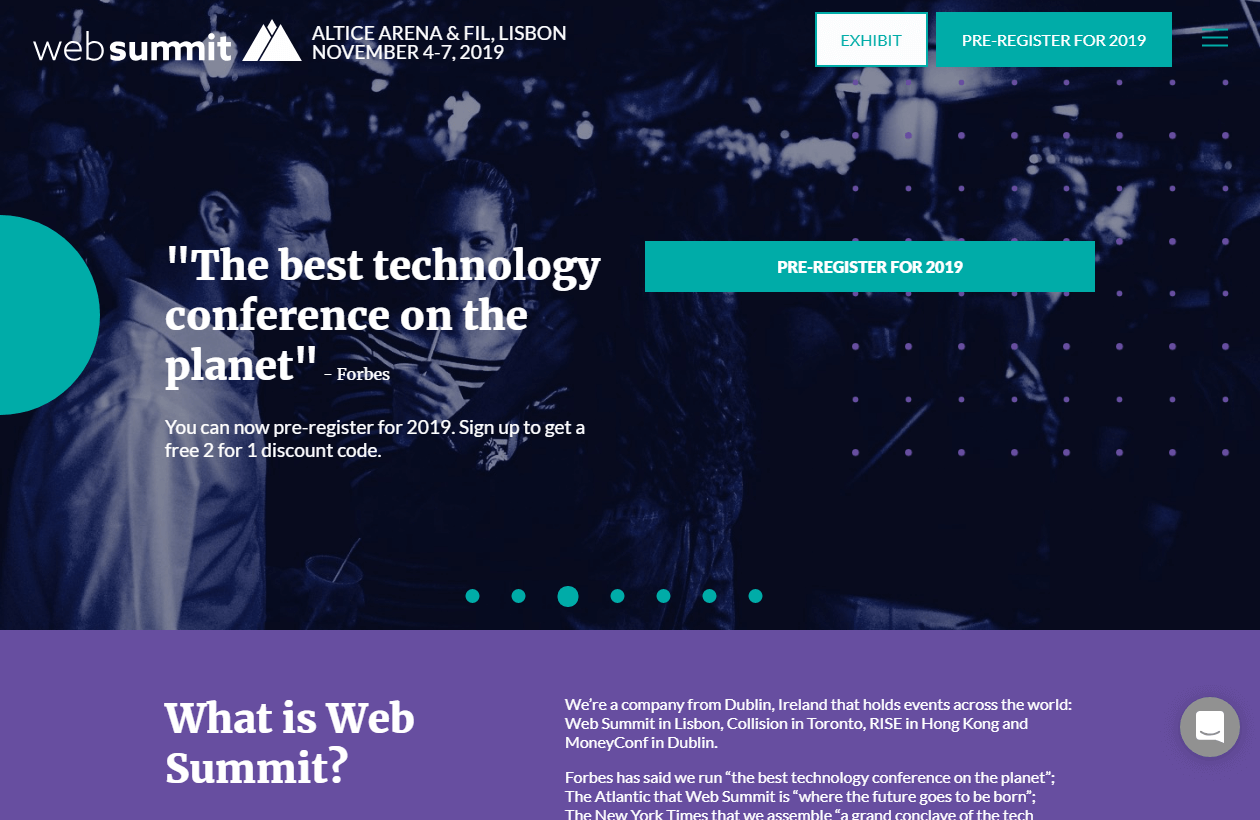 When: 4-7 November 2019
Where: Lisbon, Portugal
Description: One of the world's largest gatherings, the event attracts more than 2,500 global journalists from publications like Financial Times, Forbes, CNN, Wall Street Journal, etc. Also, the occasion hosts CEOs and founders of big-name businesses, the most promising new startups, as well as influential investors. You can learn useful information starting from the deep tech and data science to design and environmental sustainability.
How to Get the Most Out of E-Commerce Events 2019  
As was mentioned before, conferences are the best way to sharpen your skills and keep up with the latest updates in your field. However, it is recommended to remember that whether your conference ends up being an inspirational occasion or a huge waste of time and money depends on you as much as it does on the participants and speakers. So, check out the ways how to get the most out of your next e-commerce conference:
Review the agenda.

It is suggested to go through the conference schedule ahead of time and select the most relevant events to your field that can help you reach your professional objectives. Also, you should be on the lookout for the pre and post-conference selections to see how you can use the time even before and after the actual e-commerce occasion.
Come prepared.

You never know when you will meet a prospective partner or customer, so it is essential to be prepared with company information and supplies which should last throughout the day. It can be business cards, brochures, or any relevant resources that can help you in an unexpected sales pitch.
Be strategic. If you are visiting conferences as a group, you can try to split into groups in order to view more sessions. Once you are back in the office, each employee can share the information with other team members. In case you are attending the conference alone, you should plan the time accordingly. Use the agenda to write down your itinerary, then decide how much time to spend on each event for getting the most out of your visit.
Stay Open to Everyone.

Usually, e-commerce conferences in 2019 include companies of different sizes starting from startups to big-box retailers. One of the main mistakes that a lot of individuals make while attending the conferences is they want to focus on big-brand events. The truth is that there is a wide range of small organisations that have valuable information and experience to share.
Expand Your Connections. An e-commerce event is not only about listening to the speakers, but they also help you meet new people and network with other professionals for further cooperation. So try to become a part of the conversation, ask face-to-face questions, use the proper hashtags on Instagram, Twitter, etc., send follow-up emails to the new colleagues after the conference is over.
Final Lines
By and large, there are so many e-commerce conferences 2019, it would be difficult to include all of them to the above-mentioned list. Instead, we outlined the most popular events that will help you explore the latest trends, meet with like-minded CRM enthusiasts or expand your overall knowledge. To sum up, 2 major benefits of attending e-commerce events 2019 are the following:
Gain Industry Insights. E-commerce events in 2019 provide you with a possibility to discover information about new business strategy and marketing techniques, as well as fresh platforms. Such conferences host the top players in the e-commerce world who share their ideas, knowledge, and experience with you. In addition, you can meet different business people who may be your future suppliers, colleagues or even customers.
Take Time Out. The schedule of every ecommerce conference always leaves time for other activities like relaxing, sightseeing or having fun. Depending on the e-commerce events, you can visit gala dinners, dance occasions, organized excursions or other ways to bring the experts together in a social setting. That's when the best networking opportunities arise. Once you have made the initial connection, you can meet up again and talk about further cooperation.
To conclude, do a little research and preparation to discover the quality of the e-commerce conferences 2019 you wish to go to and choose the one that can truly help your business prosper!