Google AMP on the Most Popular E-Commerce Websites
If you can't imagine your daily life without using smartphones, you definitely know how slow website loading speed can decrease customer experience and cause a drop in sales. According to statistics by Neil Patel, 73% of mobile internet users have encountered a website that was too slow to load. Moreover, 40% of users abandon a website that takes more than 3 seconds to load.
Fortunately, in order to avoid losing your audience and engage potential clients to browse your website, Accelerated Mobile Pages (AMP) is an easy way to solve the issue. Being introduced for newsmakers and publishers in 2015, AMP was used by the popular mass media leaders like The Wall Street Journal, CNN, The Guardian, BBC etc. Since the popularity of AMP technology grew rapidly, the application started to be used not only by the media.
The study (commissioned by Google) indicates that AMP-powered e-commerce websites obtained a 20% increase in sales conversions compared to non-AMP pages. The research also found that AMP leads to a 10% increase in website traffic with a 2x increase in time spent on page. At this point, let's look closer at the popular e-commerce websites that implemented the AMP plugin into their business strategy for the entire site or only for selected pages.
Note: If you want to check whether desired page is amp-powered, it is suggest to take advantage of the Google AMP Test service and run AMP test. Just simply type or paste URL of the webpage that you want to test and preview its AMP version.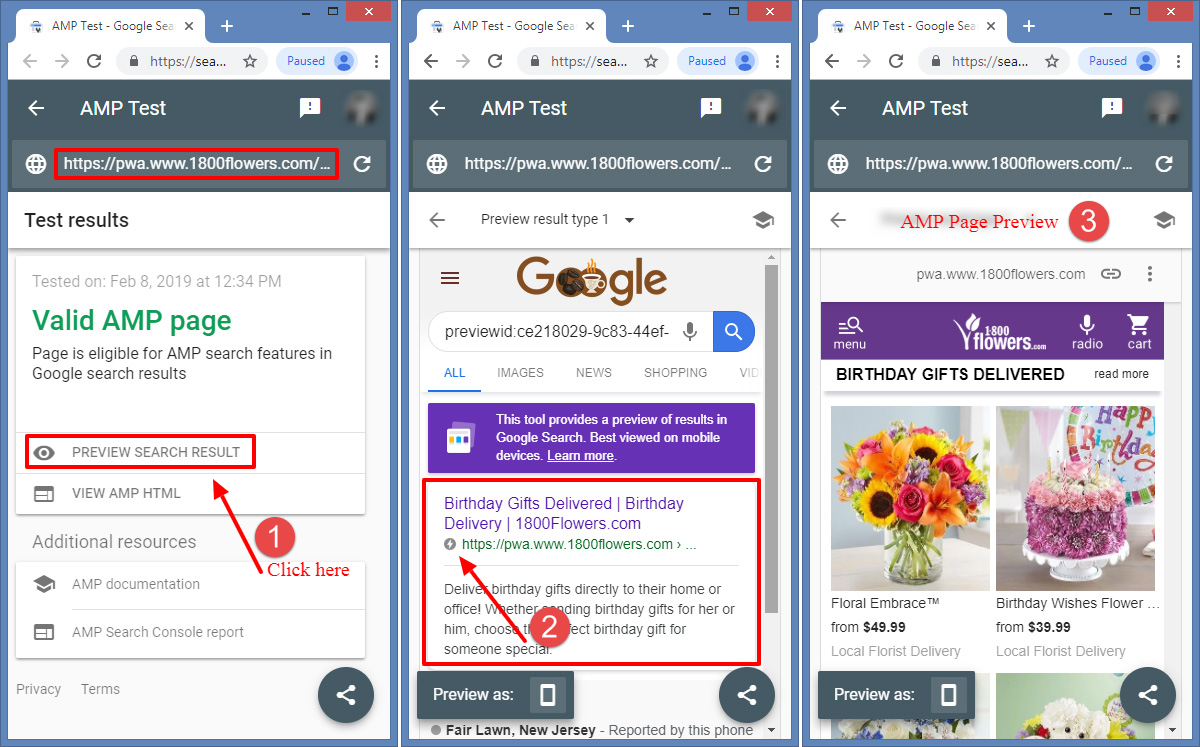 AMP Pages on the Top E-Commerce Websites
It is well-known that e-commerce companies use the mobile amplifier for all website pages, or apply AMP pages for particular pages like Homepage, Category, Subcategory, or Product pages, etc. Consider the following e-commerce websites to explore the examples of Google AMP implementation:
#1 eBay
Discover Google AMP Pages on eBay here.
The company is an American multinational e-commerce corporation that offers consumer-to-consumer and business-to-consumer sales through its website and sells all different kinds of products. Being one of the most popular online shops in the world, eBay includes different types of sales starting from its original auction-style, instant "Buy It Now" shopping to Universal Product Code option, etc. Also, you can find the desired items in the blink of an eye since eBay applied AMP technology to the Subcategory Pages to speed up the website performance.
Check out the article "Browse eBay with Style and Speed" and learn eBay best practices with Google AMP Pages.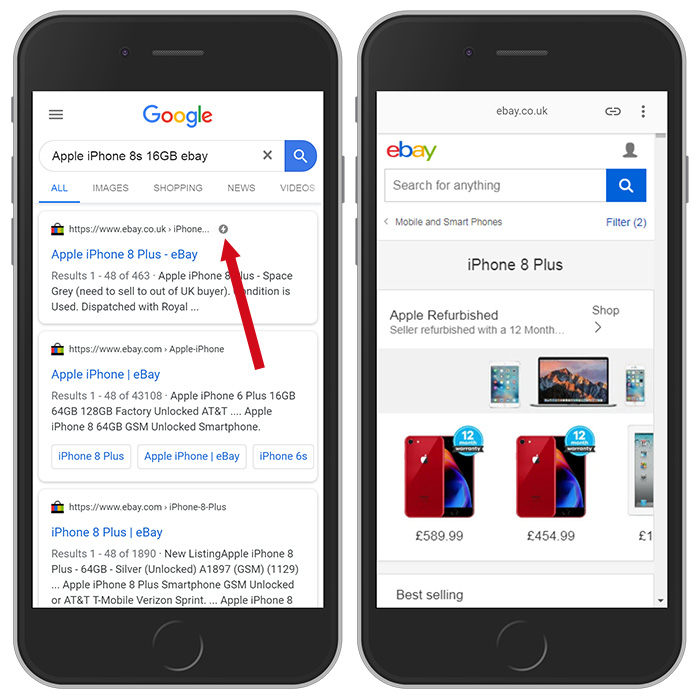 #2 Newegg
Discover Google AMP Pages on Newegg here.
Based in California, US, the world famous company is an online retailer of items including computer hardware and consumer electronics. To be more specific, Newegg e-store sells different types of items: peripherals, gaming, electronics, accessories, DVDs, housewares, appliances, tools, furniture, office products, and much more. When you decide to browse the website, you can notice the implementation of Google AMP on Subcategory Pages.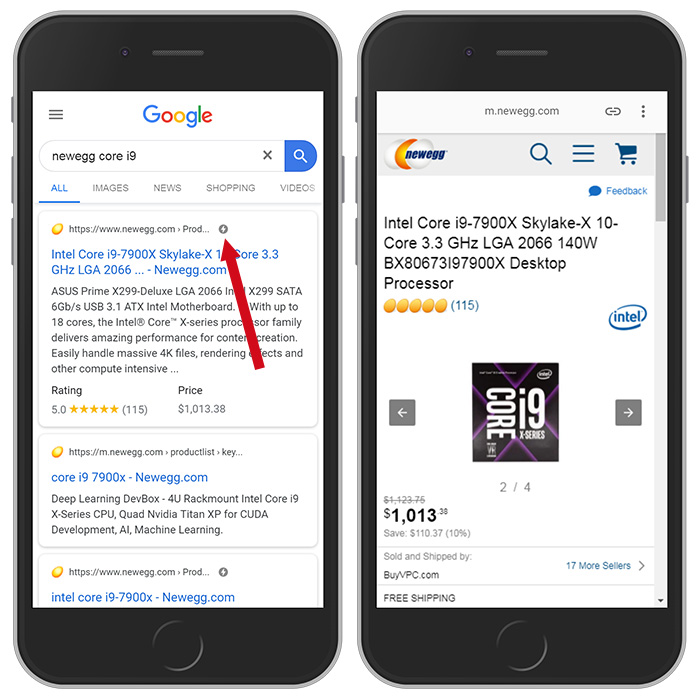 #3 1800flowers.com
Discover Google AMP Pages on 1800flowers here.
Check 1800flowers in Google AMP Test, wait for the test results to load, then click on "Preview Search Results" and navigate to the website pages from there.
The online shop is a floral gift retailer and distribution company in the United States. The company uses AMP pages for their Category Pages such as "Birthday," "Sympathy," "Occasions," "Flowers," "Plants," etc. 1800flowers also implements AMP mode for the Subcategories and Product Pages. You can navigate the website with the help of the left side menu that appears after a click.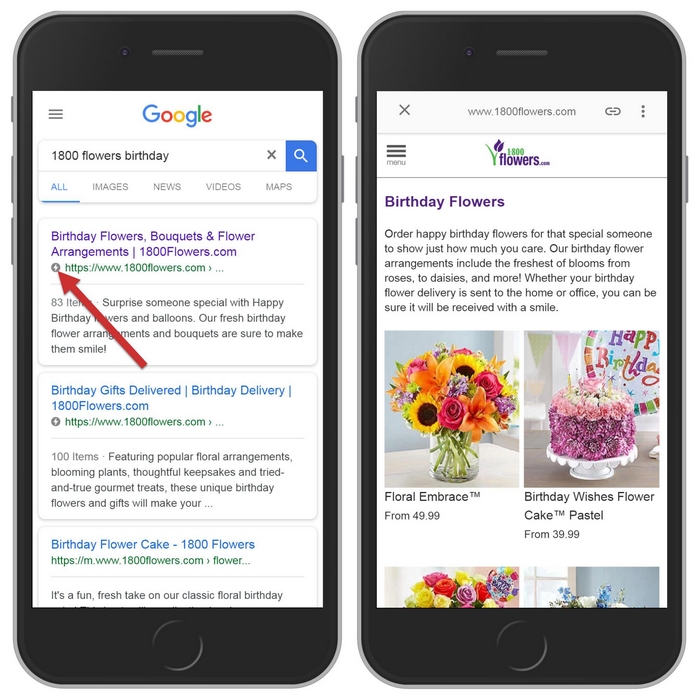 #4 Eventbrite.com
Discover Google AMP Pages on Eventbrite here.
The website is a platform where event organisers can plan, promote, and sell tickets for different occasions. AMP pages are implemented on the Event Page. For example, if you want to buy tickets to visit New York Fashion Week and you are searching for them on your mobile device, you will be redirected to the Product Page with the AMP mode enabled. The desired page will be loaded faster allowing improved user experience and persuading the visitor to buy the tickets from your website.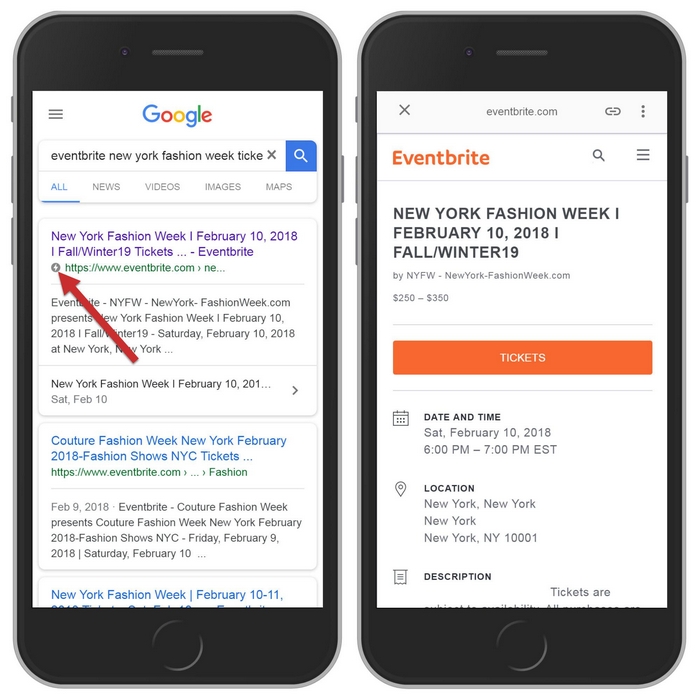 #5 Myntra.com
Discover Google AMP Pages on Myntra here.
Headquartered in India, Myntra is a fashion e-commerce company. The online shop was founded in 2007 to sell personalized gift items and became a famous retail store well-known all over the world. With so many products to offer, the online shop uses AMP pages for Homepage, as well as separately for Category and Product Pages.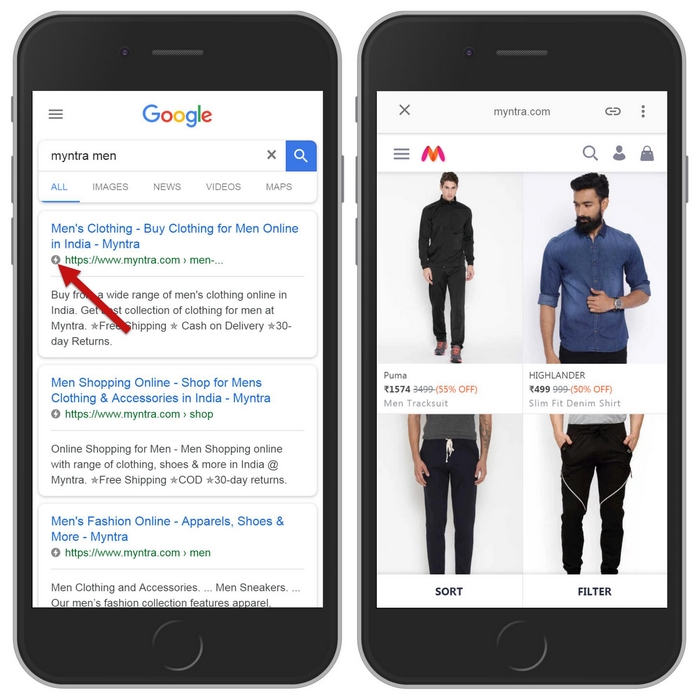 #6 Lancome-usa.com
Discover Google AMP Pages on Lancome here.
Being a part of L'Oréal Luxury Products division, the e-store is a French luxury perfumes and cosmetics house that distributes products internationally. The online shop uses AMP technology for the Category Pages: "Skincare," "Makeup," "Fragrance," "Gifts." AMP technology is also available for the Subcategories and Product Pages throughout the Lancome website. On their Category Page, you can find stickers that indicate the new products in the store, as well as check out a 5-star rating for each product.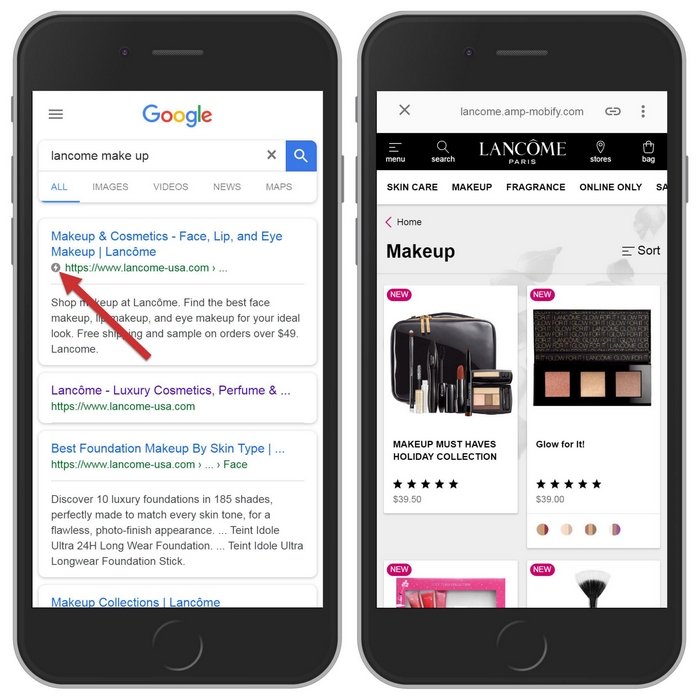 #7 Greenweez.com
Discover Google AMP Pages on Greenweez here.
This company is the leading French organic retailer that applies AMP technology for the Homepage, Category and Subcategory Pages. They also implemented AMP mode for every Product Page. Similar to the Lancome website, the company displays a star rating for each product and offers convenient store navigation.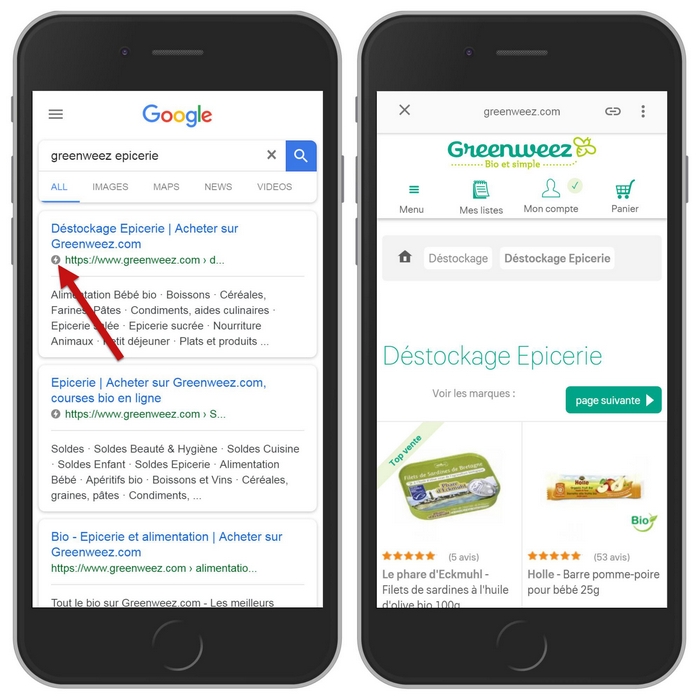 #8 Snapdeal.com
Discover Google AMP Pages on Snapdeal.com here.
This is an Indian e-commerce company that sells electronics, mobile phones, men & women's clothing, shoes, home & kitchen appliances and much more. Snapdeal uses AMP technology for e-commerce on the Subcategory and Product pages. However, the company lacks Google AMP technology for the Homepage and Category Page.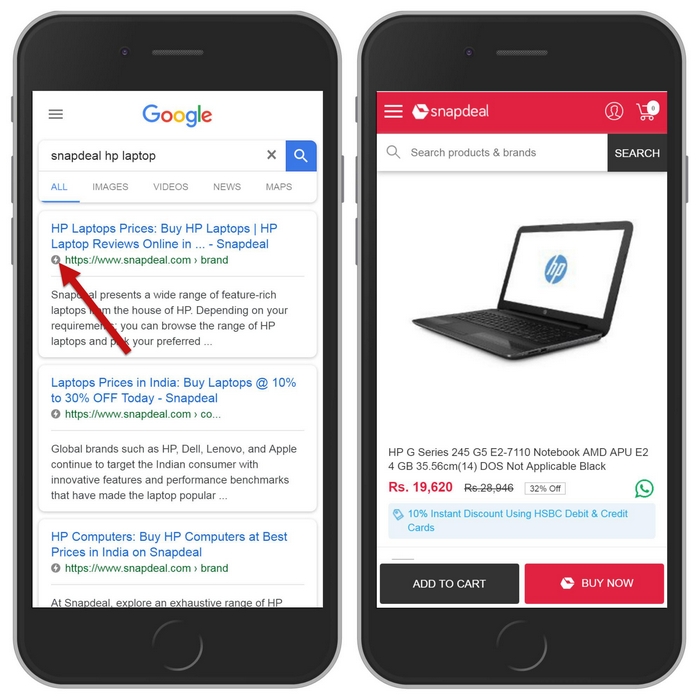 #9 Tokopedia
Discover Google AMP Pages on Tokopedia here.
An Indonesian technology company, Tokopedia provides a free business platform for merchants and buyers. Through its marketplace products, Tokopedia offers a wide range of items that are divided into 25 big categories. This online marketplace built Accelerated Mobile Pages versions of their following organic landing pages: Product, Category, and Trending.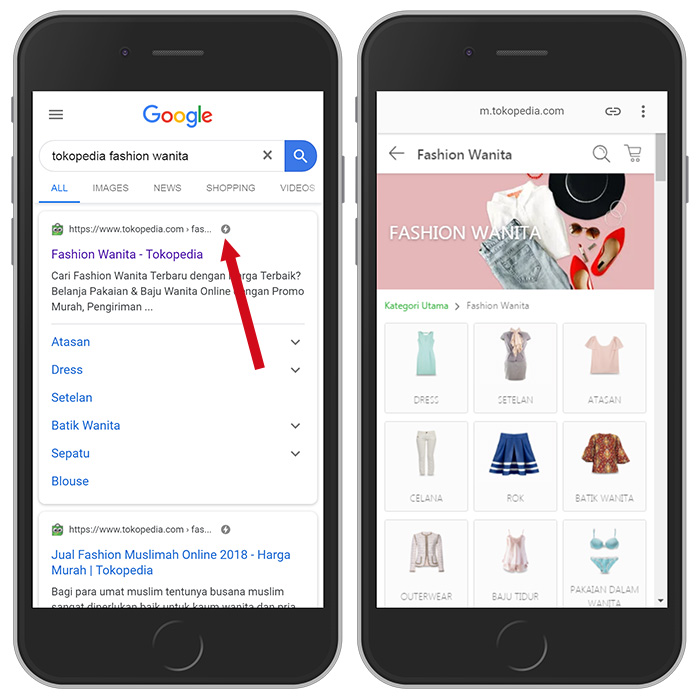 #10 Carved
Check out Google AMP Pages on Carved here.
Launched in Indiana, US, this e-commerce company provides you with an opportunity to integrate nature with the devices you carry. In other words, you can choose various products like wood wallets, cases, powerbanks, bluetooth speakers, etc. The company found the performance they needed with AMP on Homepage, Category, Subcategory and Product Pages.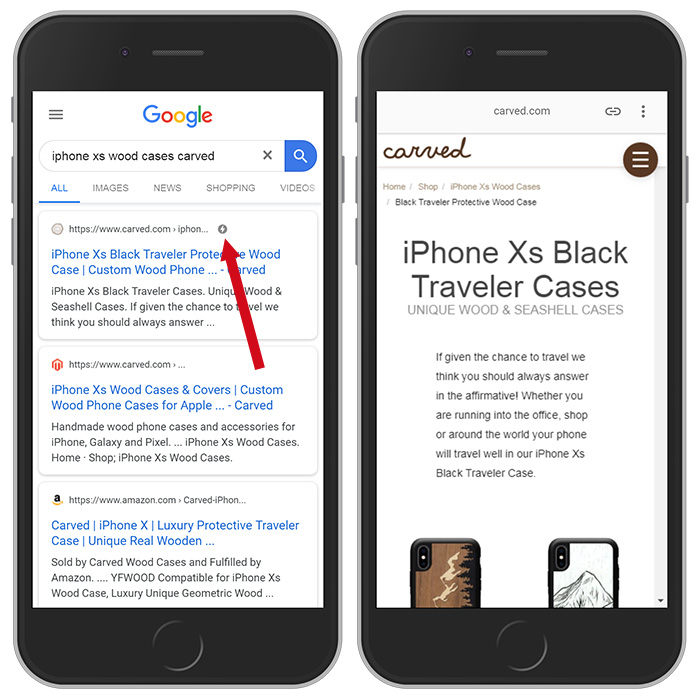 By and large, you can endlessly browse the Internet and find an extensive list of e-commerce websites that use AMP pages. The above-mentioned examples can help you understand various ways of using  Accelerated Mobile Pages and select the AMP model that perfectly suits your business requirements. Thus, if you are Magento store owner, and ready to incorporate Google AMP Pages on your online shop, then Magento AMP Plugin is a solution to consider. The practical extension will enable your online store with robust capabilities like the following:
Homepage, Category Pages, Product Pages, and CMS Pages are generated by Google AMP Pages automatically.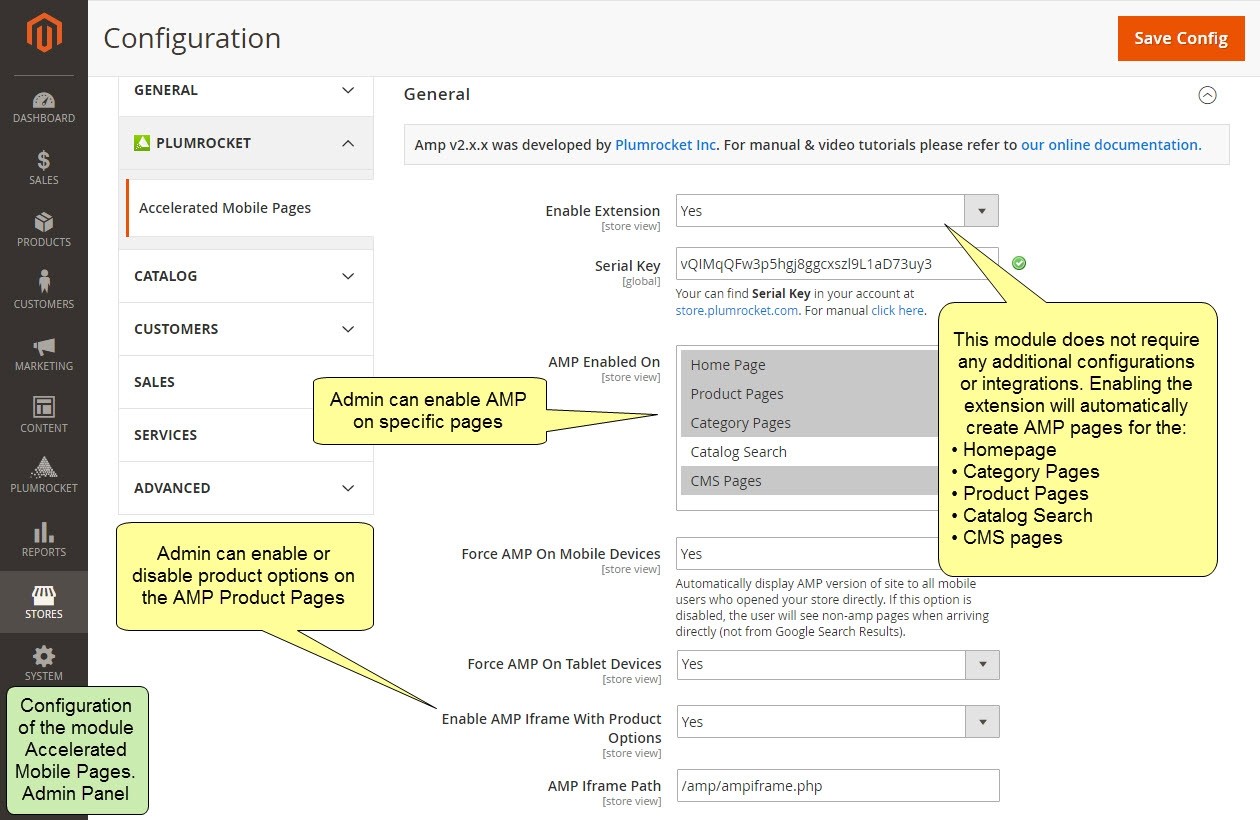 The AMP module provides you with an opportunity to add rich snippets to Magento AMP pages in an automatic way.
The extension enables you with an ability to use built-in Google Tag Manager and Google Analytics for tracking user interaction with AMP Pages.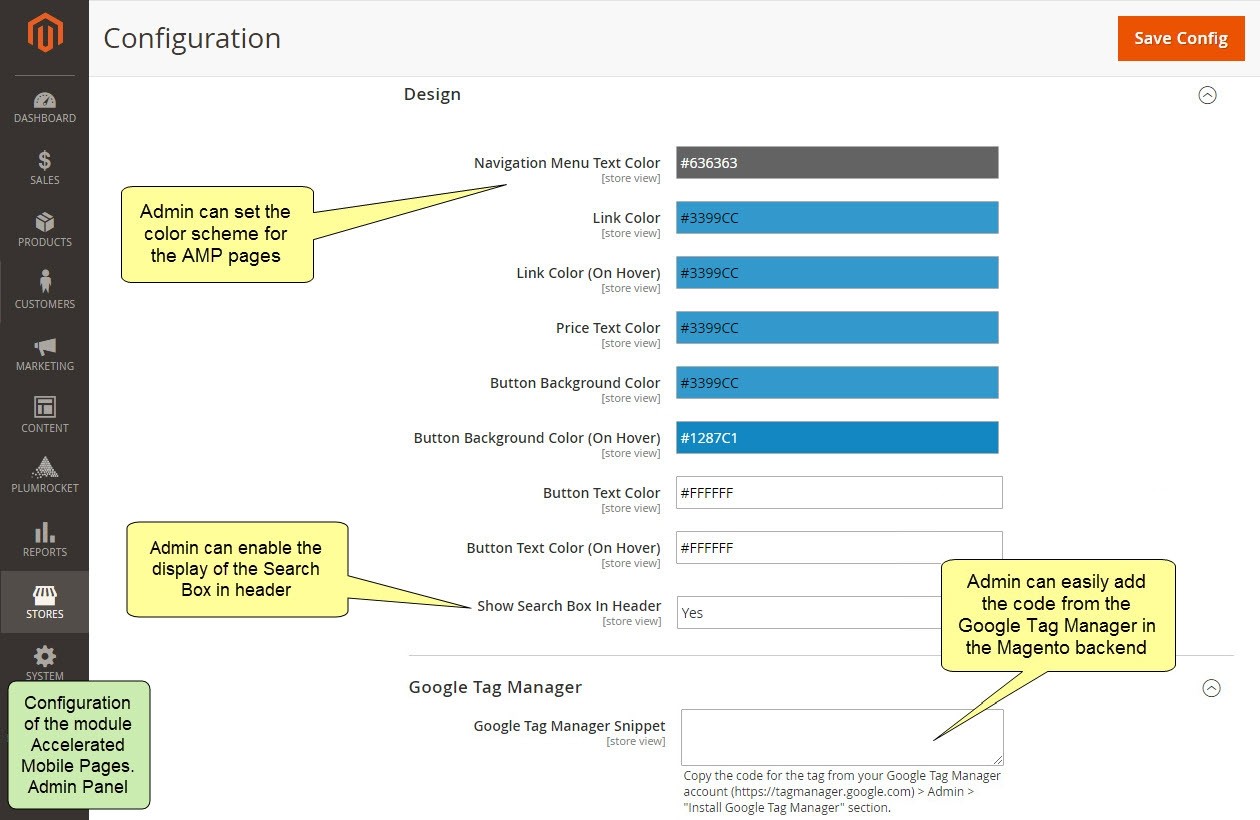 Magento Accelerated Mobile Pages Extension was designed to work flawlessly with any custom or 3rd party Magento theme.
The lightweight AMP pages will

require minimum http requests to speed up the website load page,

and other features.
Pulling It All Together
Implementing AMP pages into your business strategy can bring your company success by improving user experience and increasing page load time. Use a free demo to check Magento AMP plugin in action, or read the documentation to learn more information about installation and configuration of AMP module. Don't wait any longer, integrate Magento AMP Pages into your online shop right now to improve the website traffic and boost sales!