10 Examples of Store Credit for E-Commerce
The return policies of online companies vary widely. While some e-commerce websites include no limits on returns and makes it easy to get the cash back, others have strict requirements and offer only a few days for refunds.
The best return policies will provide you with multiple methods for returns, as well as options for store credit if you don't meet the return criteria. We reviewed 10 popular retailers' return policies with store credit opportunities to help you build strong refund management and motivate clients to buy more.
Store Credit for E-commerce: Best Practices
Store credit enables you to make the return policy more customer friendly by expanding it to a longer timeframe. This also helps you keep money within your business and ease the burden of returns on your bottom line. So, check out the online stores that take advantage of the store credit option by implementing it into their business strategy:
Kohl's has earned its reputation for "hassle-free' returns. The company has no time restrictions or receipts required on most of the purchases. In case you didn't obtain a receipt but paid in cash, the refund will be represented in the form of merchandise exchange or store credit based on the lowest 13-day week sale price of the items.
Also, you can benefit from promotional store credit options. For instance, Kohl's tries to engage more clients with the "Earn Kohl's Cash" option. Everyone who spends $50 can earn an additional $10 that will be sent via email. In other words, the more you spend, the more you earn.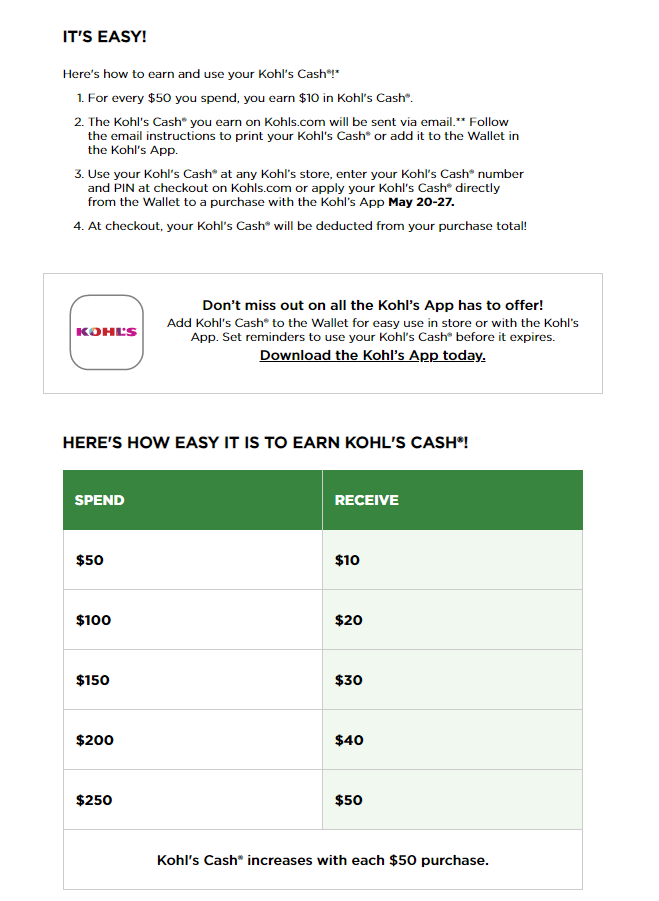 Another example of promotional store credit is represented on the Target website. The company runs promotions on particular products by offering gift cards. For instance: "Get $5 gift card when you spend $15 on selected sun care items through Monday 5/27/2019." As a result, your clients purchase more items and earn the credit, and money also stays within the company.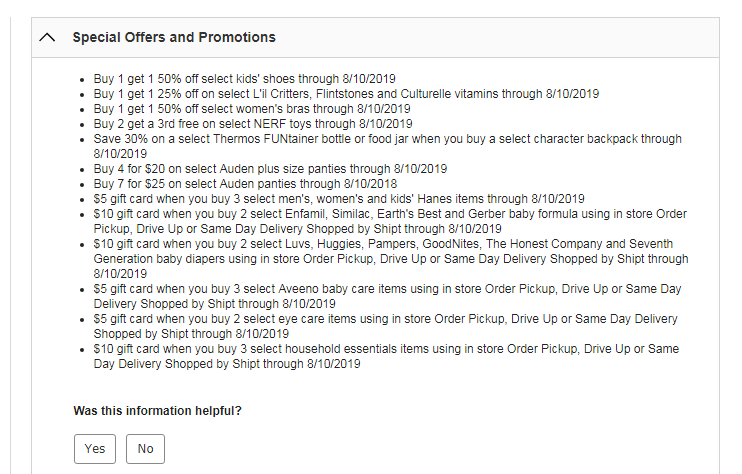 Beauty lovers can also benefit from a so-called "relaxed approach" to returns provided by Sephora. The company enables you with full refunds on items returned within 60 days. In case you happen to wait longer and send the product by mail, you can get online store credit for returns made within 61 to 90 days of the purchase date. In this way, you can redeem the store credit at Sephora.com. Note, if you return the product in store and paid with PayPal, you will receive a full refund in the form of store credit or gift card.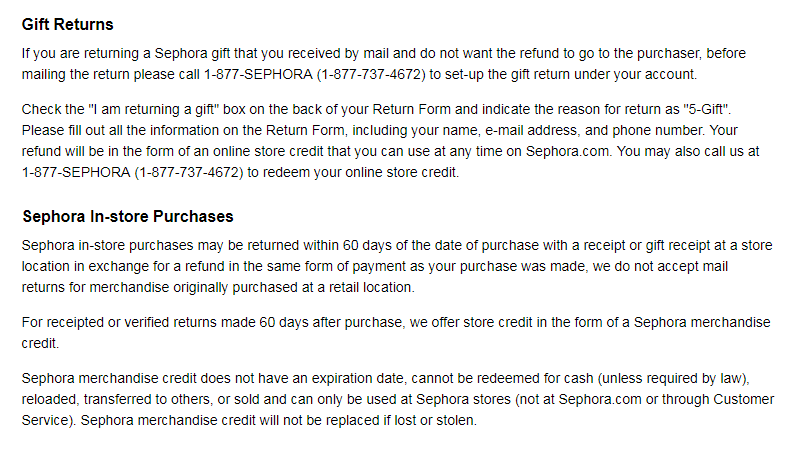 The customers of this store appreciate the flexible return policy that allows them to return the products at any time as long as they have an original receipt. However, in case they lost the paperwork, there is an opportunity to return up to $250 in items within 90 days. The merchandise and exchange credit can be issued in accordance with the lowest selling price of the product within that timeframe.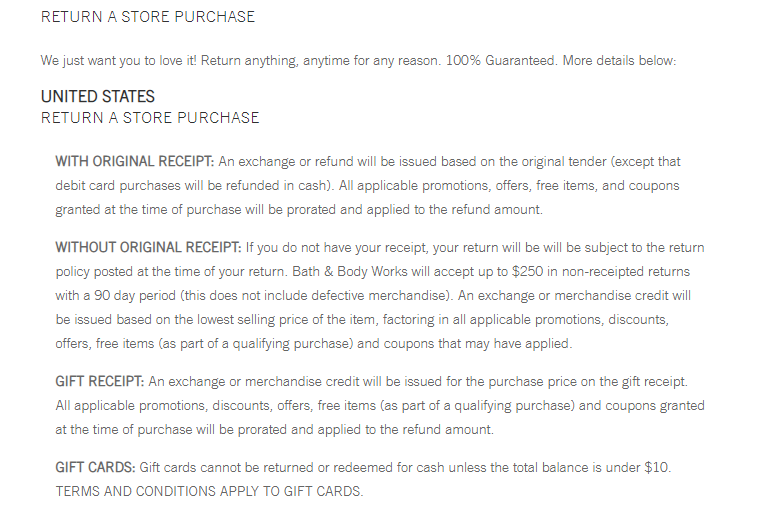 Another great example of store credit for e-commerce websites is Macy's department store. The company accepts products within 180 days of the purchase if the items are in their original condition. The Last Act items should be returned within 30 days of the purchase.
The store credit option comes in handy when you purchased items at macys.com and want to exchange the merchandise. So, you should provide the packing slip/invoice with the bar code attached along with the item. Yet, even if you don't have one, employees can check your purchase information with your Macy's account number, Bank Card number or Registry. When your receipt is accessed, you can get a refund to the original account or store credit. In case the proof of the purchase can't be defined, you can receive store credit for the item's lowest price within 180 days.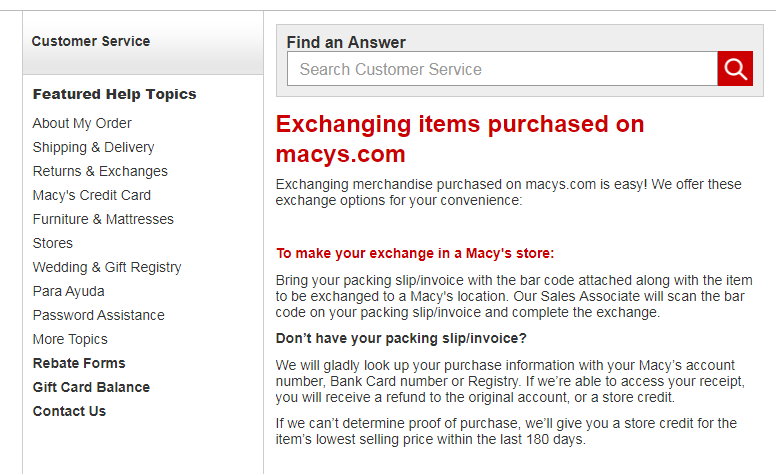 Merchandise in the original condition can be returned or exchanged within 60 days. After that period of time, you can only get store credit. If you want to return an item without a receipt, you can receive store credit based on the lowest historical selling price by providing your ID.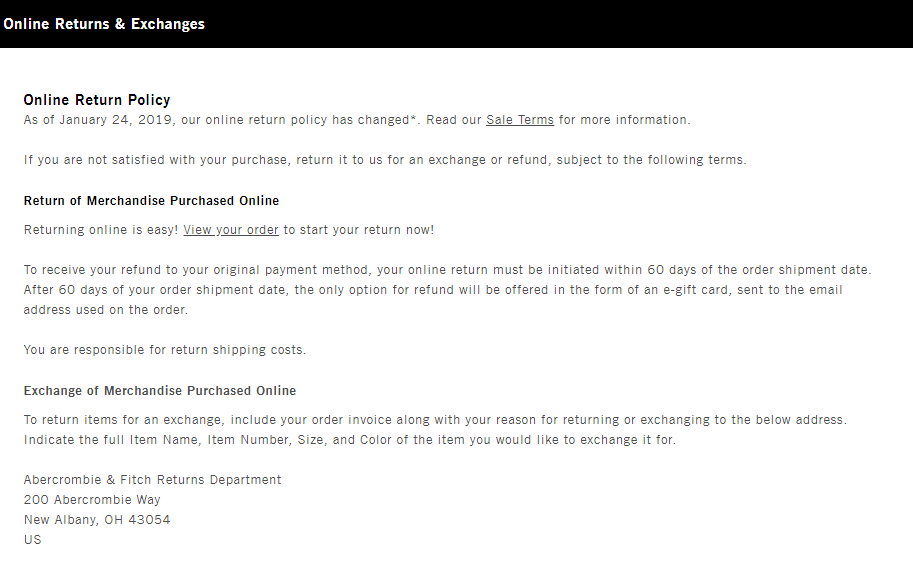 The company allows you to return the products with a receipt, packing slip or with the help of Ultimate Rewards Member ID, within 60 days. If you make a purchase online with a payment service like PayPal, the refund goes to your preferred credit/debit cards or issued as in-store credit. In all other cases, you are eligible for exchanges or merchandise credit at the lowest selling price within 90 days.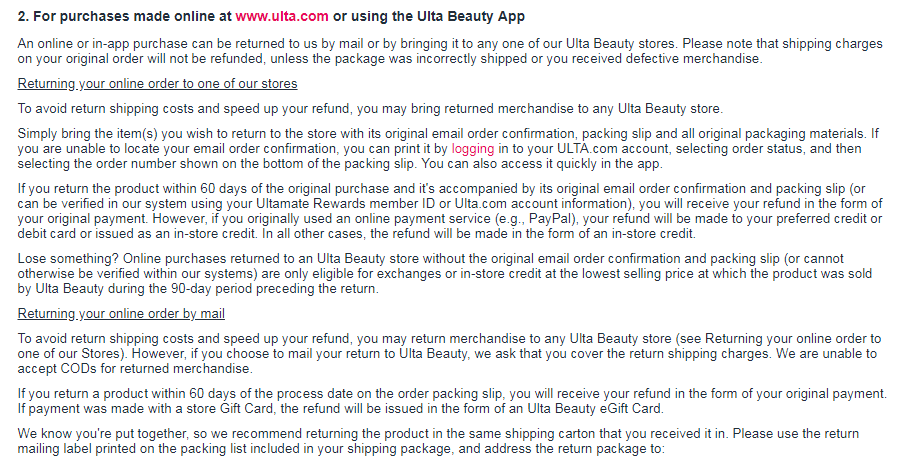 In terms of the return policy of this retail store, the products should be returned in original condition within 14 days of receiving the items. In this case, your refund will be in the form of store credit that is valid for 12 months. Also, you can use the store credit for the return postage cost.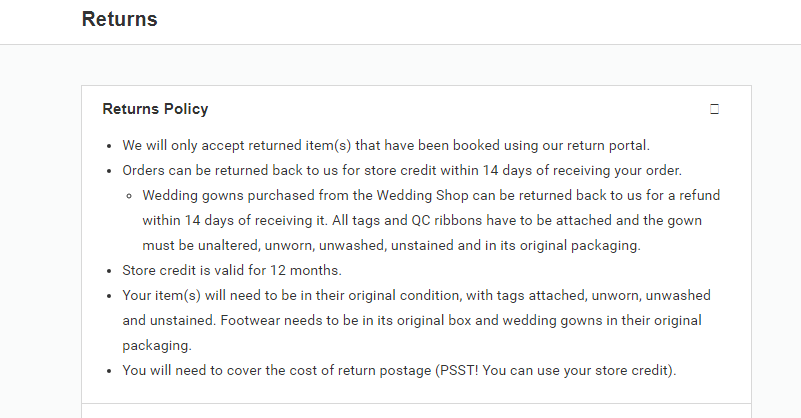 Store credit is a popular method of return policy not only in the clothes and beauty industries; the online book stores also offer this option. If you want to exchange a gift, return an eBook, or claim a Kobo Gift card, store credit will be applied to your account. It never expires as long as you have an account with the company. Moreover, you can benefit from $5 promotional credit by inviting friends. After your friend purchases their first eBook or audiobook, you get $10 account credit.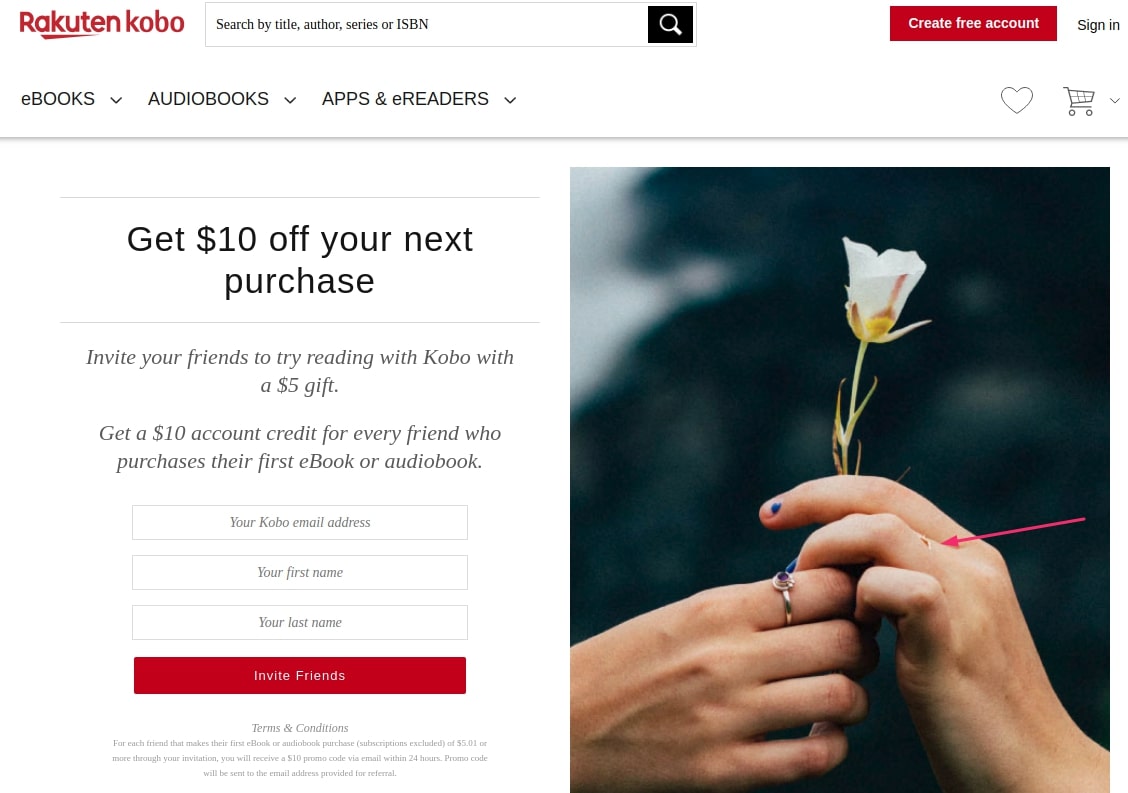 Regarding the board gaming industry, store credit is a popular way to attract more customers. MTG Mint Card enables you with an opportunity to obtain a store credit rebate for future purchases. The amount of credit depends on how much you spend previously. For instance, if you spend from $200 to $500, you get 1% store credit for your next future purchase.

By and large, store credit is one of the great ways to add flexibility and leniency to your return policy, especially if you're running a Magento 2 online store. In this case, you can take advantage of the Magento 2 Store Credit Extension to save the time and effort of implementing store credit functionality into your business strategy. The plugin offers you effortless store credit management, automated refunds to store credit, seamless integration with Magento 2 RMA extension, and much more. If you want to check the module in action, try out a free demo and visit documentation for useful insights.
Final Words 
Today, more and more shopping is happening online, so an efficient return policy has become essential for your business success.  When you can't try or examine a product you are purchasing, it is important to know that you have options beyond just taking the financial hit. Hopefully, the above-mentioned examples of store credit for e-commerce websites can help you build efficient success return policy and increase sales.