Returns and Exchanges Extension: Magento RMA to Foster Customer Loyalty
Running an e-store can be a challenging task especially when it comes to returns and exchanges management processes. According to research, 60% of online shoppers check the return policy on the website before making a purchase. The average ecommerce returns rate is estimated at 30%, in comparison to bricks-and-mortar shops with 8%. Although return management can be a costly procedure, the statistics determine a need of policy investment to easily resolve client issues and enhance the reputation of your e-store. The success of online retailers like Zappos and Warby Parker prove the fact that consumer-friendly returns and exchanges policy pays off in the long run.
Every e-commerce transaction is a trust exercise between the customer and merchant, so it is important to set up the return regulations in the right way to keep customers coming back. With that being said, let's dive deeper into the world of e-Commerce return management and learn how Magento RMA (Return Merchandise Authorization) can streamline customer satisfaction and reduce the return rate.
Why Do Clients Return Purchases?

It is well-known that a higher percentage of returns is a headache for sales managers and can reflect poorly on your future business. Owning an e-shop means there are always acceptable reasons for returns, and the main ones are the following:
Failing to Match Expectations
If the description of your product or service is incorrect, this type of return is completely preventable. Display the information about what you sell in the most accurate and detailed way. Make sure the customers know exactly what they are going to receive and don't forget to place high-quality pictures on your website.
The stats indicate that 50% of customers return products due to supplier error. The accuracy of the product-shipping process is a significant step towards successful return management. Your employees should sort and select the products properly to ensure the clients are getting the correct item. Avoid shipment mistakes to create an effective customer experience and increase revenue.
Purchasing presents can be a tricky procedure. The online shopper can be unfamiliar with the product or service or be unclear with the taste or preferences of the recipient. It can be difficult to prevent, yet you may offer alternative or complementary ideas to help educate inexperienced clients. Guide your customers through your website that can help them select the relevant items and avoid the returns.
In some cases, the consumers realise they don't need certain products or services shortly after purchase due to various circumstances. Try to highlight the distinguishing capabilities of the item in the description to convince the clients they have made the right choice. Also, offer the consumers an exchange discount. For instance, provide credit if the client exchanges an item for a different product instead of returning it for cash.
So, there can be many other reasons of purchase returns and exchanges that lead to customer dissatisfaction and reduced sales. Unfortunately, some online merchants don't understand the positive impact of a client-focused returns policy on repeat purchases and customer lifetime value. Here are best practices that can help you reduce the return rate of the items you sell:
1. Encourage Consumers to Leave Reviews
Ask the online shoppers to write a few words about the product or service and buying experience. This can help new consumers make more informed decisions and get faith in your brand. When the potential customers know what to expect from first-hand reviews, the return rate drops substantially.
2. Offer Competitive Return Deadlines
Make it possible to compete on flexible return deadlines. Ideally, you can take Amazon's 30-day returns policy as an example and try to exceed their requirements. Also, a good idea is to specify the separate deadlines between new and used items to avoid an avalanche of returns at the same time.
3. Cover Return Shipping Costs
Pay the return shipping on products and services that are eligible for returns. You can offer the shoppers the possibility to print out a return shipping label from your website to simplify the return process. In case you decide to charge the clients for return shipping, it is recommended to specify the cost of the delivery up front. In addition, don't forget to clarify in your return policy whether you'll be refunding the original shipping cost that the consumer paid when making a purchase.
4. Implement Product Exchange Policy
Let your customers exchange the items if they are dissatisfied with the purchase due to various circumstances. For example, the clients want a different size or colour. An exchange can be a type of return, yet it will impact your balance sheet to a far lesser degree than an outright return does.
By and large, it is understandable why online businesses are terrified by the idea of returns and exchanges. It is an expensive, time-consuming and resource-intensive process that can easily decrease your profitability. As a result, many Magento e-store owners install a 3rd party application to streamline the return management procedure and increase client satisfaction with the help of efficient tools. Plumrocket Magento RMA extension provides you with an opportunity to create a smart return policy, as well as simplify the return process for Magento store admins and customers.
Magento RMA Extension: Functionality Aspects

A flexible and robust returns and exchanges extension for Magento can help you manage the returns in the most efficient ways and bring your customer experience to a new level. The Magento RMA module enables you to achieve the desired results with the following capabilities:
No matter whether you are an admin, registered client or visitor, RMA is open for anybody. You can create RMA requests for returns, refunds, exchanges, repairs, store credit, etc. effortlessly. The plugin's clear interface lets your clients submit Magento return form and check RMA progress from the user account.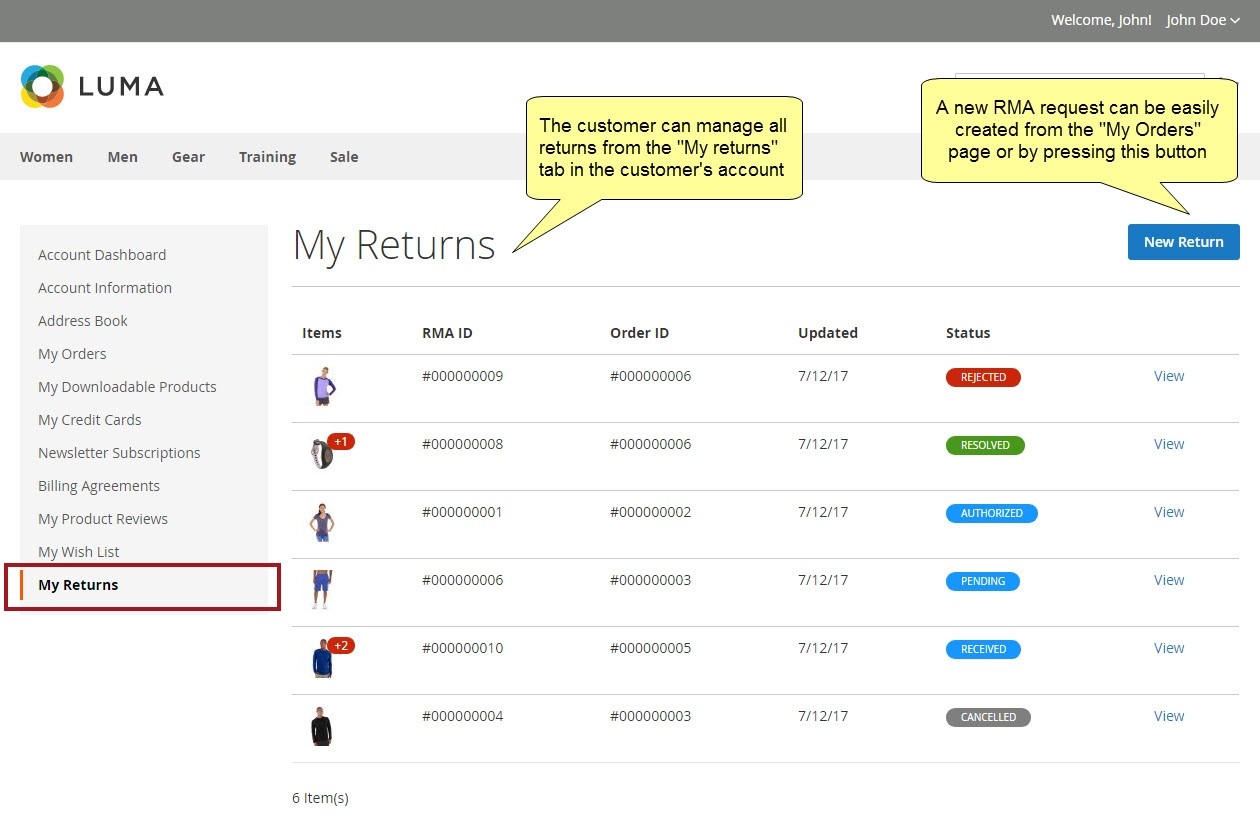 Flexible Refunds Management
RMA features provide you with the ability to show the return policy on every stage of the purchase steps like product or checkout pages, and so on. Also, you can manage the returns and observe RMA details on one single page.
Email Notifications and Response Templates
Magento RMA functionality helps to inform the clients and admins when the request is created, updated and so on with automatic email notifications. The quick response templates make communication with consumers easier and faster.
Return Reasons, Resolutions and Conditions
Being an admin, you can set up Magento rules for return reasons, resolutions and product conditions. In addition, you may determine the return timeframes and whether particular items are returnable or not.
Return Labels and Shipment Tracking
Shipment tracking codes can be added by admin and customers and help to prevent return fraud. Clients can print an auto-generated packing slip, shipping labels, and return instructions from the Account page.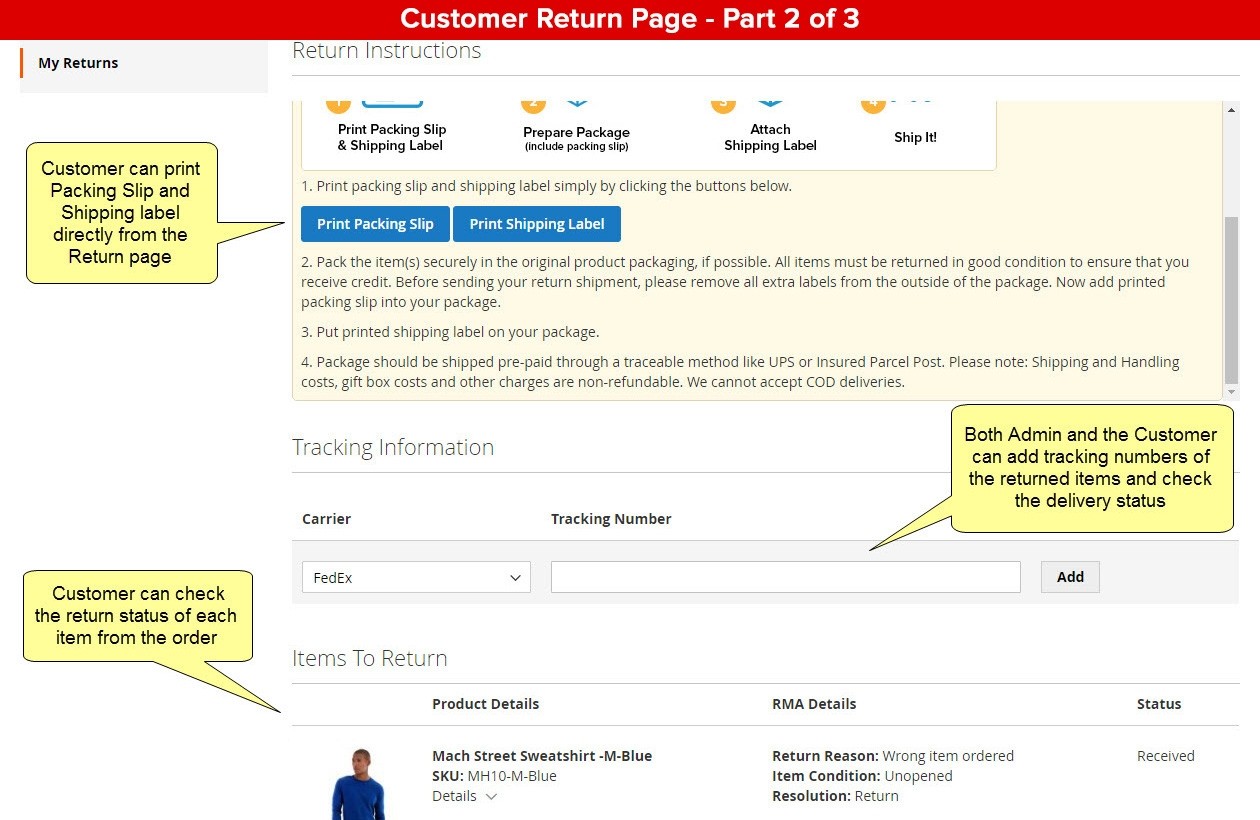 Automatic RMA Functionality
Magento admin can configure the plugin to authorize RMA requests and email a client automatically. The completed requests can be closed and moved to archive in an automated way. Also, a designated RMA manager is automatically assigned to every new request.
Conclusion
The process of selling products and services online is always touched by returns and exchanges. Even though high return rates can damage business revenue and popularity, you can easily fix it up with the help of Magento RMA Extension provided by Plumrocket. So, don't waste your time, and see how the plugin functions by running a free demo!