How to Power up Your Website with Magento AMP Pages
It is no surprise that digitalisation takes a new spin nowadays. The web is becoming even more convenient for users and websites are performing faster across the various devices. So, waiting 3 seconds or more until a webpage loads is considered a long time. Many potential and existing customers can easily turn into your competitors if they have to wait longer than a couple of seconds until the desired web page of your online shop loads. The proof is Google SOASTA Research 2017 that indicates the longer it takes to load a site on mobile, the possibility of bouncing of your website rises in the following way:
1s to 3s the probability of bounce increases 32%;
1s to 5s the probability of bounce increases 90%;
1s to 6s the probability of bounce increases 106%;
1s to 10s the probability of bounce increases 123%.
Fortunately, constantly evolving technologies help you accommodate the demanding clients, and AMP (Accelerated Mobile Pages) is no exception. Since Magento is one of the first e-commerce platforms that rapidly embraces AMP, let's take the solution as an example and explain how Magento AMP pages can optimise your website and bring your e-store successful results.
How can Your Online Shop Benefit from Magento AMP Pages?
Being introduced to the market in 2015, Accelerated Mobile Pages is an approach that makes mobile websites faster and eliminates the unnecessary elements. It helps to increase the loading time and enable your Magento e-store with the following advantages:
1. Reduced Bounce Rates
One of the main reasons potential customers leave a website is a slow page load. As was mentioned before, AMP improves the user experience by speeding up the load speed. It decreases the bounce rate and increases the average time a visitor spends on the website.
2. Better Search Engine Visibility
Faster loading speed also helps to boost the visibility of the pages in Google organic search results. In other words, your online shop will appear on top of the search results page when consumers look for the products or services via mobile. Better search engine visibility of your website provides more chances the clients decide to browse your e-store, and eventually convert.
3. Fresh Insights about Clients
Measuring the performance of Magento AMP pages is critical to being able to make constant improvements and derive actionable insights. Magento AMP provides you with an opportunity to track clicks, conversions, number of returning and new website visitors, etc. with the help of built-in Google Analytics.
4. Increased Efficiency of Ad Campaigns
The statistics show a 200% boost in click-through rates and 18% in ad performance when the e-commerce companies used AMP in the online email campaigns. The higher the click-through rates, the higher will be client engagement and sales enhancement.
5. Effective Impact on Business Revenue
It is well-known that websites are usually loaded with ads to boost sales, yet it increases the load time. Some customers install ad blockers to load the desired websites faster. Magento AMP supports a wide range of ad solutions, networks, and formats that ensure successful ad monetisation on the mobile web.
As you can see, AMP for Magento e-store can help you ensure the website is optimised, ranks high on Google, and the content of your pages load in a moment. Consequently, it can engage more customers, enhance user experience and increase conversion rate. One of the best ways to achieve the desired results is to consider implementing Magento AMP Extension provided by Plumrocket. Let's figure out why.
Magento AMP Extension: Key Reasons of Implementation
Based on the open source project from Google and Twitter (ampproject.org), the Magento AMP plugin allows you to reduce an average page load time to less than half a second, which is 7x times faster than average. Also, you can easily increase your conversion rates with the help of the Magento AMP extension functionality:
#1 Create AMP Pages Easily
Get an opportunity to generate Google AMP Pages for your Homepage, as well as Category, Product and CMS Pages. Go to Magento backend to edit AMP homepage content effortlessly.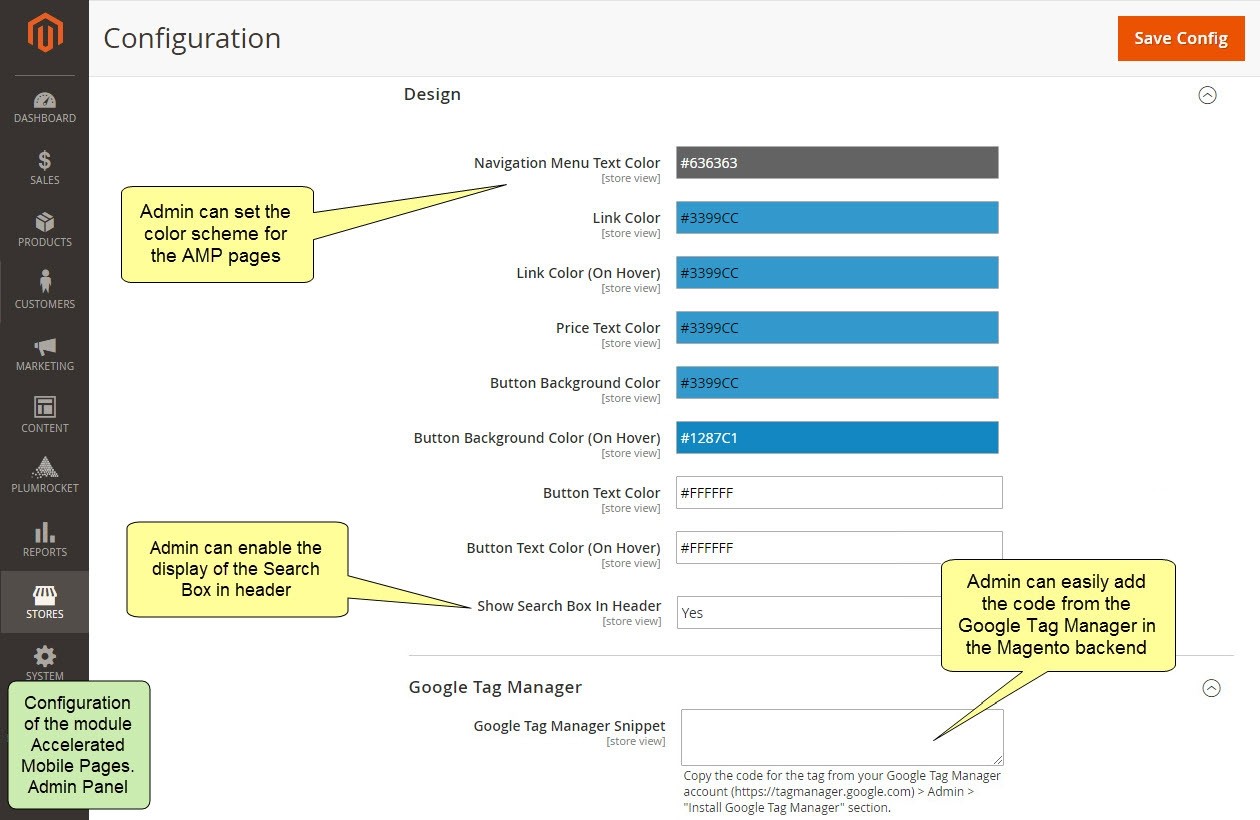 #2 Speed-Up Mobile Page Load
Decrease bounce rates and improve e-store performance. Load Accelerated Mobile Pages Magento directly from Google AMP Cache much faster than non-AMP ones. Use AMP Magento pages to create lightweight website pages and reduce http requests to speed up page load time.
#3 Enhance SEO Capabilities
Create rich snippets for Magento AMP pages automatically. Track visitor interactions with AMP pages with the help of Google Analytics and Google Tag Manager (GTM). Use Google AMP to make your content appear at the top of the Search Engine Results Page (SERP) that will be highlighted with a lightning stroke.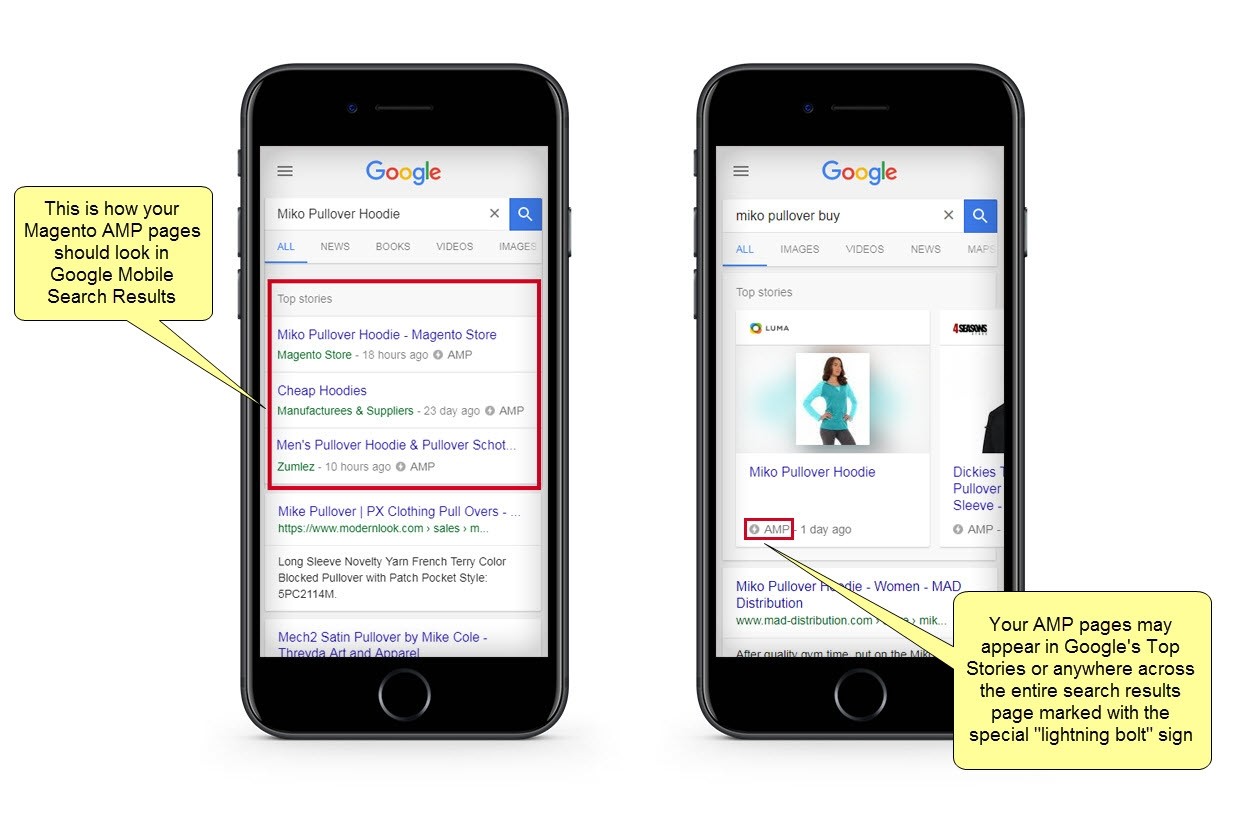 #4 Use with Any Magento Theme
Exploit AMP to work flawlessly with any 3rd party or custom Magento theme. The Plumrocket extension creates a separate AMP Magento template that can work independently from your current responsive or mobile template. The plugin is compatible with the Magento Community and Enterprise Platforms.
#5 Get Extra Features
Benefit from the above-mentioned capabilities together with some additional functionality like the following:
Image thumbnails on your Product Page can help clients preview all product pictures without page reload;
"Share with friends button" enables the clients to become your brand advocates;
Left to Right (LTR) and Right to Left (RTL) in Magento templates are supported by the plugin;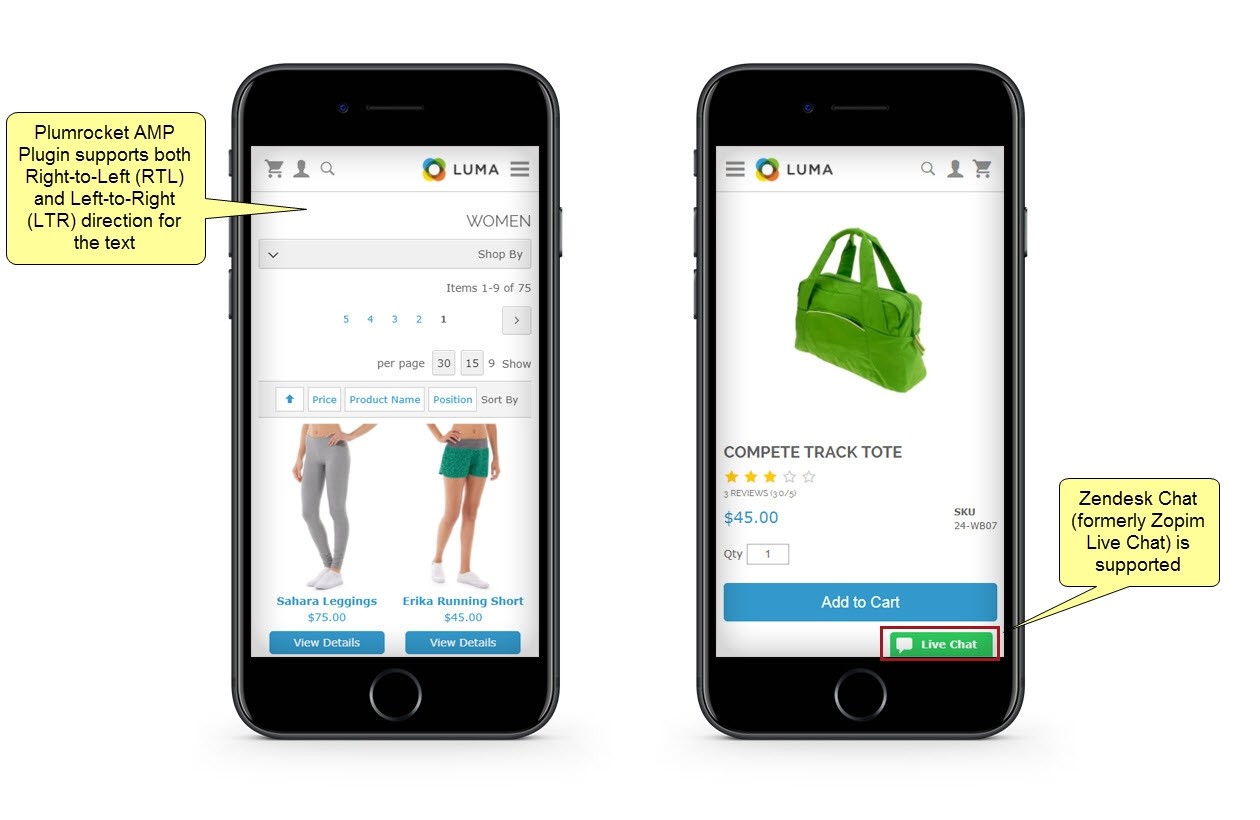 Related Products and Up-sells lets you sell more products or services;
Choose e-store pages where AMP features should be enabled, as well as set color scheme and upload a custom logo via the Magento admin panel;
Layered Navigation, "Sort By" functionality and Catalog Search are located on AMP Category Pages;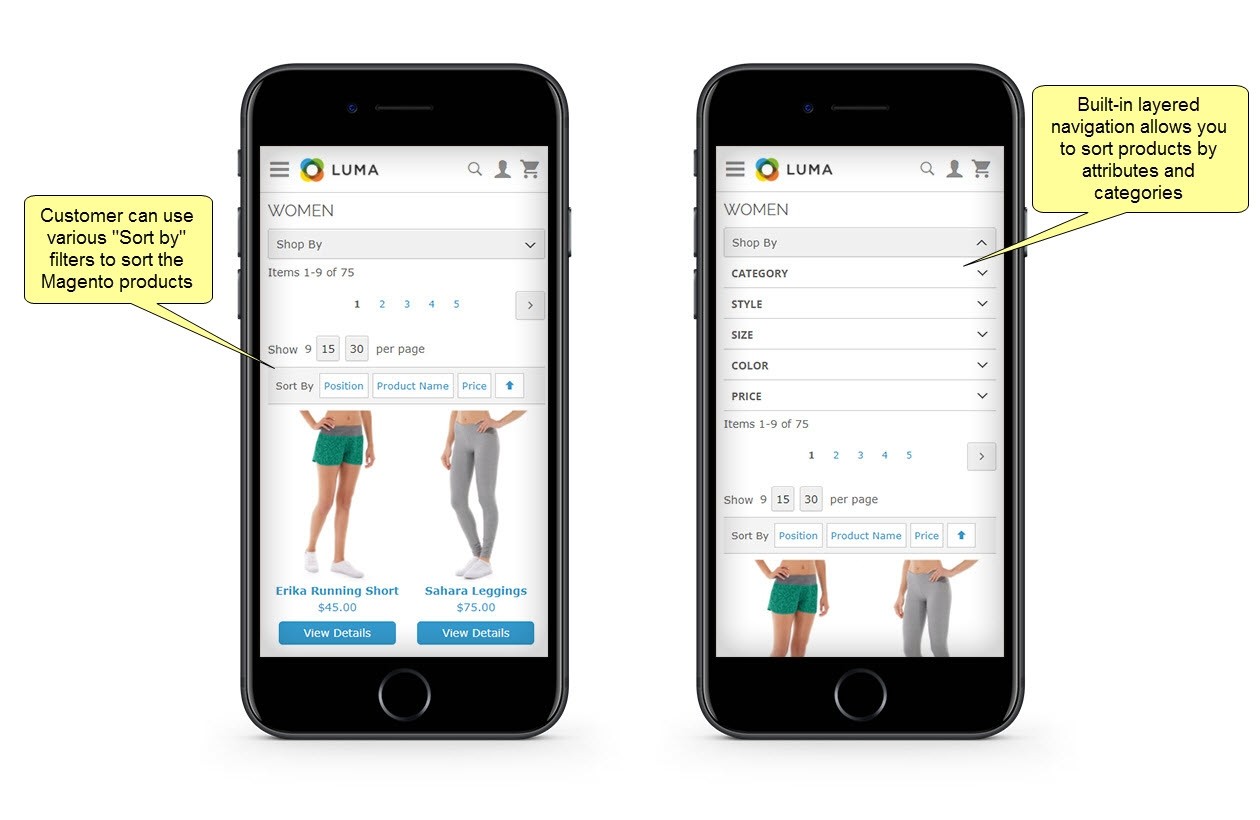 The "Force AMP On All Mobile Devices" option can be used by admin to show AMP pages to visitors who opened your online shop directly on mobile or tablet browser  (bypassing Google Mobile Search);
Embedded YouTube videos are supported when configured in the product description;
Item quantity input is displayed on AMP product pages and next to the shopping cart icon in a header, and much more.
By and large, the Magento AMP extension comprises the latest AMP coding standards and features. Now, when you have selected the Magento AMP plugin provided by Plumrocket, you can check out how the application works by launching a free Accelerated Mobile Pages Demo or taking 3 simple steps:
Download, install and enable the plugin.
Configure the necessary settings with the help of Plumrocket's online manuals.
Test the plugin to make sure the AMP pages are indexed by Google. Use Plumrocket wiki to explore how to try out and validate your Magento AMP pages.
Check out the video to learn more useful insights on Magento AMP Extension:
Instead of a Conclusion
Implementing Magento AMP software into your business strategy can help improve search engine rankings, increase revenue, and boost overall company sales. Get a chance to enhance your website's performance by using Plumrocket wiki right now! Or benefit from AMP Development service to let us take over all the hassle of custom AMP development and performance optimization.