Magento 2 Newsletter Popup: Guide to Quick Setup
Despite the rise of social messaging apps, email remains one of the most powerful communication channels online. Whether you're welcoming new subscribers, informing customers about a sale, or wishing someone a happy birthday – an email newsletter is exactly what is required to get the job done quickly.
When it comes to capturing your newsletter reader's attention fast, a well-designed popup is a great way to go. Thus, one of the most important steps you can take towards email marketing success is creating an eye-catching popup.
Let's now describe what newsletter popups are, introduce one of the most effective Magento 2 newsletter popup plugins and teach you how to use the module step by step.
Why Do Email Newsletters Matter?
With social media being incredibly popular to online businesses these days, email newsletters shouldn't be ignored by merchants in 2019. Not convinced? Let the following statistics do the talking:
73% of millennials consider email to be their preferred means of business communication (Source);
More than 280 billion emails are sent on a daily basis, and this figure is forecasted to reach 333 billion daily emails by the end of 2021 (Source);
The number of email users worldwide is expected to rise to 2.9 billion by 2019 (Source);
Email is 40 times more effective at acquiring new customers than social media (Source);
Every $1 spent on email marketing has an average $42 return and delivers a three-fold increase in purchases compared to spend on social activities (Source).
As you can see, the stats prove that email is still an essential part of everyday life. It allows to build relationships with prospects, leads, current and past customers.
Newsletter Popup: Vital Advantages to Consider
Some brands consider popups to be useful and insist they have the power to persuade your site's visitors towards calls-to-action. Others ignore them without a second thought. But the majority of website owners still believe that if used correctly, popups do enhance the user experience and boost the website conversion rates. Generally speaking, merchants can benefit from the following advantages of popups:
Cost. Popups are quite affordable to implement.
Visibility. Popups draw immediate attention of website visitors to what you want them to see.
Conversion. An eye-catching popup with engaging call-to-action sentence can persuade the customers to proceed to the checkout page.
Flexibility. You can create various popups for different purposes, direct them to the targeted users and towards particular actions.
Therefore, when used with appropriate content, and at the right time, popups are a perfect solution to increase sales and boost the performance of your Magento e-store.
Why Should Magento Users Exploit Popups?
As was mentioned before, newsletter popups are a versatile and inexpensive way to reach a targeted audience and deliver a personalized message. You can use them for different calls-to-action, such as:
notifying the audience about the latest information on new products and updates of your business;
showcasing a new product to visitors;
sending individual occasion emails for holidays, birthdays, and other personal events;
rewarding loyal customers with exclusive discounts;
re-engaging customers who have not shopped in a while;
generating feedback testimonials from customers, etc.
When it comes to implementing popup functionality on the online shop, you have an edge if you're using Magento. In other words, online business owners can take advantage of Magento newsletter extensions for expanding e-store functionality and adding different types of popups.
Magento 2 Newsletter Popup Extension: All the WHYs and HOWs
Newsletter Popup extension by Plumrocket is a tried-and-tested Magento email marketing plugin for attracting email subscribers and engaging new customers through offering special deals and promotions. The plugin helps the store owners track conversions and revenue easily. Since it doesn't require any coding on your part to get started, it's easy to create an eye-catching popup.
Benefits for Merchants:
20+ built-in responsive popup themes 

that can be easily customized right from the backend. In addition, the plugin allows you to create your own Magento newsletter template.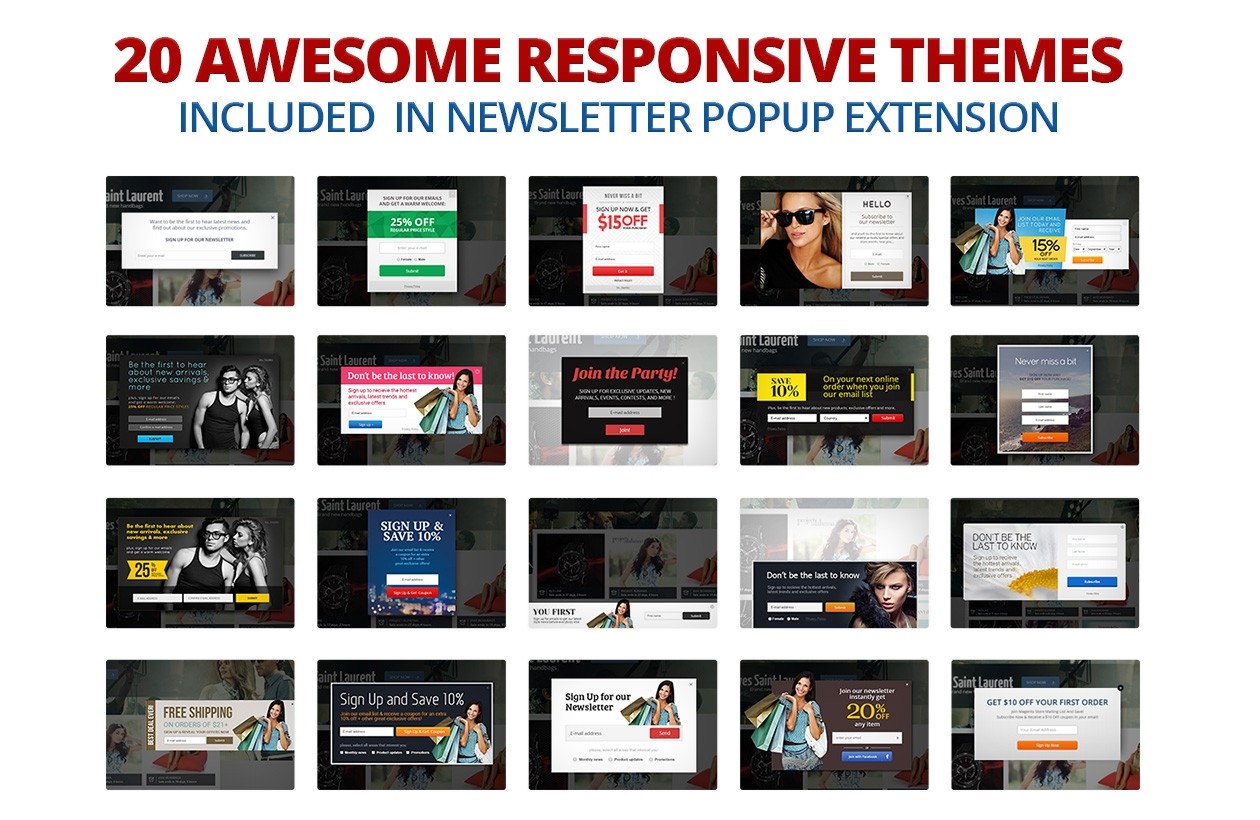 One-click subscription via Facebook account. 

The email address is automatically retrieved from the social network account with customer's permission.
Offer unique discount coupon codes for each new subscription

that allows to specify custom coupon format for every popup.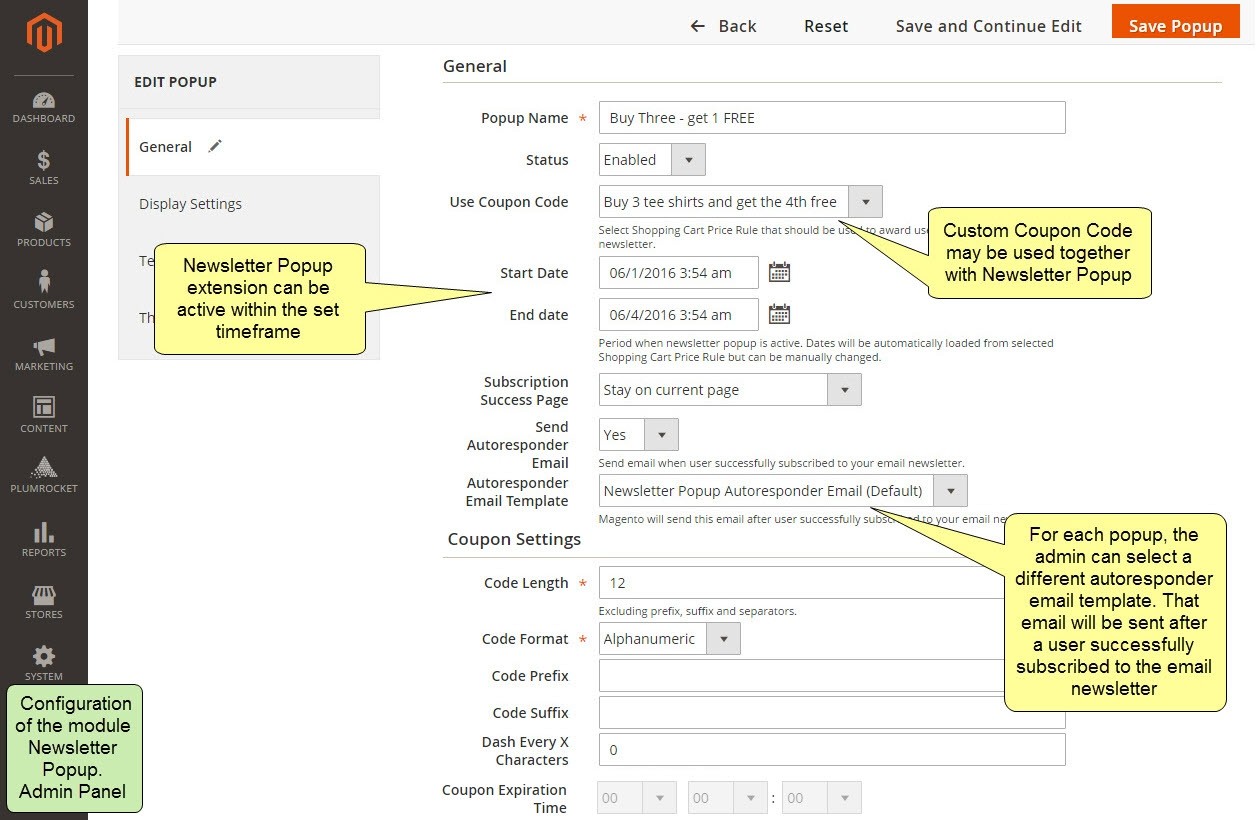 Track statistics of each newsletter popup. 

Stats like

"Conversion Rate", "Views", "Orders Count", "Order Grand Total", "Order number"

and

"Total Revenue"

are available in the backend and help to run simple A/B tests to choose the most successful popup.
Sophisticated popup display settings 

that allow to display popup

"after specified time delay", "when the user is leaving the site"

(exit intent)

, "on page scroll"

or

"manually"

and set custom conditions to display popup by customer segments, device type, product, category, brand, etc.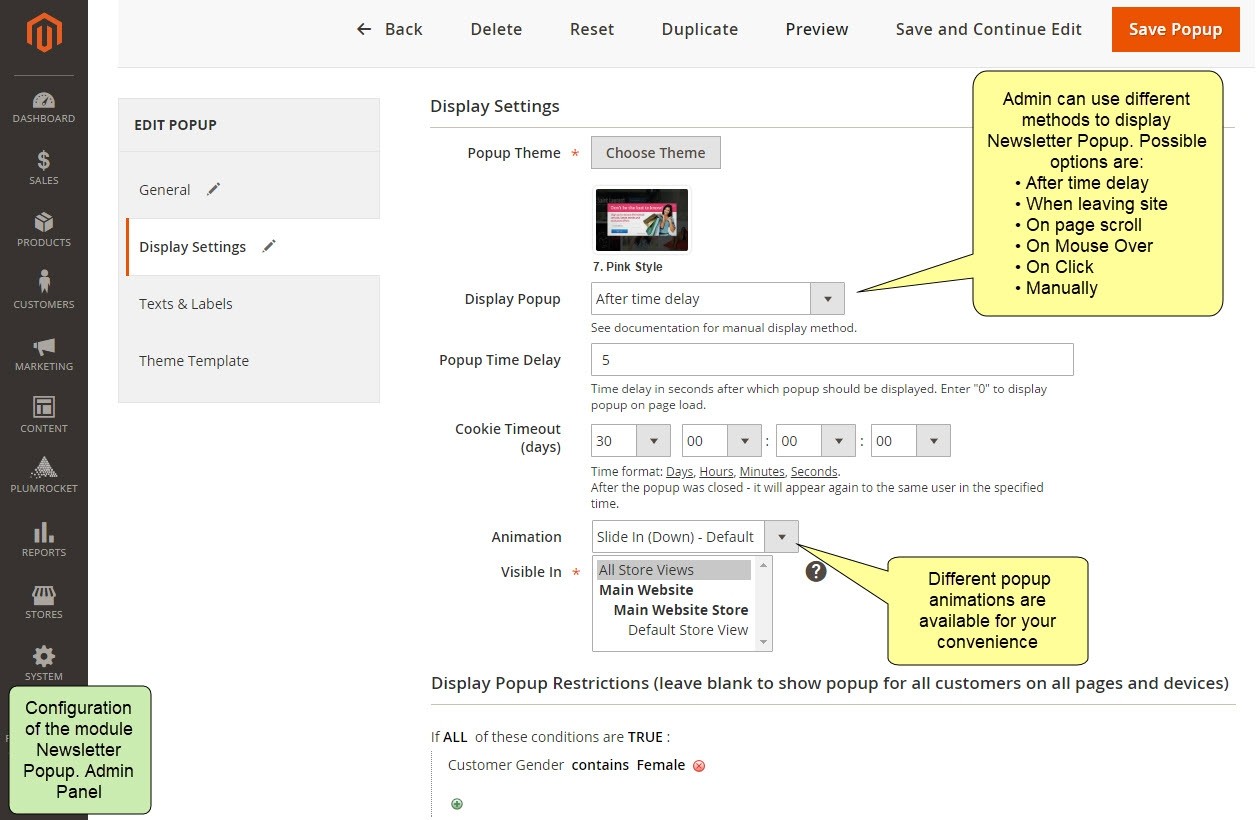 Seamless integration with CRM & email marketing platforms

(MailChimp, Dotmailer, HubSpot, GetResponse, Salesforce, Constant Contact, etc.) 

to sync the newsletter subscribers or save them directly to your Magento 2 database.
Complete history of user interactions

includes the number of successful subscriptions, order number, and revenue subtotal.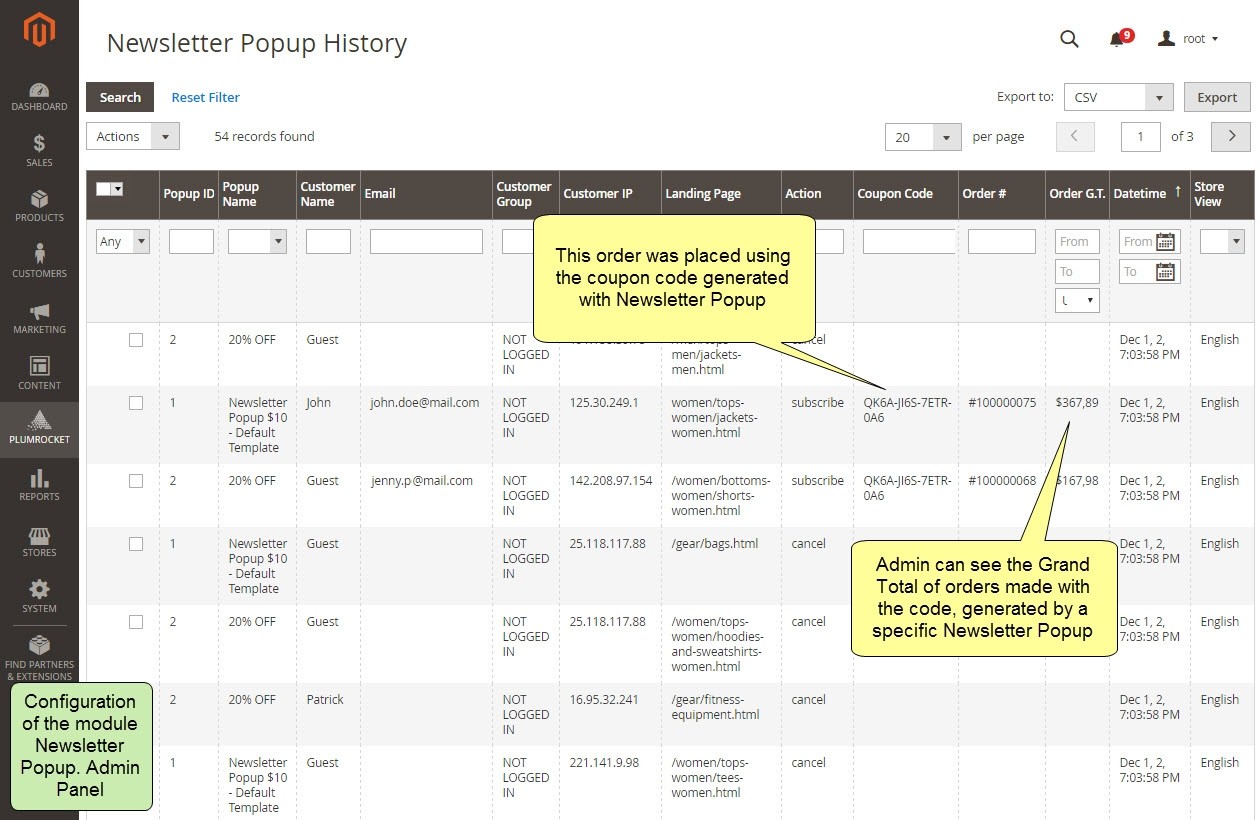 Collect only legitimate email addresses.

This option makes it possible to reject subscriptions with disposable email addresses.
Compatible with custom & third party Magento 2 themes 

means that it works flawlessly on any third party Magento 2 template.
How to Create a Popup Using Magento Newsletter Popup Extension
Now that we've talked about Magento 2 Newsletter Popup extension features, let's explore the plugin in action. The following step by step guide will enable you to quickly add popups to the ecommerce-store, and customize them to suit your specific business needs.
Note: Magento 2 Newsletter Popup Extension can be installed using 2 methods – via FTP or Composer.
Take into consideration the following steps and get the first Magento newsletter popup ready without having to contact a developer:
Install and activate the newsletter popup plugin
Navigate to Plumrocket tab in the main menu. Then select Newsletter Popup Extension -> Configuration by clicking the matching button. Once finished, Enable Extension and get ready for further steps.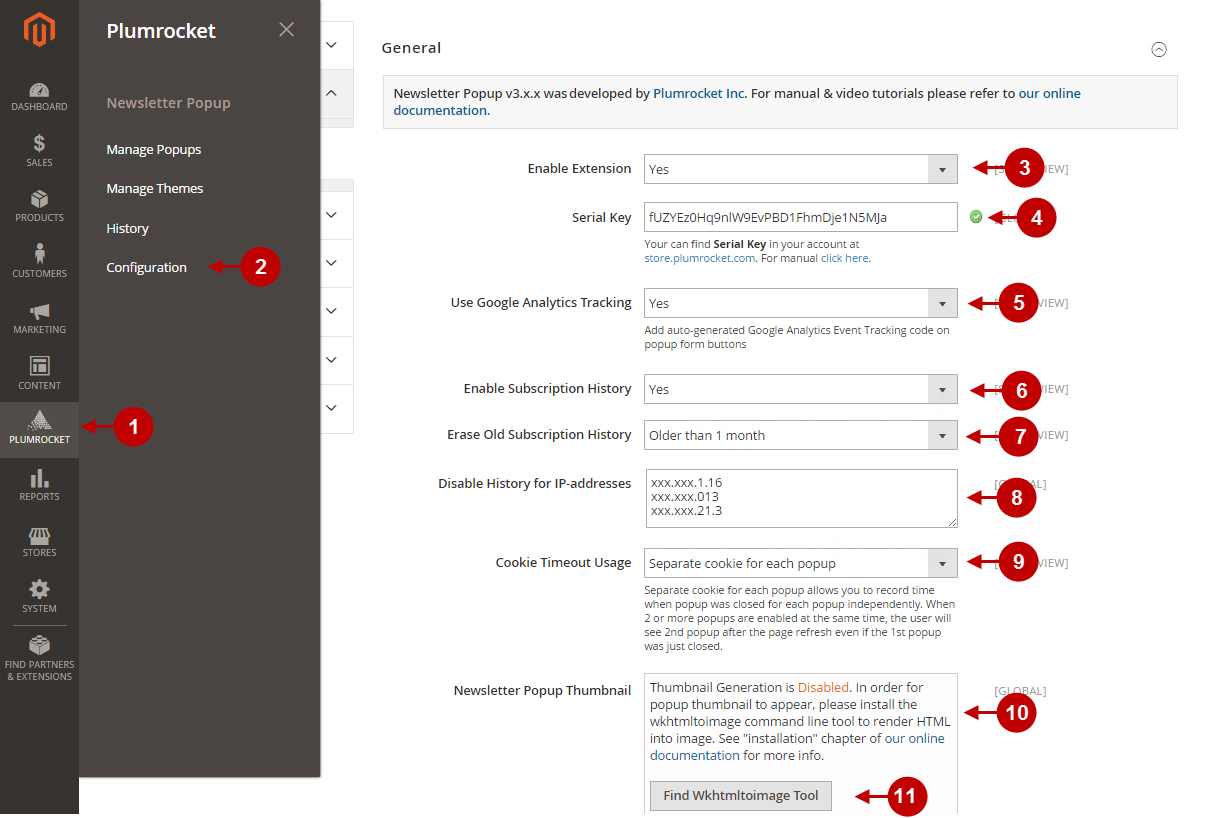 Preview and manage newsletter popup
To edit the popup, go back to the Plumrocket tab in the main menu and Select Newsletter Popup extension. When ready, enable the Manage Popups section. The appropriate grid consists of popup thumbnail, ID, name, views, subscriptions, conversion rate, orders count, total revenue, start and end dates, store views, and status. Also, you can either add a new popup or preview the previous one by clicking the corresponding Preview or Add Popup buttons.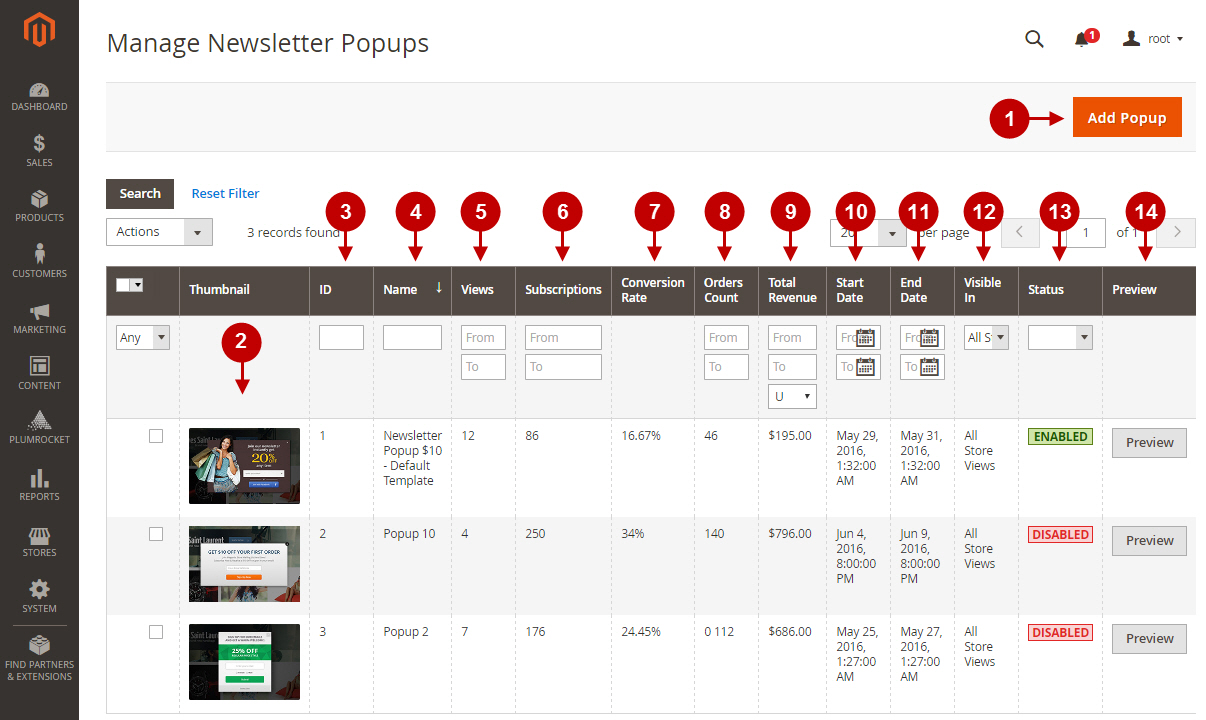 Manage newsletter popup theme
All 20+ themes can be found in a grid if you go to Plumrocket -> Newsletter Popup -> Manage Themes. There are theme thumbnail, ID, name, time it was updated and created, and type for you to choose from. Also, the plugin makes it possible to preview or edit themes. To add a new theme to the popup, just specify its name, insert image and press Add New Theme button.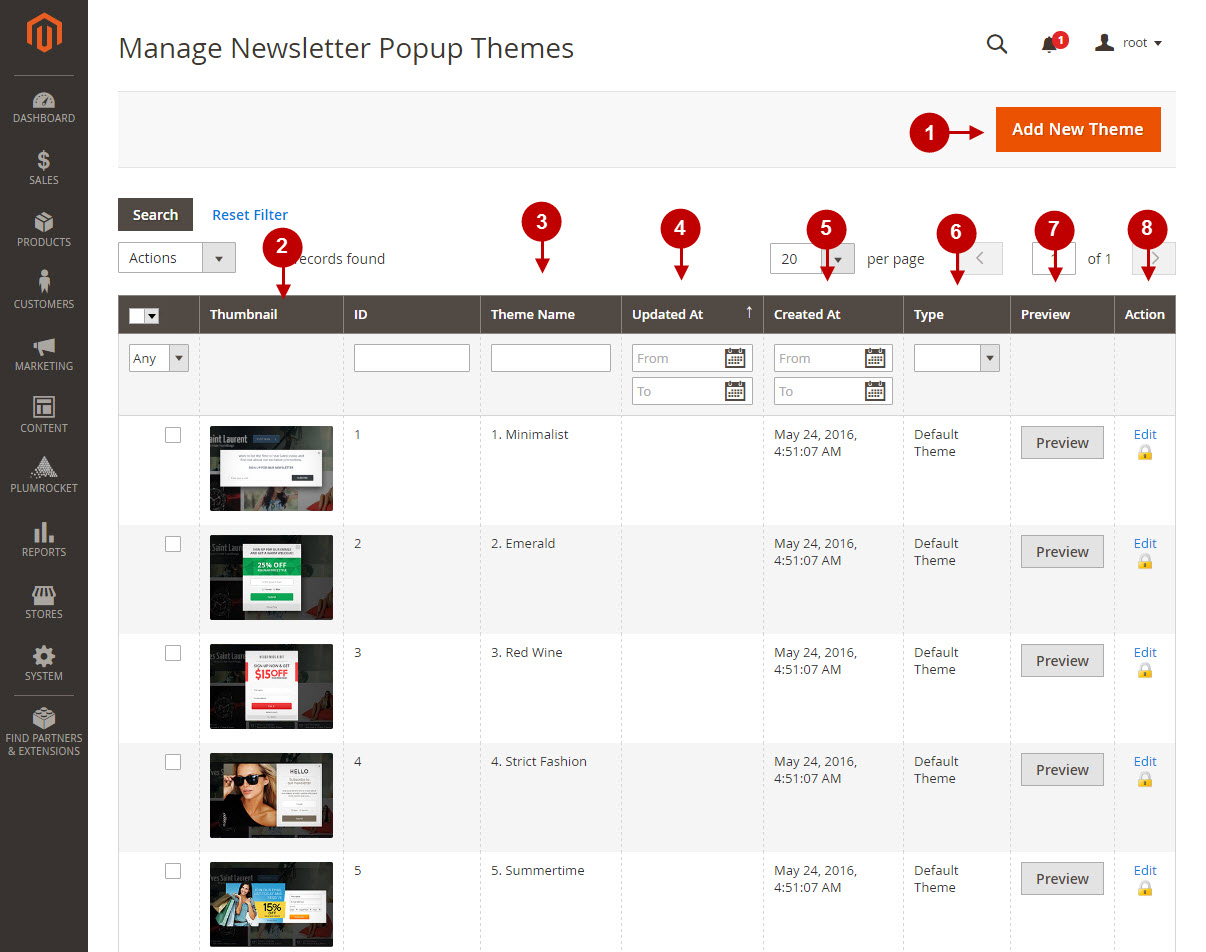 Preview the newsletter popup history in Magento 2
The newsletter popup history is available under Plumrocket -> Newsletter Popup -> History. There you'll find a grid showing popup ID and name; customer name, email, group, and IP; landing page; action (canceled or subscribed); coupon code; order number and G.T.; date and time; store view.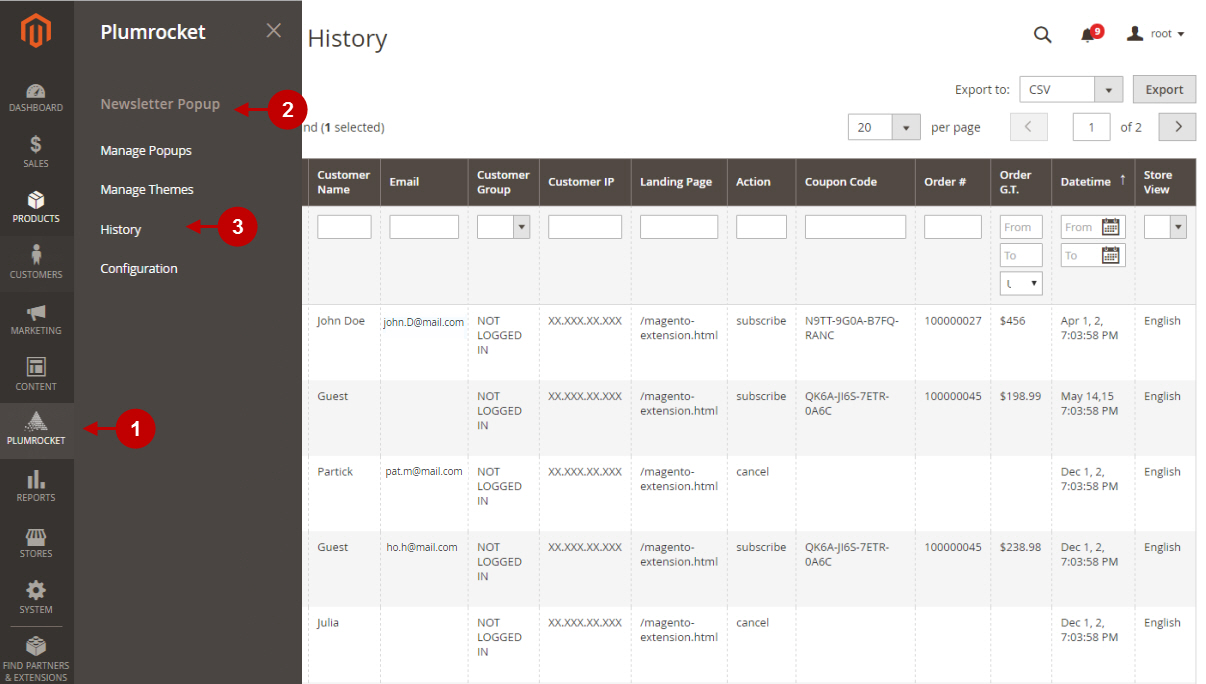 Wrapping Up
That's it! Now you know how to create an eye-catching popup for an online store with Magento Newsletter Subscription plugin. Powerful, but still easy to use, this extension will help to capture your customers' attention by introducing your offers, discounts or any other kinds of promotional notices. Still not sure? Check out a free demo to see Magento 2 Newsletter popup extension in action.