Magento Newsletter Extension: Plugin to Skyrocket Your Conversions
With the fast-paced evolvement of social media, mobile marketing, and search engine optimization, is it safe to state that email marketing is on the way to being forgotten? According to Direct Marketing Association research, 72% of people prefer to accept promotional material via email than social media. Also, 38% of individuals admit that receiving the special offers is one of the main reasons they subscribe to an email list. In other words, if your e-commerce company hasn't taken the time to implement an email marketing strategy, then you are leaving money on the table. Therefore, discovering the great benefits of email marketing and Magento newsletter extension can help your e-store gain new prospects and increase sales.
7 Key Advantages of E-Newsletter Advertising
Promoting your products and services via email is a fast, flexible and cost-effective way of reaching new clients and retaining existing customers. To be more specific, newsletter marketing is the practice by which organizations send informational and product-focused content with the help of an emailed letter to a subscriber list. So, email marketing opens up new business opportunities and drives a better return on investment with the following benefits:
#1 Targeted Audiences
With email marketing, you get the possibility of segmenting individuals into lists based on their lead status, demographics, preferences, and so on. The targeted emails ensure that your contacts receive suitable content in accordance with their needs. You can customize the message for each client depending on the segment to boost a higher conversion rate.
#2 Brand Awareness
If you use a smart design, personalized content and strategic planning, the chances of opening your email and converting the leads into loyal customers get higher. With each email sent, you stay in the mind of your clients and consistently build brand value. So, when the customers feel a need for the products and services, it is more likely the clients will use the business which keeps in touch with them.
#3 Cost-Effectiveness
Return on investment is one of the main benefits of email marketing because there are no advertising rates, printing fees or media space prices. The Direct Marketing Association indicates that newsletter advertising outperforms search, display and social marketing by bringing in $40 for every $1 spend.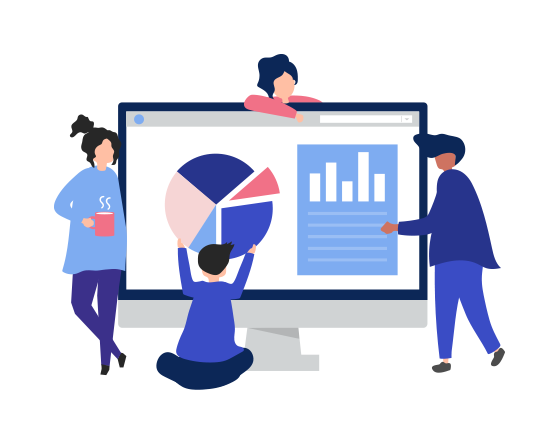 #4 Analytical Metrics
Measuring the success of marketing campaigns is easy and precise with the help of the reporting tools. The valuable metrics include delivery, open, click-to-deliver, subscriber retention tools, etc. The analytical insights give you information about customers' behaviors and interests. This data let you monitor which content the customers are most responsive to and optimize future campaigns.
#5 Sharable Option
With a simple click of the forward button, your clients can share your deals, news, and content with friends and family. Being brand advocates, the subscribers help build your business reputation by word-of-mouth or viral marketing.
#6  Real-Time Marketing
Newsletter advertising can help you connect with potential and existing clients in real time. By using automated triggers like website activities, recent purchase or shopping cart abandonment, you can reach the proper audience with the appropriate offer at the right time.
#7 Permission-Based Activity
The marketing list is mostly made up of individuals who have actively chosen to receive email from your company. These clients are genuinely interested in your products or services, so they are likely to engage with your organization and become a lifetime customer.
As you can see, newsletter marketing helps to reach target audiences and create your brand exposure. However, in order to achieve the desired results, you should keep in mind for the newsletter to include certain elements to make the marketing campaign successful:
Write creative and catchy headlines that can attract the reader to open email;
Schedule the newsletters consistently

and publish at regular intervals;
Use a strong call to action

that can convince the client to engage with your website, contact the account manager, buy the product or service, etc.;
Avoid cluttered formatting

that can overwhelm the reader and make the customer unsubscribe;
Don't forget about mobile responsiveness

and ensure the newsletters are optimized for different devices;
Offer rewards to consumers for opting into the newsletter marketing;
Provide terms and conditions to let the leads know what their personal information is being used for when they sign up for the newsletter.
With so many aspects to consider during the implementation of the email marketing strategy, it is essential to avoid missing any details. As the Magento e-store owner, you can take advantage of the Magento newsletter extension to make sure the email advertising is running in the right way and have a quantifiable impact on your business. Magento 2 Popup Newsletter Extension by Plumrocket can provide you with an effective way to obtain more list subscribers and convert them into loyal customers.
Magento Newsletter Extension: Effortless Way to Execute Business Advertising
Being a key solution for brand awareness and marketing strategies, Magento newsletter extension can help inform the potential and existing customers with a great deal of hot and up to date information. As such, you can engage more clients and boost sales with the following capabilities of Magento 2 popup newsletter plugin:
Built-In Responsive Themes
Select your favorite template among the 20 free themes for any taste and website layout. Customize the templates in accordance with your business needs straight from Magento backend, as well as get an opportunity to create your own from scratch.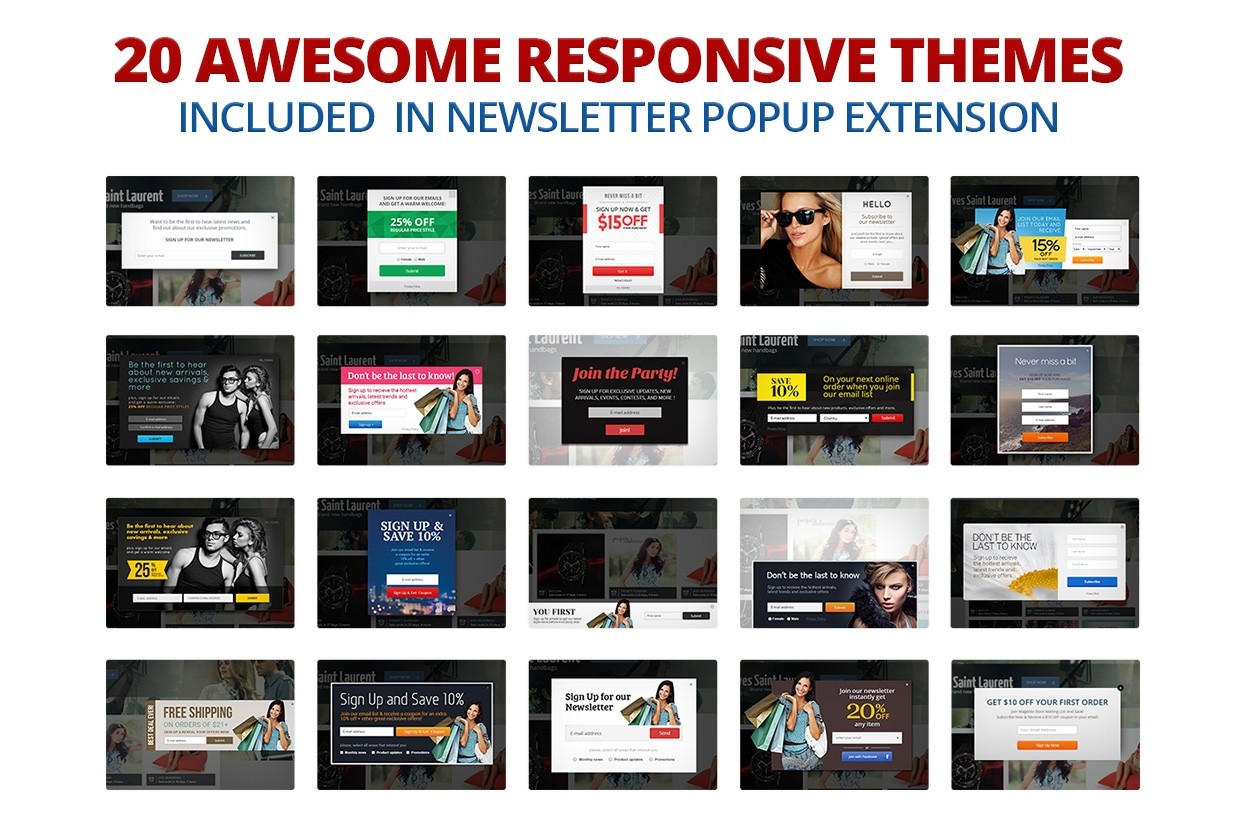 Facebook Emails Collection
Use built-in Facebook login integration that lets you gather the email addresses in simple way by automatically retrieving them from Facebook accounts with consumers' permission.
Provide your prospects with static or auto-generated coupon codes for each subscription. Exploit built-in Magento Shopping Cart Price Rules to specify a custom coupon format for each popup.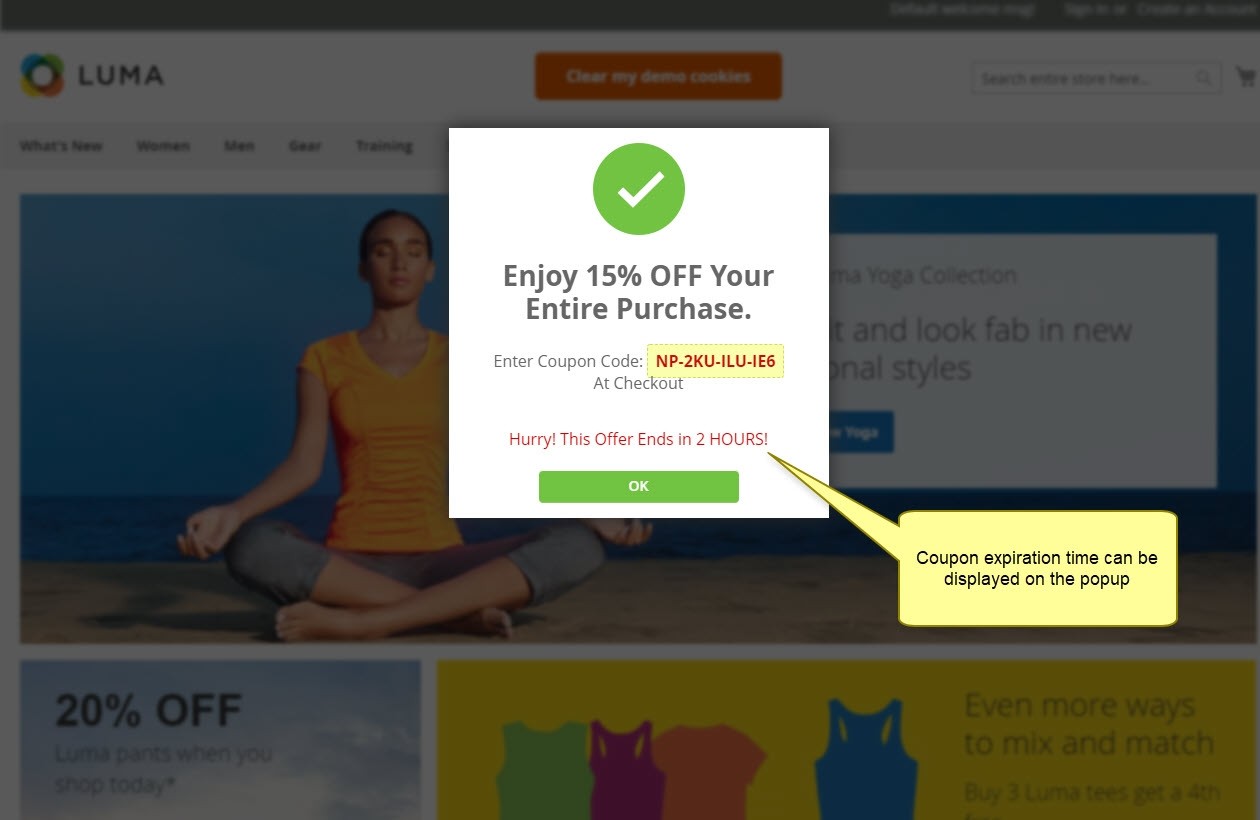 Take advantage of Magento newsletter popup statistics to run A/B testing and select the most efficient popup. Monitor "Conversion Rate", "Views", "Orders Count", "Order Grand Total", "Order number" and "Total Revenue" of every Magento Newsletter Popup.
Integration with Other Platforms
Integrate with different CRM and email marketing automation solutions like Infusionsoft, HubSpot, Dotmailer, MailChimp, etc.to sync the newsletter leads and save them to your Magento database.
History of User Interactions
Browse the full history of user interactions that includes the subscriptions with the relevant number and subtotal of the order. Take the time to evaluate the most effective popups, landing pages, display settings, geo-location and time of the subscription.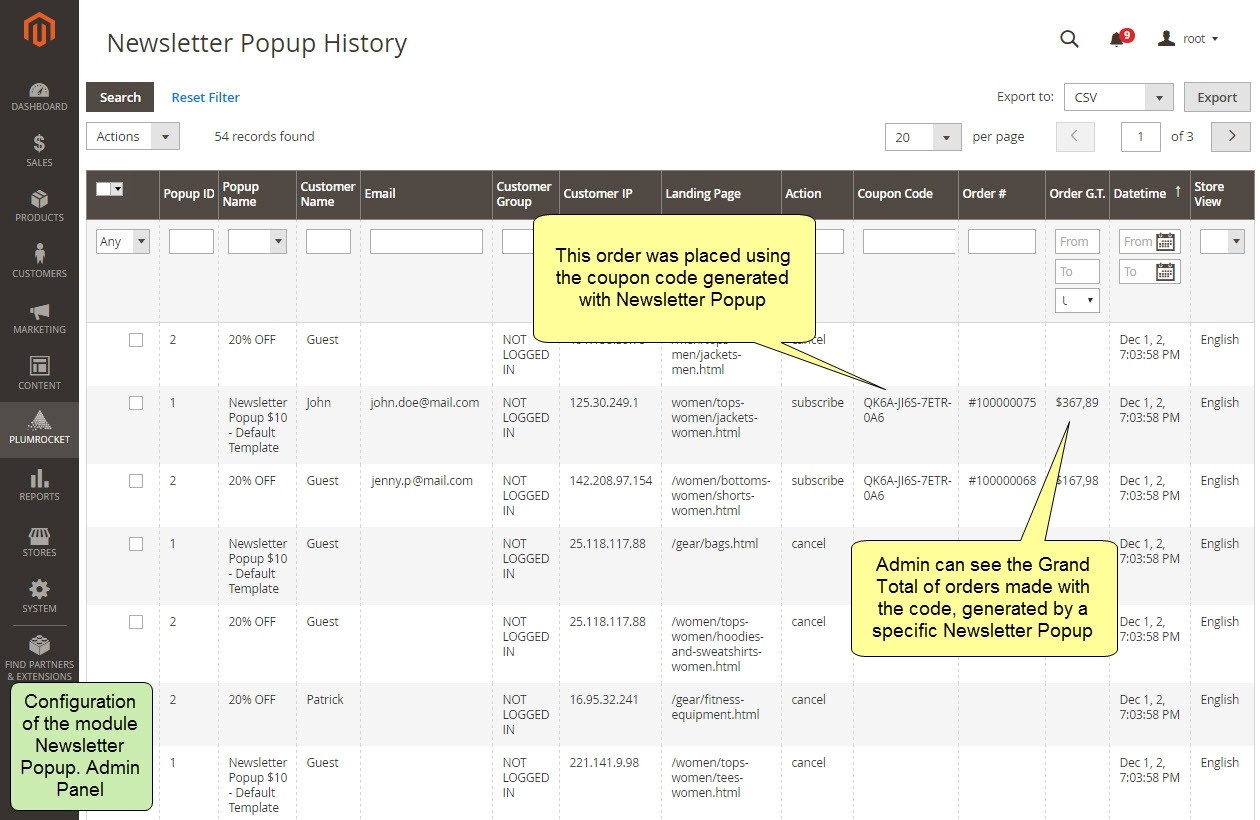 Legitimate Email Gathering
Use a list of disposable email addresses services that helps you eliminate the subscribers with blacklisted email domains. Add or edit the blacklist or disable the functionality.
Set custom conditions for displaying popups by the client segments, device type, brand, product, category, etc. Show popup "after specified time delay", "when user is leaving the site" (exit intent), "on page scroll" or "manually".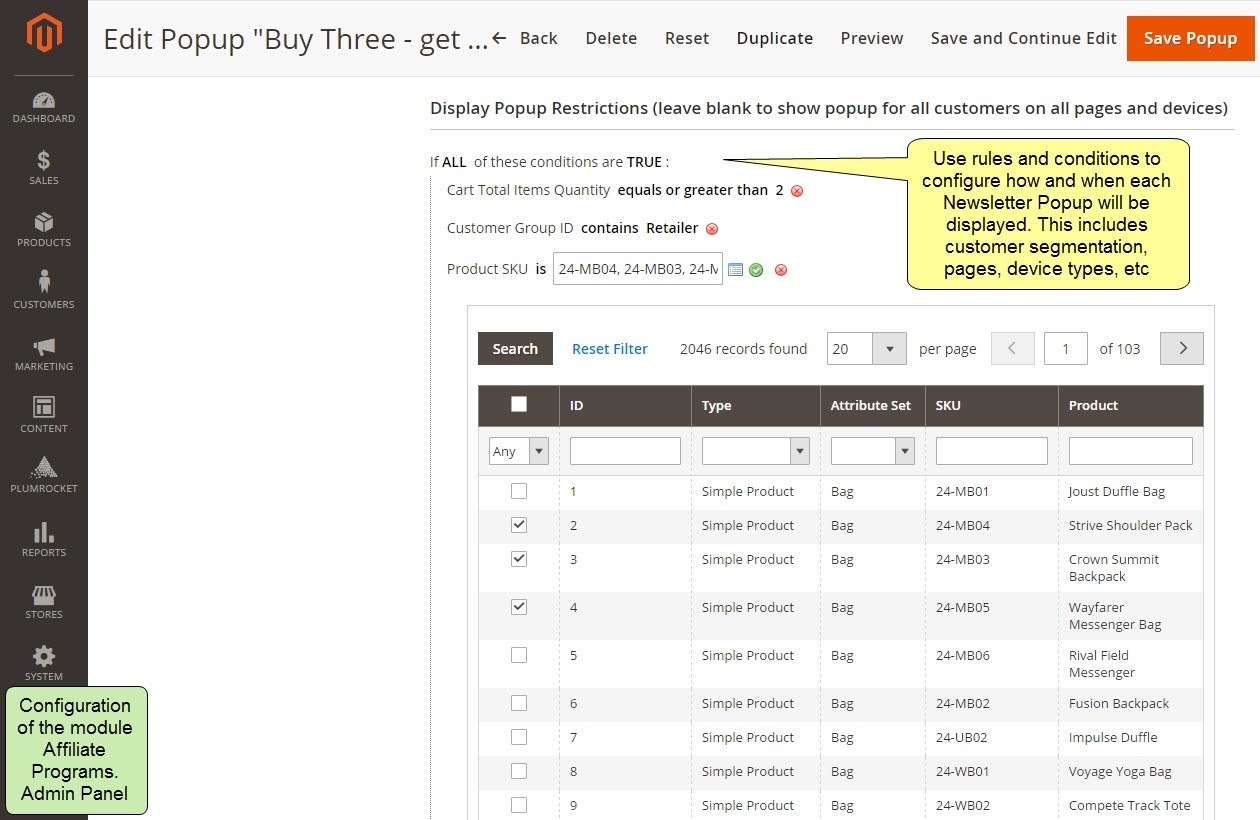 Custom and 3rd Party Themes
Display Magento 2 newsletter popup on any 3rd party Magento theme starting from your custom ones or popular templates like Shopper, Fortis, etc.
Bottom Line
By and large, email marketing provides customers with an opportunity to stay up to date with new activities and campaigns of your business. Newsletter advertising enables you to create successful relationships with clients, and when the trust builds, these consumers are more likely to buy your product or service. With Magento newsletter extension by Plumrocket, you can simplify the process of your email marketing procedure to increase revenue and make your online shop flourish. Check out a free demo right now!