Magento 2 Social Login Extension: Comprehensive Implementation Guide
If you are currently running a Magento online business, there are various ways to extend the website functionality far beyond the limits. One of the most wanted and sought after features to include in your online store is the social login. Having been on the e-commerce market for a decade, this functionality aims to simplify the registration and login procedures by letting Magento website customers sign up via social networks.
Since the social login functionality for Magento 2 is not available by default, you can implement it either manually or with the help of third-party applications. Recently, there is a growing tendency to integrate Magento 2 social login buttons into business strategy using social login extensions. Among the variety of modules available on the e-commerce market, the solution provided by Plumrocket is one of the most feature-rich. So, let's take the plugin as an example to find out the benefits of social login and discover the implementation process step by step.
Key Benefits of Integrating Social Login into a Magento Online Store
When utilized properly, social login on Magento websites opens up new opportunities for both merchants and customers. Check out the main reasons why e-store owners integrate social login in Magento 2 online business:
Quick registration & authorization processes. Since consumers don't have to fill out any personal information in the various fields, they can quickly sign up and login to the website.
Increased security. Social media platforms like Facebook or Google have an additional layer of security that makes your customers' privacy more protected.
One-click return experience. Once visitors have registered on a Magento e-store with social login, their return experience will be cut down to a single click.
Mobile Friendliness.Smartphone users are more likely to stay on the website if there is easy access to the site via social credentials.
As you can see, the main advantages of social login for users are speed and convenience. Website owners, in turn, can benefit from the social login functionality in the following way:
Reliable source of clients' information. Since a large percentage of visitors give false or incomplete information when registering on a website, access with social media can provide more accurate data.
Detailed customer information. When shoppers login to a site with their social network accounts, a store owner gets detailed info about customers (including verified email addresses, location, age, gender, etc.) that will be used for further email communication, as well as marketing campaigns.
Targeted advertising. With the right data collected from social login, store owners can tailor the promotions to each particular audience.
No need to manage support and security. If users forget their username or password, all issues should be dealt with the social media channel to sort it out.
By and large, the above-mentioned advantages will help Magento merchants not only enhance the user experience, but also ensure maximum conversions from the audience. If you are a Magento 2 shop owner and feel inspired to integrate social login to your e-store, keep reading the post to explore the most efficient and hassle-free way to perform the task.
Why to Choose and What to Expect from Social Login Extension?
Magento 2 Social Login extension provided by Plumrocket has been professionally developed to help website users quickly access the Magento e-store and place orders by logging in with social media platforms. Packed with lots of helpful features, the module aims to add the influence of powerful social media channels into the Magento website. The main benefits that make users gravitate towards it are:
50+ social media networks and services support enables you to offer your customers quick login and registration.
User-experience personalization helps you to build a personalized experience by displaying a consumer photo from social networks anywhere on the website.
Rich profile information collection allows you to launch personalized marketing campaigns and more targeted promotions by using reliable profile customers' data.
Social login for multiple pages makes it possible to display social login and registration buttons, as well as the customer's photo anywhere on the website.
Website social media share buttons provide customers with a chance to share your site with their friends once they've registered an account.
Risk-free login and registration processes let you avoid issues with incorrectly entered email addresses by retrieving verified emails from social network accounts.
Compatible with custom and 3rd party templates means that the extension works flawlessly on any Magento theme no matter whether it is a custom theme or a popular theme like Ultimo, Shopper, Fortis, etc. – it supports them all.
So, if you want to optimize customers' experience and integrate social login functionality into your online business, Magento 2 Social Login module is a good way to go. Easy to use and manage, Social Login module will help customers avoid long and complicated forms, improve your data quality, as well as eliminate spam and bot registrations.
Magento 2 Social Login Extension: 4 Steps to Enable It On Your E-Shop
Now, when you have learned the general information about the social login extension, consider these tips on how to implement the module effortlessly:
1. Install Social Login extension
To install Magento Social Login extension, you can use 2 methods: installation via the FTP or Composer.
Note: If you have previously installed Twitter & Facebook Login on your website, make sure to disable it in order to avoid potential conflicts.
2. Configure Social Login extension for Magento 2
In the "Plumrocket" tab, select the "Social Login Pro" module and the extension will automatically retrieve the serial key. You will only need to enable the plugin and configure the social networks of your choice.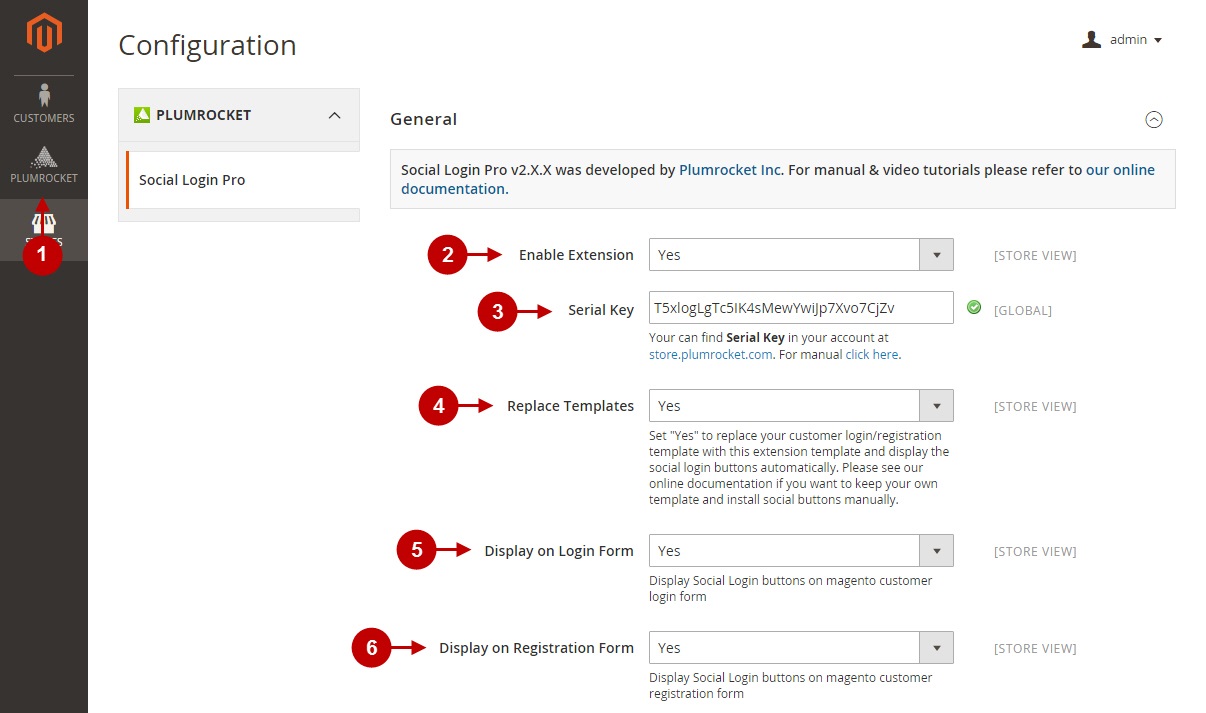 3. Manage Social Accounts in Magento 2
If you want to sort customers by their social accounts or just view the connected social accounts, select "Manage Customers" section in the "Customers" tab of the main menu. Once ready, navigate to "Social Accounts" section in the grid and search customers by their social accounts.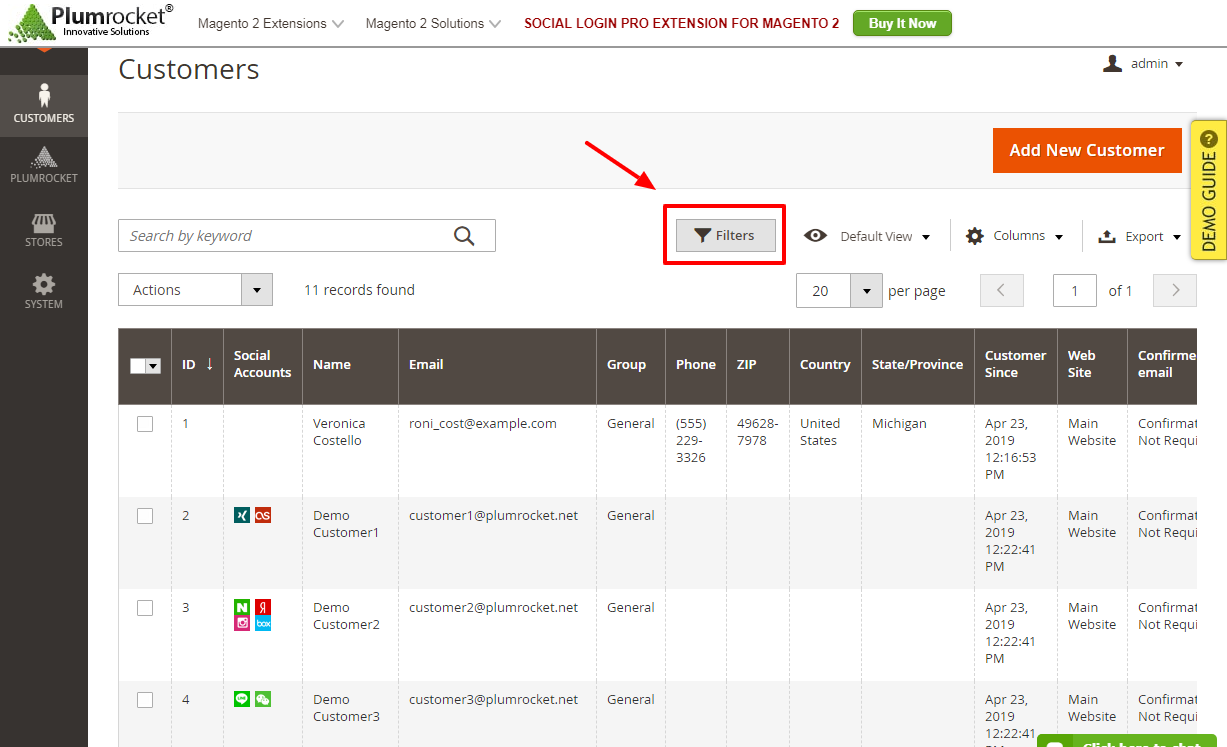 4. Use Social Login Pro API for Customization
With the help of social login API, you can manually set up social login buttons and output user photos in the custom locations. Check out more information here.
That's it! Your website is now ready to offer social login options to your Magento e-store customers. In case there are some questions concerning the module's installation, feel free to read the Documentation that contains lots of detailed information. Also, a Demo is available to check the pros of the extension.
Final Words
Hopefully, this blog post provides enough information concerning all the WHYs and HOWs of implementing social login into Magento e-store. If you are ready to add social login functionality to your e-store, consider Magento 2 Social Login extension to increase the customer base and boost sales.