The Ultimate Decision to Make Your Magento 2 Checkout Success Page Effective
When optimizing any Magento shop for conversion, merchants usually try to benefit from all opportunities. The e-store owners want to double their sales by attracting customers anywhere they can pay attention to and click the Buy It Now button. Though Thank You pages are often considered as dead-end ones – they actually have huge potential for nurturing leads and increasing sales.
In Magento 2, the default checkout success page (known as Magento Thank You Page) is too basic with no attractive information contained there. Therefore, this bland-looking page doesn't serve much of a purpose except to confirm that someone has successfully completed a purchase.
In this article, we're going to show you how to optimize your Magento 2 Checkout Success Page in order to foster the relationship with your customers or subscribers, to capitalize on it for further engagement and conversions, etc. – we're going to cover it all. Already captivated? Let's start!
Why Saying "Thank You" Just Isn't Enough
So, whenever an order is placed, it's likely there is a "Thanks for the Purchase" message. But needless to say that a line or two of the default text is not enough, it should do much more than that. The Magento 2 Success Page is much more than just the confirmation of an order, it isn't just a chance to be polite – but is the perfect place for you to continue building your relationship with a new customer or lead. In other words, the purpose of a Magento Thank You Page is to make a customer continue his buyer's journey and to turn your website first-time visitor into a lifetime fan.
Why the Magento 2 Checkout Success Page Extension?
To convert subscribers into customers using the Magento 2 Checkout Success Page, you have to move beyond simply saying "Thank You". And that's where Magento 2 Checkout Success Page Extension is the top choice to help you squeeze the most out of your confirmation page. The extension provides its users with a great opportunity to customize the Magento 2 Thank You Page in a few clicks according to any e-store's needs. There's no special tech knowledge required to do it on your own. Every change is performed with the help of WYSIWYG-editor, that makes page editing as simple as working with text and images in MS Office.
Magento 2 Checkout Success Page Extension has been specifically developed by Plumrocket Inc. to make your Checkout Success Page more eye-catching and user-friendly, and therefore to increase the conversion rate of your website. Each element can be customized according to your specific website needs:
sharing order experience via social networks,
awarding customers with auto-generated discount codes,
displaying cross-sales,
showing product recommendations,
letting buyers share their shopping experience,
and a lot more.
In combination, all the above-written features can prove to be a real boon to boost your online business. Interested yet? Let's take a closer look at how to benefit from your Magento 2 Checkout Success Page and increase your income with Checkout Success Page Extension.
The Magento 2 Checkout Success Page Extension: Main Features
Once you've thanked your subscribers and set expectations, it's time to provide some directions on what you want them to do next. After the Extension is installed, you're able to add various blocks on your website:
Display Full Order Summary
After an order has been processed, this feature makes it possible to review and print all the information that relates to the purchase (product pictures, shipping details and order subtotal). In other words, the feature makes your visitors feel good about their conversion by providing them with specific details about what is done and what to expect next.
Enable Registration on Success Page
While the customer is in a "yes" mood, welcome him to create an account on the Thank You for the Purchase Page to make the order details, tracking information and other perks easy accessible for them. It's a great chance to capture the users' contact info and introduce them to your products or services.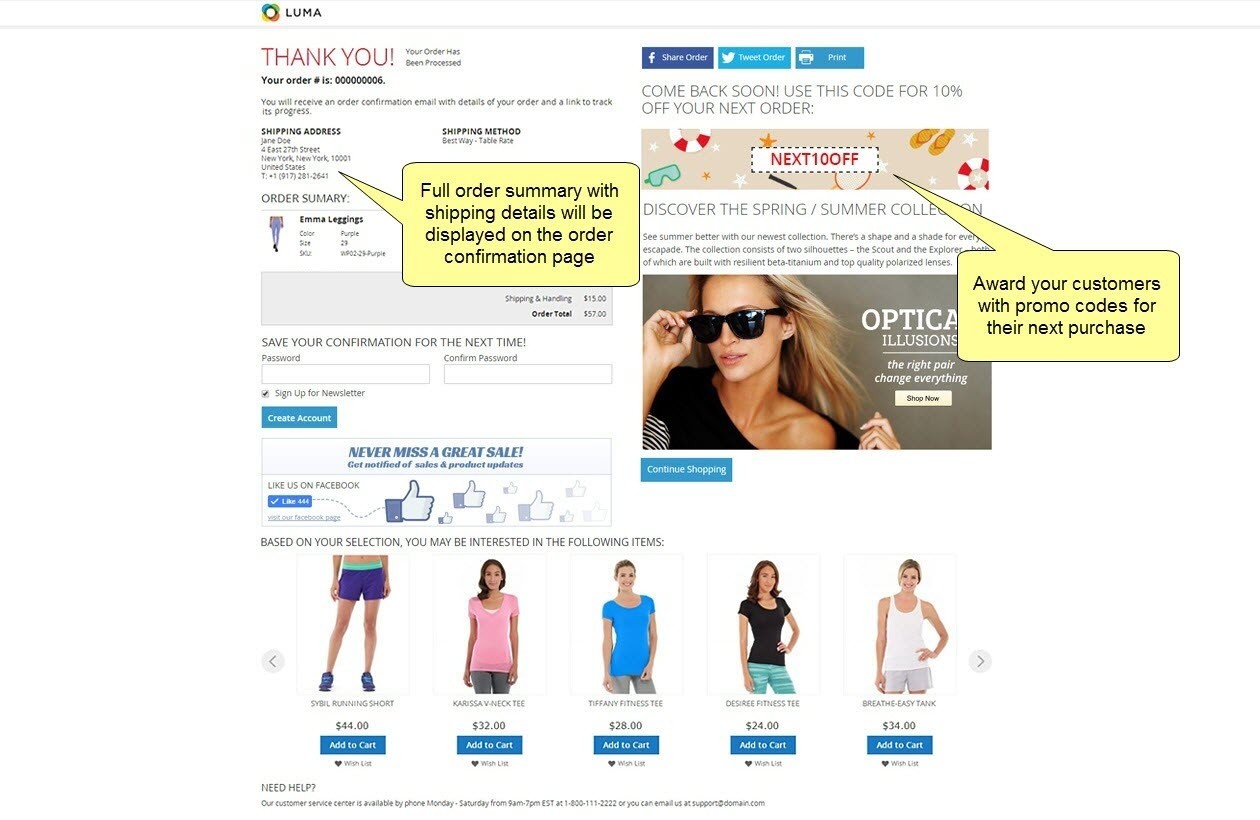 Increase Newsletter Subscriptions
Allow your customers or website guests take full advantage by subscribing to your store newsletter before leaving the site. It's a great way to offer special deals and promotions, as well as convert your one time visitors into returning shoppers.
Display Product Recommendations
This option allows you to cross-promote related products, up-sells, cross-sells or recently viewed products in the product slider and therefore lead them towards another immediate purchase on impulse. Now that you have your visitor's interest, give them even more value by including relevant, useful offers.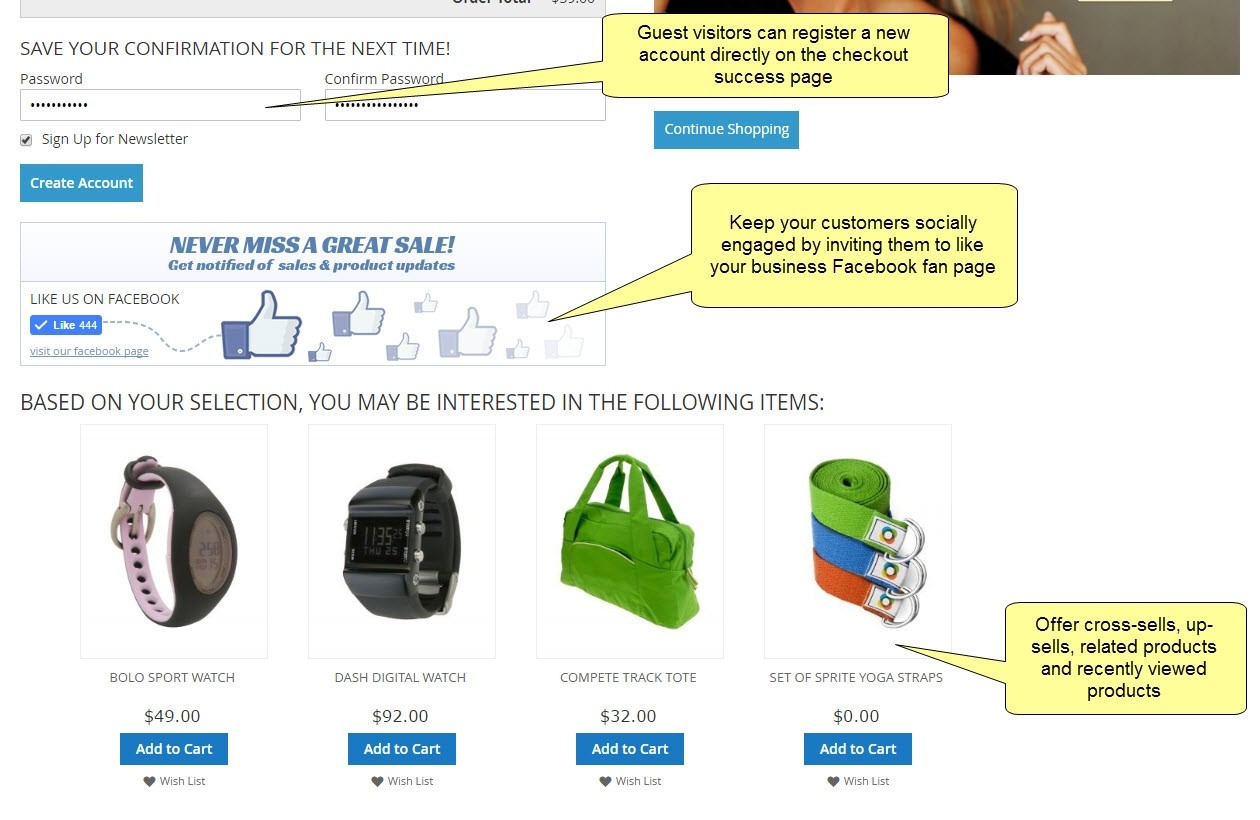 Show Custom or Auto-Generated Coupon Codes
While your registered or guest customers are still in that "yes" mindset, it's a good chance to offer them a custom or auto-generated coupon code or gift. As a result, you can make the clients want to purchase again in the future. Besides, the feature makes it possible to change the design, promo messages and specify customer groups that will get special discount codes towards their next order.
Upgrade Your Order Confirmation Email
In order to replace the basic Magento 2 transactional email template, the option is exactly what you need to enable a new order confirmation email. A better order confirmation email template contains many characteristics from the Checkout Success Page (as full order summary with all shipping details, discount codes towards next purchase, recommended products, etc.).
Let Buyers Like and Share Their Shopping Experience on Social Networks
In the modern world, people like to share, so this feature is exactly what you need to ask them to share you on Facebook. Asking customers to share your online shop with their own social circles extends your reach and increases awareness. With the click of a "Share" button, your product is exposed to tons of new potential customers.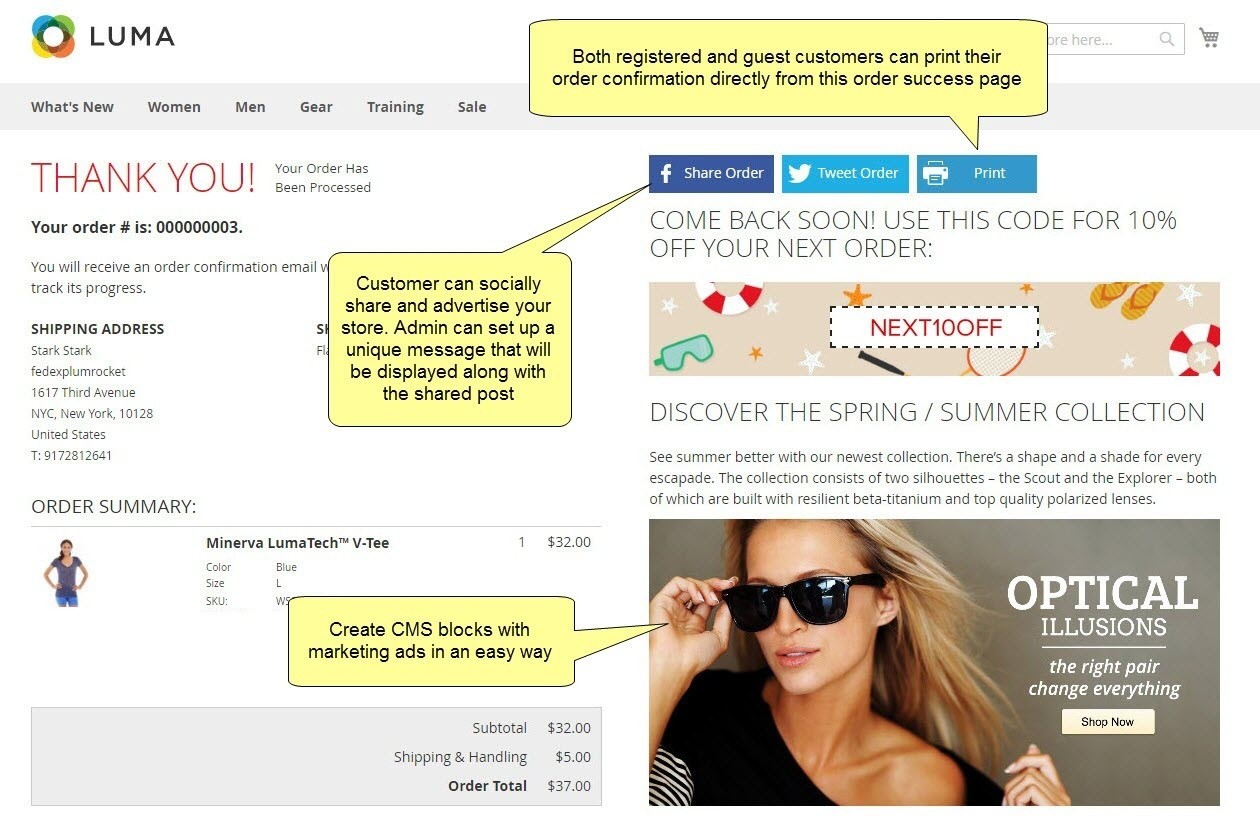 Change Page Design from Admin Panel
This option makes it possible to enable or disable all 10+ sections on the checkout success page from the backend, modify link style and button colors to match any unique e-store design.
Sounds great? That's true. However, some website owners keep nagging about visiting the Magento store with dozens of extensions. Don't be one of them. You do not need to add any special coding and scripts, that won't take a lot of time – just go to Plumrocket Inc. Magento store and download the Magento 2 Checkout Success Page Extension. Customize your Success Page with this Extension for Magento 2 and transform your simple order success page into a tool to increase customer loyalty and generate more sales. Got those covered? Great!
Closing Thoughts
With all that in mind, the Magento 2 Checkout Success Page  is the last impression visitors have of your business. And what is more, if optimized correctly, can do wonders for your business – so why waste this opportunity? Use the above-mentioned information to build strong relationships with engaged visitors. Get your Magento 2 e-store equipped with Magento Thank You Page Extension to vast your services and website to another level.