Apple and Google One-Tap Login in Magento
Nowadays, most eCommerce stores offer social login and registration to their customers. Social login allows you to collect rich customer profile data (like email, birthday, gender, location, name, etc.), provide a secure way to log in and register an account, reduce cart abandonment rate, and increase the number of registrations.
In the past, the most popular social login options were Facebook Login and Twitter Login. However, this is no longer the case. Probably every regional social network and big tech company now offers their own social login alternative. Allowing their users to quickly login elsewhere with their personal account credentials.
Today we would like to introduce you to two social login options available in the Plumrocket Social Login Pro extension for Magento – "Google One Tap Sign-In" & "Sign in with Apple". These two social logins (as well as the other 50 social login networks) are included with the extension's purchase. Any Magento merchant who already owns our plugin can download an update and follow our online documentation to enable them.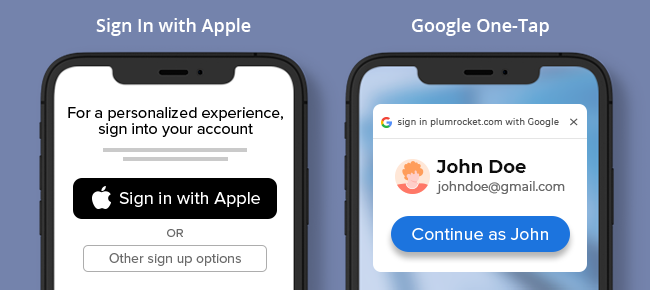 According to the latest data, the number of Google users worldwide is nearly four billion comparing with "only" 2.6 billion users at Facebook. While Apple has a lower number of users, around 1 billion worldwide, its iPhones are used by 52% of Americans. These statistics allow us to understand today's market better and predict social login usage in eCommerce. Google's one-tap login is already integrated on the most popular websites worldwide, allowing customers to sign-in on Web and Android. Additionally, by enabling Sign-in with Apple, you can also offer social login to all iPhone users on mobile devices and the web. That's why these two social login options alone should cover all your customer base!
If the above data was not convincing enough, below are the case study results shared with us by the Google team. After implementing the Google One-tap Sign-up, all websites participating in this case study experienced significant improvement in user signups, engagement, and email subscriptions.
2x rate of new user registrations
1200% more daily signed-in users
21% increase in subscriptions to email
15% increase in email engagement rate
We hope you found this information useful. Contact our team if you need any help with Plumrocket Social Login Pro extension. See below the most popular websites on the web using Google One-Tap Login & Sign-in with Apple.
The Most Popular Websites On The Web using Google One-Tap Login & Sign-in with Apple